An accurately calibrated and profiled display is critical to Color Perfectionists. Designed with this mind, along with an easy, wizard-driven interface, the X-Rite ColorMunki Display color management device gets you to a brilliantly calibrated display or protector in minutes, allowing you to quickly return to what you love doing. What you see on your monitor (or projector) represents your digital file the way it was intended to be. Two user modes (Basic and Advanced) provide serious Color Perfectionists with the perfect combination of unrivaled color precision, speed, options and controls to fit any workflow.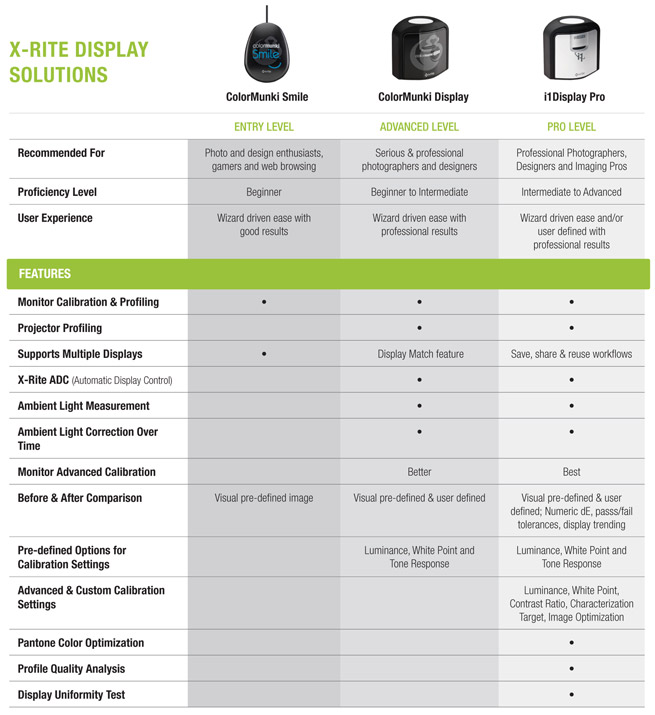 State of the Art Instrument The X-Rite ColorMunki Display delivers blazing fast measurement speed, allowing you to spend more time focusing on what you do best. Custom designed RGB filter set provides accurate color measurements. New optical design allows for high repeatability on the same display and across different display types for more consistent color matching.
Ease of Use Intuitive all-in-one design and is very easy to use, and the compact and self-contained construction enable maximum portability. Rotatable diffuser arm can be used as a stand for table top projector profiling, ambient light measurement, and as a cover for instrument optics. Conveniently integrated tripod mount for projector profiling in larger venues.
X-Rite ColorMunki Software ColorMunki software provides two user modes, "Easy" and "Advanced", both designed to give high-level professional color results for your displays and projectors. The wizard driven interface guides you through the profiling process in small, easy to understand steps. No knowledge of color science is required. "Easy" mode is as simple as pushing a button, while "Advanced" mode provides additional predefined options for those users who want more defined color control.
Ambient Light Measurement & Ambient Light Smart Control Ambient Light Measurement automatically determine the optimum display luminance for comparing prints to your display, based on a measurement of the lighting conditions where prints will be viewed. The intensity or amount of ambient light surrounding your workspace affects the way you perceive colors on your display. With Ambient Light Smart Control technology, ColorMunki Display can compensate for this effect and provide the option to automatically adjust your profile or simply notify you as ambient light conditions change.
Flare Correct Flare Correct measures and adjusts your display profile for reduced contrast ratios caused by flare light (or glare) falling on surface of display. By accurately measuring your effective display contrast ratio, you'll have an even more accurate display profile.
Projector Profiling The X-Rite ColorMunki Display Display Pro helps you quickly and accurately create projector profiles to show your images on the big screen with color confidence. Intelligent adaptive profiling technology enables maximum color accuracy from each unique projector.
Warranty, Returns, And Additional Information
Return Policies

Return for refund within: non-refundable
Return for replacement within: non-replaceable

This item is covered by Newegg.com's Consumable Product Return Policy.