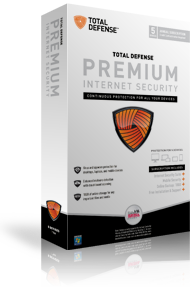 TOTAL DEFENSE PREMIUM INTERNET SECURITY
Easy-to-use, fast, all-in-one Total Defense Premium Internet Security Subscription, is designed to secure up to 5 digital devices from emerging Internet threats.
Total Defense Premium Internet Security is a PC and mobile annual subscription security offering for up to 5 users and devices designed specifically for home and home office users that includes - Internet Security Suite, Mobile Security and Online Backup.
WHY CHOOSE TOTAL DEFENSE PREMIUM TO PROTECT YOUR DIGITAL LIFE?
$200 WORTH OF PRODUCTS
Anywhere, anytime protection against viruses, hackers, and the latest online threats.
COVERAGE FOR UP TO 5 DEVICES*
Never be without security for your devices again.
CONTINUOUS COVERAGE
Your product will never expire, keeping you protected as long as your subscription is active.
CONVENIENT BILLING*
Affordable monthly billing to stretch your dollars further.

CANCEL ANYTIME
If you decide to stop your subscription, cancel anytime.
*Your initial purchase includes the first twelve (12) months of protection. The annual renewal rate will be at the then current price.
UNMATCHED EXPERIENCE
Total Defense has extensive experience supporting the software and security needs of major corporations, government agencies, and educational institutions worldwide. Total Defense Premium combines the collective security experience in a made-for-home package that's tailored for PC and mobile users just like you.
INDUSTRY-GRADE PROTECTION
With Total Defense Premium, you get the same level of powerful PC and mobile security used by some of the world's largest businesses-in a convenient, simple-to-use suite, optimized for home PCs.
FAST SCANNING
Total Defense Premium is equipped with a fast scanning engine. This means you can enjoy more time surfing the web and less time scanning your PC.
GLOBAL SECURITY ADVISOR
Backed by the Total Defense's Global Security Advisor team, a worldwide network of threat research labs dedicated to the detection of security threats, Total Defense Premium offers round-the-clock security and research from around the world at your fingertips.
UPDATES AND UPGRADES
Threats change over time and so does Total Defense Premium; it automatically updates to ensure you're protected against the latest threats. now, there's no need to check for product upgrades manually. As long as you have an active subscription, Total Defense Premium will automatically upgrade to the latest release once available. it's fast, easy, and hassle-free.
EASY TO USE
Total Defense Premium is remarkably easy to use. its intuitive screens and pre-configured wizards enable you to effectively protect your systems and mobile devices, regardless of your level of expertise or experience.
LAB-TESTED TOUGH
With Total Defense Premium, you get security that's proven. All components of the Total Defense internet Security Suite are certified as effective by independent testing organizations such as iCSA labs, Virus Bulletin and West Coast labs. Checkmark, an industry-respected independent lab, certified Total Defense internet Security Suite with the highest "Platinum" rating for real-time protection.
All-IN-ONE SECURITY
When you install Total Defense Premium, there's no need for other standalone security products. Total Defense Premium is a true all-in-one security suite that protects your important files with online back-up and guards against viruses, data loss, phishing, identity theft, and a host of other threats on your PC and smart phone. Also, with Total Defense mobile Security, you can fend off intruders with parental monitoring and control, and even locate, track or lock your lost or stolen smart phone. Plus, protection against viruses and spyware is also included for your Android tablet.
EASY BACKUP
Backing up files is easy with the Total Defense internet Security Suite component of Unlimited. its built-in backup feature lets you back-up and restore your important data files, settings, photos, music files, and documents to another hard drive, USB storage device, or shared folder.
MIGRATION SUPPORT
Switching PCs? The Total Defense internet Security Suite component of Unlimited lets you move your files and settings without a hassle. The migration assistance feature helps you move your application settings and data files over to a new system with just a few clicks.
FREE INSTALLATION & SUPPORT FOR YOUR TOTAL DEFENSE SOFTWARE
Allow our expert technicians to remotely install and configure your Total Defense software.
Included with the product installation service:
FREE expert remote installation and configuration of your new Total Defense software
Removal of any conflicting software
24x7 support
TOTAL DEFENSE PREMIUM SECURITY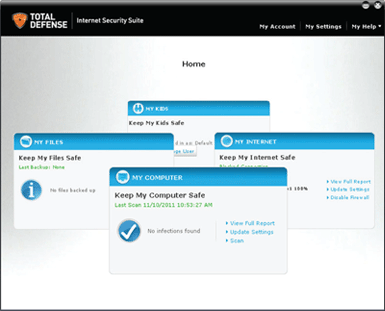 Total Defense Premium Internet Security is a PC and mobile annual subscription security offering for up to 5 users and devices designed specifically for home and home office users that includes - Internet Security Suite, Mobile Security and Online Backup.
Total Defense Internet Security Suite features one of the fast scanning engines in the industry -- up to 8x faster than standard security applications -- and protects against viruses, rootkits, FakeAV, spam, and other online threats. It provides some industry-leading enhancements in anti-phishing, anti-spam, and automatic USB scanning technologies.
Total Defense Mobile Security is a security solution that combines Total Defense's anti-malware technology, GPS tracking, and remote handset management capabilities. You can track your child's mobile phone usage, including call logs, messages, and contact lists to keep them safe from online predators. Plus, anti-malware for your Android tablet.
Total Defense Online Backup is a cloud-based solution for anytime, anywhere access to your files from your PC or smartphone with one-click sharing and data recovery. Total Defense Online Backup gives you the flexibility to backup multiple PCs with a single account. With Total Defense Online Backup you get offsite, invisible and automatic backups -- keeping Premium version history, so you can roll back to any point in time.
TOTAL DEFENSE INTERNET SECURITY SUITE KEY FEATURES:
NEW! COMPREHENSIVE, MULTI-LAYERED, CLOUD-BASED PROTECTION
Increased detection of malware with cloud-based scanning. Allows for a significantly larger database of malware and a higher level of protection by scanning files using multiple detection techniques, which complement the scanner resident on the PC.
NEW! DOWNLOAD PROTECTION FOR IE, CHROME AND FIREFOX
Real-time verification of websites notifying the user of potential dangerous downloads.
NEW! PROTECTION FOR MOBILE PHONES AND TABLETS
Real-time protection against viruses, spyware, and other internet threats that can jeopardize your privacy and damage your smart phone, plus virus and spyware protection for your tablet.
NEW! DOWNLOAD DEFENDER
Automatic scan of all internet downloads ensuring infected files are quarantined before they can cause harm.
NEW! SOCIAL NETWORK PROTECTION
Flags dangerous links with real-time detection and protection in social network sites.
NEW! DRIVE-BY THREAT DEFENDER
Real-time protection from hidden malware placed on legitimate websites by cybercriminals.
ANTI-VIRUS & ANTI-SPYWARE
Prevents viruses, worms, rootkits, and trojan horses from infecting your PC, tablet and mobile device.
PERSONAL FIREWALL
Stops intruders from gaining access to your PC, protects your personal information, and prevents damage from malicious programs.
ANTI-SPAM
Keeps spam out of your email inbox using industry-leading technologies such as dKim (domain Keys identified mail) and SPF (Sender Policy Framework). With reputation-based protection, the spam filter is stronger and smarter than ever before.
PARENTAL CONTROLS
Helps you protect your child from cyber bullying, online predators and offensive content by filtering or blocking access to web sites, instant messaging programs, and peer-to-peer services.
ANTI-PHISHING
Protects you from phishing attacks, internet fraud, and malicious websites.
CONTINUOUS UPDATES
You never have to worry about upgrading to the latest version of software as long as your subscription is active. New virus and spyware signatures are delivered to your PC multiple times per day. With no need to worry about complicated and time consuming product upgrades, it's seamless, automatic, and simple.
INFORMATIVE REPORTS
Lets you monitor the status of your system by providing real-time reports that show user activity and system alerts. every month you receive a consolidated report of the protection you received and the product updates that occurred.
TOTAL DEFENSE MOBILE SECURITY KEY FEATURES: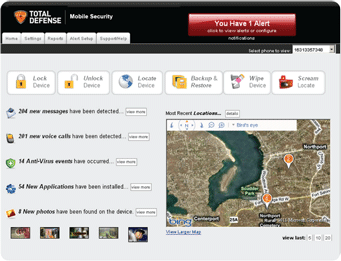 NEW! ANDROID PHONE, ANDROID TABLET ANTI-VIRUS & ANTI-SPYWARE PROTECTION
Guards your Android Phone against online threats, device theft, and information misuse. The easy-to-use software suite offers comprehensive remote management capabilities, robust intrusion and malware protection, and GPS integration. Plus, Android tablet Anti-Virus and Anti-Spyware Protection.
EMAIL/TEXT MONITORING
Lets you keep your children safe by monitoring all incoming and outgoing emails from their mobile phone. It helps you identify cyber predators and cyber bullies who may be tormenting your children by enabling you to check incoming and outgoing text and multimedia messages. You can ensure your children are not sending or receiving content that may be inappropriate.
REMOTE LOCK & WIPE
If your phone is lost or stolen, you can use GPS tracking to locate the phone and if you fear your sensitive data may be compromised, you can lock or erase the information from your phone with a few clicks -- all remotely from an easy-to-manage PC interface.
MONITOR VOICE CALL LOGS
Keep you informed about your child's phone activity. You can check who your children have been talking to and call durations. if you discover suspicious activity, you can warn your children and keep them protected from predators
PICTURE VIEWER
Allows you to check your child's phone for inappropriate or embarrassing photos that may be intentionally or unintentionally transmitted online.
SILENT REMOTE CONTROL COMMANDS
Produces a non-audible Phone Alert when SMS is sent to communicate with mobile Security application.
ANTI-VIRUS PLUS ANTI-SPYWARE
Keeps your phone protected against the latest malware. Total Defense mobile Security offers advanced heuristic detection and up-to-the-minute definitions to combat increasingly malicious mobile viruses and spyware.
REMOTE BACKUP
Creating a backup of your mobile files is a breeze with Total Defense mobile Security. With a few clicks, you can copy your files and protect your photos, documents, music, program data, and phone settings from loss. Through the online portal you can quickly restore your data, or even sync your device settings with your Total Defense mobile Security account via an external storage device.
REMOTE GPS INTEGRATION
Allows you to locate your phone quickly and accurately. If you have Total Defense mobile Security installed on a child's phone, you can trace their exact location from their phone. the remote GPS feature is also invaluable in recovering a lost or stolen handset.
ONLINE WEB PORTAL
The online portal allows you to lock & unlock your device. If your device is lost or stolen, you can use the device backup to restore your data. If you cannot find your phone you can activate the "scream" function, which will sound a high pitched alarm, even if the phone is on silent.
CONTACT CHECK
Lets you see who is on your child's list of contacts and take appropriate action if you find someone who seems suspicious.
VOICE & TEXT SPAM SHIELD
Filters unsolicited communication and keeps you protected against unwanted text and voice spam.
INTELLIGENT FIREWALL
Scans and blocks intrusion attempts to guard your privacy. Total Defense mobile Security's intelligent firewall can automatically distinguish malicious program behavior from routine incoming and outgoing signals.
TOTAL DEFENSE ONLINE BACKUP KEY FEATURES: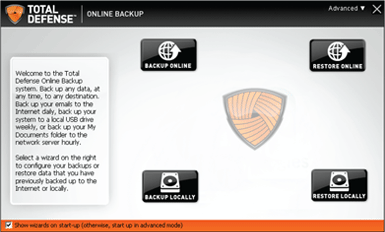 INTEGRATED ONLINE & LOCAL BACKUP
In addition to online backup you can also back up your netbook, desktop and laptop including operating system files, music, photos, documents & address books to a local medium. You can save all your data to any external hard drive or USB drive.
POWERFUL RECOVERY
Keeps all versions of your backup, so you can roll your data back to an earlier version any time you wish. With a time machine feature in Total Defense Online Backup, you can see a snapshot preview of your files and versions for any given date and roll it back to that date. If you want your tax records, for instance, you could try to look for files saved around the date of April 14. Total Defense Online Backup makes backing up and restoring a snap.
CONTINUOUS DATA PROTECTION
A protection module in Total Defense Online Backup for real-time monitoring and backups. This feature monitors files for changes and instantly backs them up. Online backup is engaged every time you click the "save" button.
ENHANCED SECURITY & PRIVACY
Be confident your information and files are protected from prying eyes and data thieves using a three tiered encryption system. Your data is encrypted on your computer first, then it's encrypted in transit, and, finally it is encrypted again in storage. Our industry-leading security is unmatched.
ENTERPRISE COMPRESSION & TRANSFER SYSTEMS
Total Defense Online Backup utilizes high-tech compression technology to read and save only changes made to target files, ensuring smaller upload sizes (as small as 5 KB per day for a 500 MB database) and making for faster backup of files.
PREMIUM VERSIONING
If you changed and wish to recover an earlier version of a file, you can with Total Defense Online Backup. It lets you keep every version of your backup forever, without the worry of losing information because of overwriting files.
INTELLIGENT FILE FILTERS
With Total Defense Online Backup's intelligent file filters, you can back up exactly what you want. You can schedule a backup of all *.doc files or *.xls files. You can even program Total Defense Online Backup to protect the contents of specified folders.
FLEXIBLE SCHEDULING
Daily, Weekly or instantly. You can choose when to run Total Defense Online Backup. With flexible scheduling, you can back up your files when it's convenient for you. You can set the time interval between backups or perform on-demand backups. Total Defense Online Backup works around your schedule.
ONE-CLICK FILE SHARING
When you have Total Defense Online Backup, you don't have to worry about emailing large attachments. One click enables you to share a picture with a friend or a presentation with a client. You can share all your backed up files, photos, and videos by sending a link through email. It's fast, easy, and worry-free because there won't be any bounced emails due to large file attachments or copying to a disk or flash drive ever again.
GLOBAL ROAMING ACCESS
Keep your digital life in sync when you're on the go. Total Defense Online Backup gives you anytime, anywhere access to all your files. No matter where you are, you're only a few clicks away from our backup server grid. You can travel around the globe and have your pictures, presentations, videos, and documents at your fingertips.
SYSTEM REQUIREMENTS
TOTAL DEFENSE INTERNET SECURITY SUITE System Requirements:

Security Suite
SUPPORTED OPERATING SYSTEMS:

Windows 7
(32-bit & 64-bit)
Ultimate/Business/Home Unlimited/Starter

Windows Vista
(32-bit & 64-bit w/SP1 or higher)
Ultimate/Business/Home Unlimited/Starter

Windows XP
(32-bit w/SP3 or higher)
Home/Professional/media Center edition

REQUIRED FOR All INSTALLATIONS:
512 MB RAM,
800 Mhz or faster processor,
internet explorer 7 or higher,
600 MB of available hard disk space,
1024 x 600 or higher resolution,
Internet access

FOR ANTI-SPAM PROTECTION:
Microsoft Outlook 2000 or higher,
Microsoft Outlook Express 6.0 or higher,
Windows Mail,
One or more POP3 or Exchange email accounts

FOR IDENTITY THEFT PROTECTION:
Supported browsers: Internet Explorer 7 or higher, Mozilla Firefox 2.0 higher

TOTAL DEFENSE MOBILE SECURITY System Requirements:

SUPPORTED MOBILE PLATFORMS:
Android 1.5 or higher
Blackberry 4.2 or higher
Symbian Series 60, 3rd Edition or higher
Windows Mobile 6.0 or higher

INTERNET:
Mobile data plan required

TOTAL DEFENSE ONLINE BACKUP System Requirements:

SUPPORTED PLATFORMS:
Windows 7 (32 & 64-bit)
Windows Vista (32 & 64-bit)
Windows XP (32 bit), Professional, Home, Media Center or XP
Windows Server 2008
Windows Server 2003

SUPPORTED PROCESSORS:
300Mhz or faster

HARD DRIVE REQUIREMENTS:
30MB hard drive space or larger

INTERNET:
High-speed Internet connection recommended

CD-ROM OR DVD DRIVE (if not installing via electronic download)