Parago Backup & Recovery 15 Home makes a full range of backup and recovery solutions handy. There is no limit to what to backup. You can backup files and folders, the operating system, or even your entire hard disk. Thanks to the Set & Run technology, Parago Backup & Recovery 15 Home automatically manages backups once it is set up. Just create your backup routines, and automate the backup processes. In case of any disaster, you can restore data and system quickly. For flexible restoration, Parago Backup & Recovery 15 Home allows you to restore the system on new hardware in its entirety.
Parago Backup & Recovery 15 Home features the new Recovery Media Builder 3.0 to make the creation of your own personal recovery environment extremely easy and flexible. Enjoy file-level backup/restoration for virtual containers (pVHD, VHD, VHDX, and VMDK) with Paragon's innovative backup imaging technology. Navigate all the functions easily through the revised Graphical User Interface (GUI). Legacy functions that deal with Paragon's legacy backup container (.pbf) are hidden by default, but can be displayed through a Legacy View option. Parago Backup & Recovery 15 Home supports a free update* for Windows 10. (*The free update for Windows 10 support will be available exclusively from Paragon MyAccount. An email will be sent once it is available.)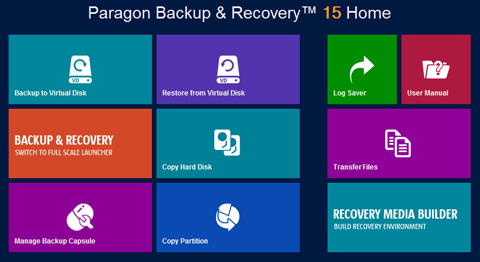 System and data backup Fast and innovative backup technologies make it really easy to backup the complete hard drive, single partitions, or selected files and folders. Full backups of the entire computer, followed by regular incremental backups of changes since the last backup, keep your data precisely up to date. Backup & Recovery offers a wide range of backup techniques: sector and file-level increments, sector differentials, file complements, synthetic backups, and cyclic backups. Store your backups on external hard drives, on Blu-ray discs, or on your network. Or benefit from the brand-new disk-imaging technology that now allows backing up directly to virtual containers (pVHD, VHD, VMDK). Choose whatever works best for you. You can set up an automatic backup routine, and never have to worry about forgetting to backup your data!
Recovery: flexible and reliable Something goes wrong: lost data, corrupted files, virus attack, or PC crash? With Paragon Backup & Recovery, you have a stress-free, reliable disaster recovery solution. Existing backups can be restored easily. Just restore single partitions, specific files and folders from a full backup, or the entire operating system and its applications without re-installation. Dependable recovery environments boot your PC even after a severe crash. The software gives you total flexibility where to restore your system, even to completely dissimilar hardware. The latest Adaptive Restore 3.0 helps you recover your system backup on different hardware. All required drivers will be added smoothly, making your operating system bootable on a new machine or on the altered hardware.
Recovery Media Builder 3.0 If your operating system won't boot up anymore, you can restart your PC with the bootable Paragon recovery media, and load in an existing backup, secure important data, or rectify booting errors. The new Recovery Media Builder 3.0 makes it extremely easy and flexible to create your own personal recovery environment. And thanks to the latest WinPE technology, the recovery environment is also intuitive to operate. Are your backups on a network drive? If so, use advanced options to define your existing network configuration and map network drives while you're creating the recovery medium.
All-around solution for backups Did you get a new PC? Convenient wizards help you successfully transfer a previously created system backup to your new hardware, including all your settings and installed applications. Thanks to automatic partition alignment, you can always expect top performance of SSDs, 4K sector drives, and RAID volumes. BitLocker is supported, allowing you to backup, restore, or copy volumes encrypted by this security feature. Live backup: Hot Processing options let you safeguard your system while it's up and running. In addition, the Universal Image Mounter (UIM) enables access to your secured files at all times. Simply select a backup archive, and mount it as a network drive!
Warranty, Returns, And Additional Information
Return Policies

Return for refund within: non-refundable
Return for replacement within: non-replaceable

This item is covered by Newegg.com's Consumable Product Return Policy.