ArcSoft TotalMedia Theatre 6 - Download
All-in-One Media Player with a Cinema-Like Experience
Powerful media player for video, Blu-ray, DVD, and AVCHD
Innovative Modern UI brings all-new design style for Windows 8
Smart & Magic Menu makes playback simple and convenient
Audio Boost compensates for noisy environments
Advanced 3D support realizes movie playback in 3D
Support Windows 8
TotalMedia Theatre 6 is your all-in-one media player for PCs. Whether playing Blu-ray and DVD discs, AVCHD, or high-definition files on the local machines or videos on an UPnP server and online. It covers all your needs for an audio player. Improved with industry-leading playback technology, it presents excellent quality and performance. Along with a brand-new Modern UI for Windows 8, TotalMedia Theatre 6 brings an immersive movie experience to you. Let you totally enjoy the audio-visual feast.
---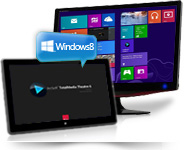 All-New Modern UI Design for Windows 8

Take advantage of the look and feel of the new Windows 8 UI styling
Touch screen interface for intuitive media control
Quickly access recently movies you play
The brand-new UI is compatible with the standard desktop UI as well
Windows 8 Modern UI, standard desktop UI, and Windows MCE Plug-in allow every user to get the immersive media playback experience that meets their personal needs.
---
Play All Media Files Smoothly
Smoothly play multimedia files, including Blu-ray, DVD, HD video, SD video, audio and photos
Comprehensive format support including almost all video files
Play WMV, MPEG, AVI format videos at near HD quality via SimHD™ technology
Play various audio formats, including WMA, M4A, AAC, FLAC, and AMR
---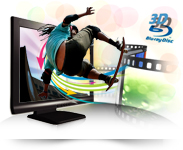 Watch Movies in Stunning 3D
Play 3D movies and video files including Blu-ray 3D movies
Create 3D videos in real-time from 2D videos and DVDs via Sim3D™
Play 2D image files like JPG, BMP, PNG, and TIF in 3D viaSim3D™
Set left/right, top/bottom, and anaglyph mode manually
Adjust depth perception to customize your 3D experience
---
Advanced SimHD Brings High Definition
With revolutionary SimHD algorithms, TotalMedia Theatre 6 transforms DVDs and low-resolution videos, up to near high-resolution quality
Offers dynamic lighting, de-noise, and smoothness enhancements
---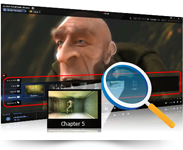 User-Friendly Smart Menu
Powerful Smart Menu similar to Blu-ray menus for DVD or video-based content
Improve DVD playback experience without pausing the video when switching chapter, audio or subtitle
Magic Menu views thumbnails easily and switches chapters visually
---
Perfect Media Management and Magic View
Media management panel helps you manage various media files intuitively
Magic View allows you to browse media files faster and arrange thumbnails in different sizes
Sort your media library by title name, date, or duration with ease
Manage your playlists and add or delete any media file
---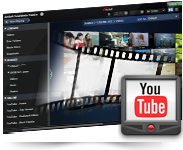 Download, Play and Share Online Video
Play YouTube videos fluidly with near high-definition quality via SimHD™
Easily download and share your favorite videos with your family and friends
Access and play media files in the local network easily

Enhance Video Quality
Improve your video quality with a full set of advanced and powerful video enhancement tools, such as standard video editing functions for adjusting the brightness, contrast, hue, and saturation of your movie.
---

Parental Control
Apply parental controls to your movie collection. You can restrict specific movie levels or choose to set a password.
---

Improve Audio
With a variety of easy-to-use editing tools for audio, enhance the audio effect by adjusting various preferences, such as the Equalizer feature, and enjoy a wonderful audio-visual experience!
---

Change Region Code
Go to the "Region and Language" tab to change the region code for your disc drive. You are only allowed to change the region code up to five times. After the maximum allowed limit has been reached, the region code locks.