HWREN15 Hi-Gain Wireless-N Mini Range Extender
Eliminate wireless dead spots with the new
HWREN15 Hi-Gain Wireless-N Mini Range Extender
. Complete with a 2dBi dipole antenna, the HWREN15 is sure to give your network the boost it needs to sustain a stable connection for your home or office.
With its compact design, the HWREN15 will easily adapt to your existing Wi-Fi network and is even easier to install. Although many homes and offices already have a wireless router to distribute signal, if your laptop is barely within the range of the router, you will be connected, but your signal strength will be very low. Because your laptop only has minimal network connection, there may be data lag while downloading multimedia content, loading files, web surfing, etc. Your Wi-Fi may even disconnect from time to time due to the weak signal.
With the HWREN15, the wireless coverage is extended, thus strengthening the previously weak
wireless signal
and maximizing your networks data transfer rate. This provides a stronger and more solid wireless connection to improve overall uploading and downloading speed. As a result, the user experiences faster speeds and less data lag while streaming or downloading multimedia content (video, music, etc.).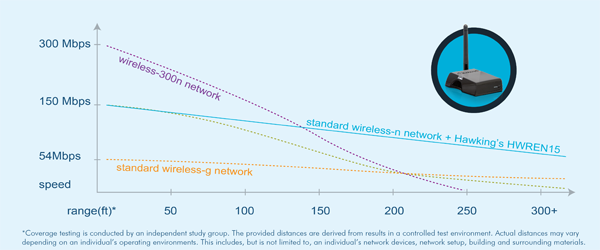 HOW IT WORKS
Simply place the
Range Extender
halfway between your
Wireless Access Point
and wireless trouble spot to improve your wireless strength.

The HWREN15 is designed with a removable antenna - guaranteed easy range upgrade for long range Wi-Fi applications. Now, you can extend your blazing fast wireless network even further with the easy antenna upgrade option. Extend your signal to your guest home, RV, Boat, and more.

Seamless Roaming is a unique feature that mirrors existing network settings for ultimate mobility with all your Wi-Fi devices. It allows your Wi-Fi devices to connect and roam freely. Place the HWREN15 within your existing network to expand the wireless coverage throughout your home and office. Eliminate slow network connections due to poor wireless coverage.
Features for the HWREN15 Hi-Gain Wireless-N Mini Range Extender
Connects and repeats any 802.11 b/g/n Wi-Fi network
Eliminates wireless dead spots in homes and offices
Seamless roaming feature lets you travel freely between the original and extended network - no need to fuss with the Network name or SSID
Easy setup using any networked device: smart phone, tablet, wired or wireless laptop/desktop
Extends your Wi-Fi Coverage and lets your Wi-Fi enabled devices connect freely, while at home or at the office
External removable antenna for quick and easy range upgrade
Compactly design for added mobility and easy placement (Great for RVs, Boat, or Travel Companion)
Find the Right Range Extender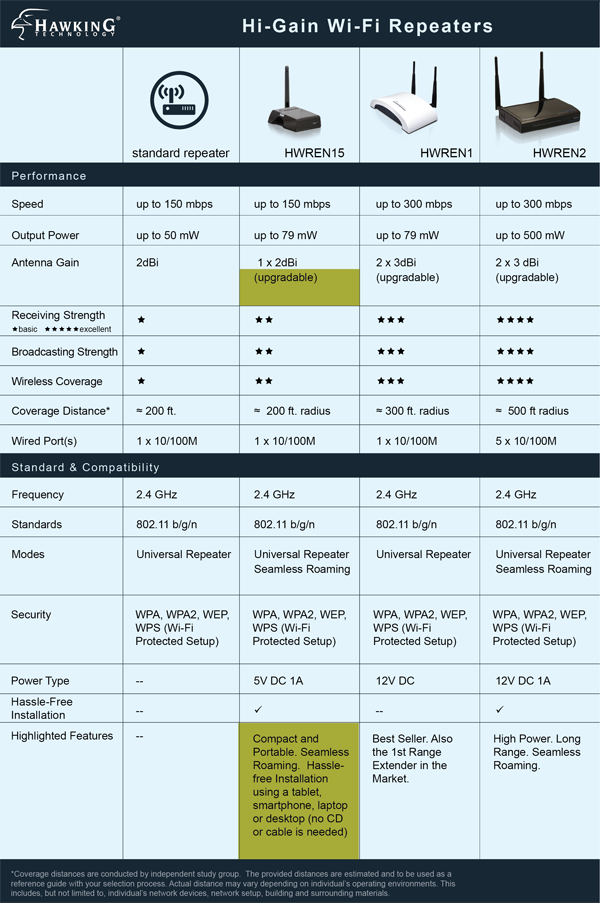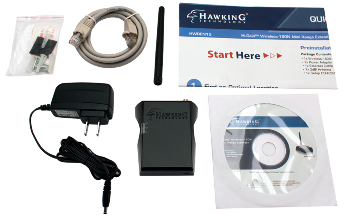 SYSTEM REQUIREMENTS
A Computer, Mac or Windows with an available CD-ROM Drive
Internet Web Browser (Internet Explorer, Safari, Firefox, etc.)
Wireless 802.11 b/g/n network
PACKAGE CONTENTS
One Hi-Gain Wireless-150 MiniRange Extender
One 2dBi Omni-Directional Antennas
One Power Adapter
One RJ-45 Ethernet Cable
Quick Installation Guide
Setup CD (Includes User's Manual, Mac & Windows)