Rosewill RPLC-201PKIT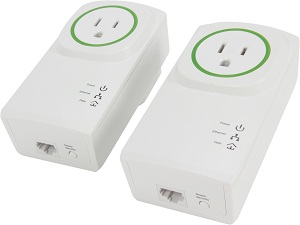 Rosewill RPLC-201PKIT Premium 200Mbps Powerline AV Pass-Through Adapter with HomePlug AV technology expands your high speed network to multiple rooms where Wi-Fi signals cannot reach. Simply plug Rosewill RPLC-201PKIT in the existing power outlets, and it turns the electrical power line into high speed internet without running messy cables. RPLC-201PKIT comes with one Ethernet port which allows you to hard wire a Smart TV, Blu-ray player, computers, laptops, game consoles, etc. to enjoy reliable high speed network for surfing the internet, streaming online video, HDTV video, playing online games, transferring large files, and operating many more bandwidth-demanding applications. RPLC-201PKIT incorporates a built-in noise filter to reduce power interference and enhance data transmission quality.
With the built-in AC pass-through outlet on the adapter, you'll conveniently provide power to another electrical device while you connect the high-speed network.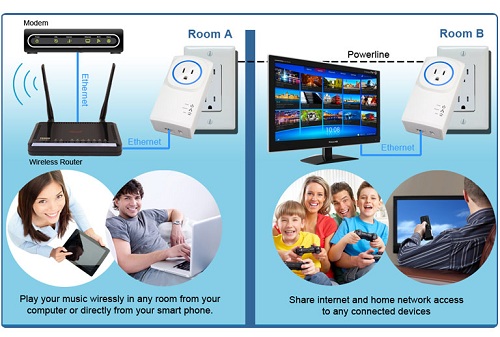 Key Features
High Speed up to 200Mbps
With advanced HomePlug AV technology, RPLC-201PKIT provides up to 200Mbps data transfer speed, allowing you to stream HD/3D videos, play online games, transfer larger files, and much more with low latency.
Extra Noise-Filtered Pass-through Outlet
Provide power to electrical devices.
Plug and Play
Simply plug RPLC-201PKIT in the power outlets without any configuration needed, and you have the internet up and running.
Easy Encryption Button
Just one push on to RPLC-201PKIT, and you have the safe network with the encryption in advanced 128-bit AES security Protection.
Built-in QoS
The built-in QoS prioritizes the bandwidth-sensitive data, optimizing the quality of multimedia streaming and data transferring.
Power Saving
Automatically shuts down the RPLC-201PKIT when idle to conserver power. The power saving feature will also lower your electrical bill.
Rosewill High Performance Powerline Adapter

Product
Model
RPLC-201KIT
RPLC-201PKIT
RPLC-200KIT Premium
RPLC-200PKIT Premium
RPLC-500KIT
Speed
(PHY Rate)
Up to 200Mbps
Up to 200Mbps
Up to 500Mbps
Up to 500Mbps
Up to 500Mbps
Ethernet Port
1* 10/100 Port
1* 10/100 Port
1* 10/100 Port
1* 10/100 Port
1* 10/100/1000 Port
Passthrough Outlet
HD Video Streaming
Online Gaming
Security One-Push Button
Encryption
128-bit AES
128-bit AES
128-bit AES
128-bit AES
128-bit AES
Power Savings
Built-in QoS
Application
Rosewill High Performance Powerline is designed to connect with:

Computers in multiple rooms (where Wi-Fi is not available or connection is poor)
Smart TV / HDTV
XBOX 360, PS3, or any ethernet-capable game consoles
NAS
Blu-ray Players
Media Players such as Roku
VoIP phones