INTRODUCTION
Long Range Wireless Coverage , Increase the Strength of Dual-Band Wi-Fi Devices up to 300%!
The HOD10IP Hi-Gain™ Outdoor Dual-Band 10dBi Omni-Directional Antenna Kit is a heavy-duty, weather proof antenna for extending the range of your 802.11 a/b/g/n Wi-Fi devices. The HOD10IP increases the wireless strength from a standard 2dBi (decibels) to a staggering 10dBi, resulting up to a 300% increase in the wireless coverage and strength.*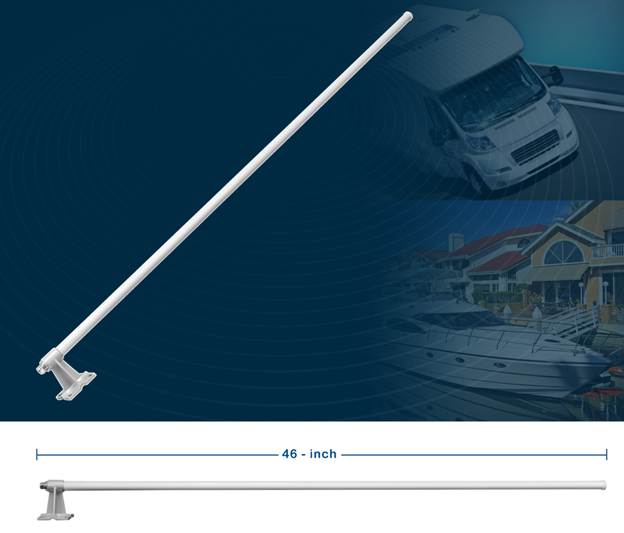 Ultimate Flexibility and Maximum Performance using Dual-Band
The 2.4GHz frequency is the most commonly used wireless bandwidth. It also has limited bandwidth for multiple activities, such as sending emails, video chatting, streaming movies, playing games, etc. In addition, the same 2.4GHz frequency is used by other wireless routers in the area, as well as some common household devices such as cordless phones and microwaves. This causes interference and major backlog with your online activities. Dual-Band technology fixes these issues by providing the 5.0GHz frequency. This allows compatible devices to connect to the more open 5.0GHz channels, eliminating the 2.4GHz interference, thus speeding up your internet. The HOD10IP strengthens and extends the Dual-Band Signal for long range, high traffic wireless networks.
OMNI-DIRECTIONAL ANTENNA FOR LONG RANGE POINT-TO-MULIPLE POINT WI-FI
APPLICATIONS: 360° HORIZONTAL WIRELESS COVERAGE
The HOD10IP provides coverage in multiple directions for long range wireless environments, but has limited coverage for nearby devices. It is recommended to maintain a wireless coverage for your close by devices, similar to the diagram shown below : the HOD10IP connects to an access point to transmit signal outward, while the local wireless router provides signals for close by devices.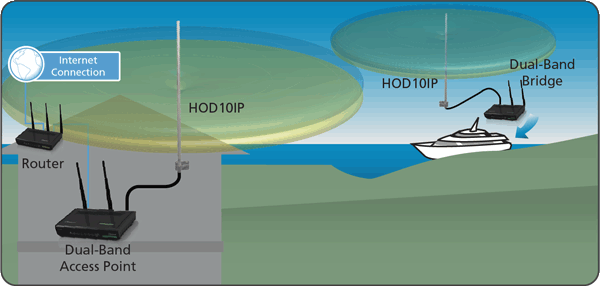 PLUG-AND-PLAY INSTALLATION
Simply replace your device antenna with the HOD10IP. The HOD10IP antenna has N-Type connector and comes with N-Type to SMA adapters, the most commonly used antenna connector. For other type of adapters, please visit Hawking Tech's website for additional selections. Outdoor Antenna cable is sold separately. Select the right length to minimize your cable loss.


HELP ME CHOOSE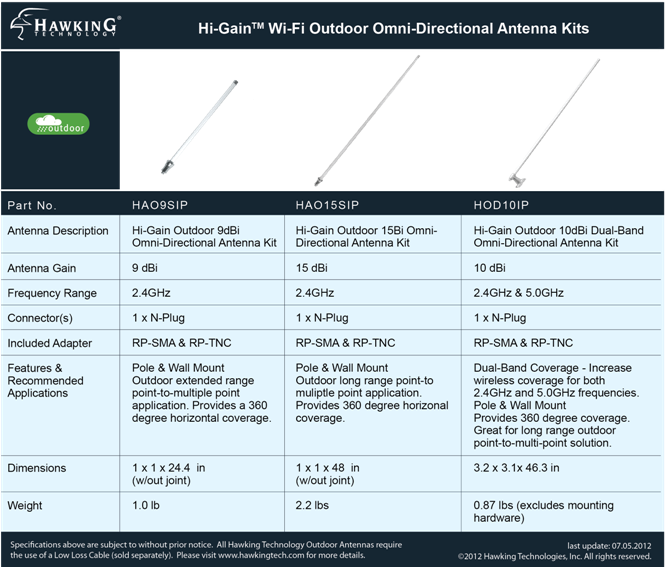 | | |
| --- | --- |
| FEATURES | |
| | Durable, Heavy-Duty enclosure to withstand the elements of nature |
| | Increased frequency range improves your overall wireless experience |
| | Standby Technical Support is available anytime for your convenience |
| | Limited warranty protects your investment |
| | Install using a tablet, smartphone, mac or windows computer |
Package Content
One Hi-Gain™ Dual-Band Omni-Directional Antenna
N-plug to SMA Adapter
Wall & Pole Mounting Kit
Quick Installation Guide
*Percentage value derived from antenna gain equation and the results from a controlled testing environment. Result analysis is conducted by an independent study group. Actual results may vary depending on an individual's operating environment. This includes, but is not limited to, network devices, network setup, building and surrounding materials.