SAMSUNG XE303C12
An Inspiring Chomebook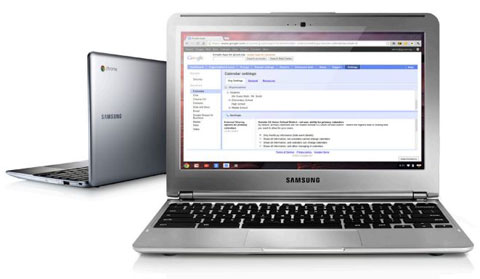 SAMSUNG XE303C12 is definitely a go-to solution for your computing needs anywhere life takes you. It is easy on you with only 2.5 pounds weight, less than 0.8 inches thickness, up to 7 hours battery life*, and Chrome OS at its core. With multiple layer of security, built-in cloud storage, and your favorite Google apps plus thousands more, Chrome OS makes everything handy eliminating the hassle of tweaking and twisting. It also updates itself automatically. All of the apps will run smoothly with Samsung Exynos 5 Dual Processor (2.16 GHz). It starts up in seconds. Complete with a chrome-friendly keyboard, oversized multi-touch touchpad, multi-user support, a built-in webcam, dual band Wi-Fi, and a bevy of connectors, SAMSUNG XE303C12 gives you extreme convenience in your creations, collaborations, and socializations. It's built to stay cool, so it doesn't need a fan and runs silently.
*Battery life may vary by configuration and usage.
The New Samsung Chromebook
For Everyone. The Samsung Chromebook is a new computer that helps you get everyday things done faster and easier. It starts in seconds, has virus protection built-in, and runs your favorite Google apps plus thousands more. The Chromebook comes with leading Google products, like Search, Gmail, YouTube and Hangouts, so you can work, play, and do whatever you want, right out of the box.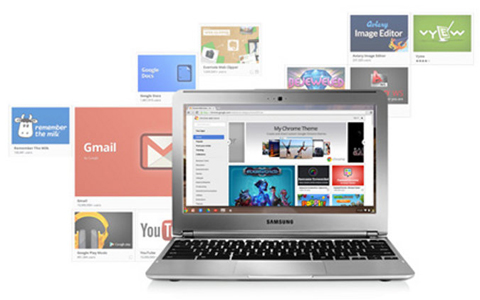 You can easily share it with multiple people - switching accounts takes seconds, and everyone gets their own files, apps and settings. And it's simple to use. There's no setup, and your files are automatically backed up in the cloud.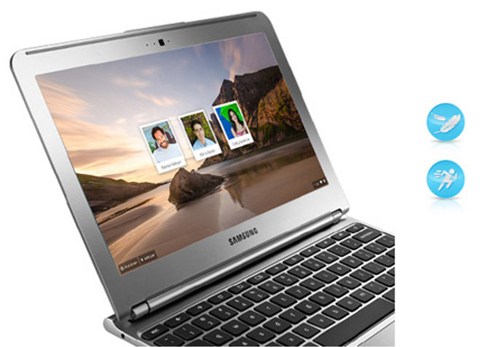 Portable, Powerful, Cooler
The Samsung Chromebook's dual core processor delivers exceptional performance and battery life in an ultra-slim package. And unlike traditional computers, it has no fan or moving parts, which means it stays cooler on your lap and runs silent (no humming, unless you're listening to music).
Stay Connected In-Flight
With your Chromebook, you can get online at 10,000 feet with free Gogo in-air internet passes.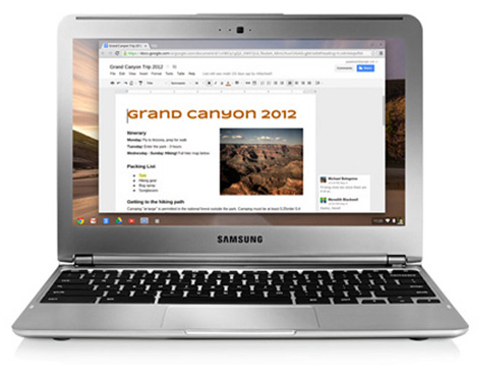 Collaborate on Documents
Create documents, spreadsheets, presentations, and drawings with apps like Google Docs, Zoho and SlideRocket. With productivity apps, you can collaborate in real-time with others, access your documents from any computer, and have your files backed up automatically. Access other everyday files using the built-in PDF and document viewer.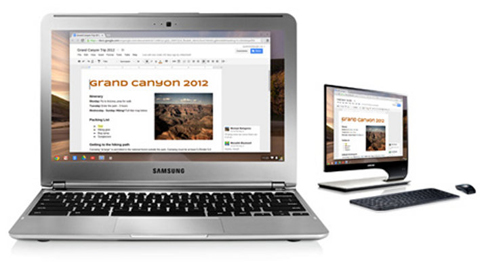 Storage in the Cloud
With Google Drive storage, you can keep your apps, documents, favorites and settings safe and securely accessible from anywhere. You don't have to bother downloading and installing any applications onto your hard drive.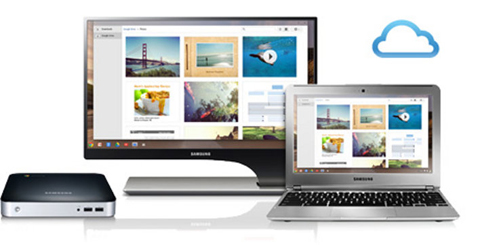 Oversized, Multi-Touch Touchpad
You can enjoy better control using a large multi-touch touchpad. With an image sensor it provides a stylish and convenient way to use your Chromebook.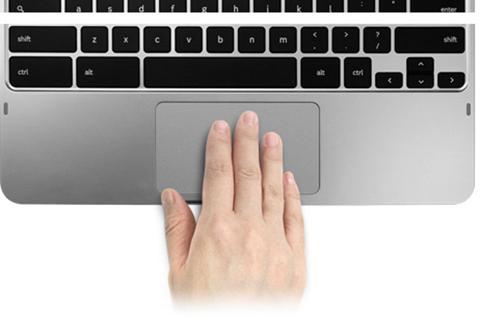 Full-Sized Keyboard Designed for Chrome
The keyboard is optimized for Chrome with a dedicated search key, a row of web-enabled keys, and a comfortable, full-size layout that doesn't cramp your fingers.
Simply More Flexibility
The Chromebook has a range of ports, including HDMI and USB 3.0/2.0 ports, to enable greater flexibility for sharing data and multimedia playback. Its unique hinge design makes it easier to connect all of your peripherals.