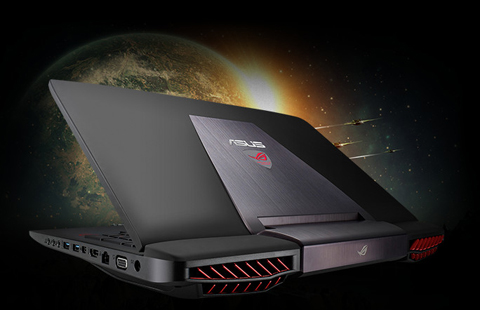 Experience unbeatable mobile gaming performance with the ASUS ROG G751JY-DH73-CA gaming laptop. It's armed with the state-of-the-art hardware, utilizes an array of exclusive ASUS technologies (such as ASUS TurboMaster Technology and ASUS Trinity Display technology), and features an intelligent dual-fan cooling system, giving everything you need to better reign in the fiercest gaming world. Confidently play the hottest tittles with unrivaled speed, and enjoy unprecedented visual and audio experience. Effortlessly master your games with the ergonomically designed keyboard which provides special Game Keys for Steam, gameplay recording and macro.
The Unbeatable Gaming Laptop with TurboMaster Overclocking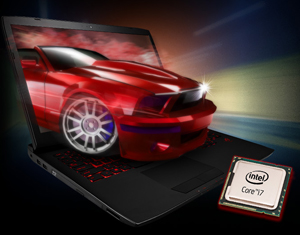 Powerful Intel Core processor
The 4th gen Intel Core i7 processor found in the ROG G751JY provides efficient, powerful performance for the demands of today's fast-paced games and multitasking.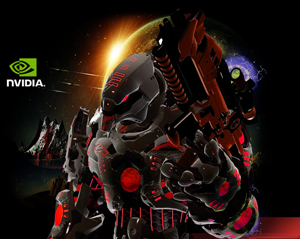 Enthusiast-grade NVIDIA GTX Series Graphics
The latest enthusiast-grade NVIDIA GTX series graphics scores over 12K in the 3DMark 11 performance benchmark, providing you with sharper visuals for fast-paced games. NVIDIA GeForce Experience optimizes settings for higher resolutions and greater in-game detail for extra-sharp image quality; it also enhances frame rates to give you super smooth gameplay.
Supreme Gaming Laptop with NVIDIA G-SYNC Technology
ROG G751JY features NVIDIA G-SYNC display technology. Thanks to close cooperation between the ASUS display R & D team and NVIDIA, G751JY includes built-in G-SYNC to synchronize the display's refresh rate with the NVIDIA GTX GPU for ultra-smooth visuals. G-SYNC helps avoid lag, minimizes frame-rate stutter, and eliminates visual tearing. It delivers the smoothest and fastest gaming graphics — all without affecting system performance!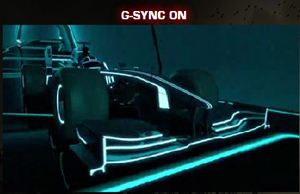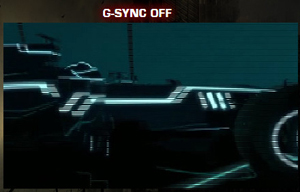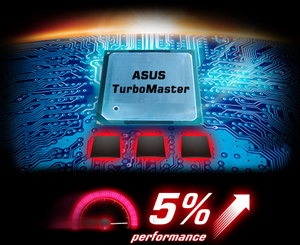 ASUS TurboMaster for a Graphics Boost
ASUS TurboMaster technology gives you the ultimate gaming experience. ASUS TurboMaster supports real-time GPU overclocking to give you a performance boost of over 5%. An upgraded PCB design ensures a stable power supply; and features a dedicated 3-phase GPU power design along with upgraded Tantalum capacitors.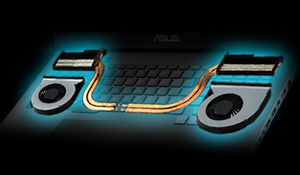 Intelligent Dual-fan Cooling System for Stable Performance
Hyper Cool with Duo-copper heat sinks and independent rear-vented dual fans guarantee system stability even when overclocking. The CPU and GPU get their own dedicated fans; with three heat pipes drawing heat to the GPU fan to provide efficient, silent cooling. The hot exhaust is also directed away from you through the rear vents.
Designed to Get You in the Game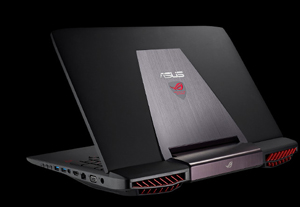 Stealth Fighter-inspired Aluminum Chassis
ROG G751JY retains the classic stealthy F-22 Raptor-inspired lines found on previous G Series iterations; only this time it sports an aluminum finish with an illuminated ROG logo. Dual rear vents add to the visual drama, and play a part in its highly efficient and effective thermal design.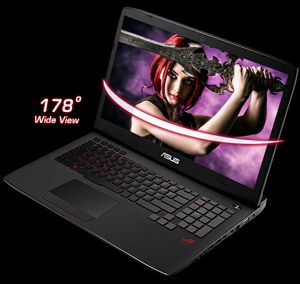 Spectacular Full HD IPS display
The Full HD IPS display gives you 178-degree wide viewing angles for minimal color shift even when you view it from extreme angles. You get to enjoy spectacular visuals and color accuracy, and even share your favorite gaming moments with family and friends by your side. A matte anti-glare coat gets rid of annoying reflections so you can focus on what's onscreen without straining your eyes.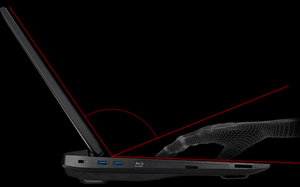 Ergonomically-angled Keyboard
ROG G751JY has an ergonomically-angled keyboard and a durable, soft touch, anti-slip palm rest to ensure your hands and wrists stay comfortable even during marathon gaming sessions.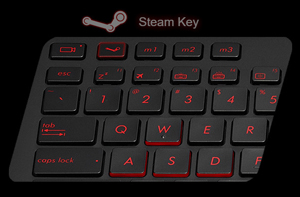 Programmable Game Keys and Marked WASD Keys
ROG G751JY has dedicated keys for instant Steam access and one-click gameplay recording. The ASUS ROG Macro Key can be programmed with up to three commands, so you can make complex in-game multi-key actions, launch applications, or load up a specific website with one keystroke. It also features specially-marked WASD keys.
Geared for Incredible Gaming Experiences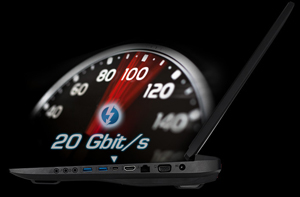 Faster Connections with Thunderbolt Technology
Intel Thunderbolt technology gives you ultra-fast graphics and data transmission via a single connection. This new standard has the capacity to deliver data and graphics at up to 20Gbit/s – almost double the bandwidth of USB 3.0. Dual protocols provide more connectivity options, allowing you to turn ROG G751JY into a hub for your various devices.
Optimized Networks with GameFirst III
GameFirst III optimizes networks to give you smooth, lag-free online gameplay by prioritizing game packets and allocating more bandwidth for games. It features four preset packet-priority modes and manual settings if you want total control over your network. There's even a built-in Network Monitor tool so you can manage network traffic and test connection speeds.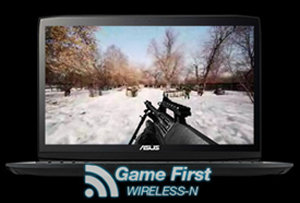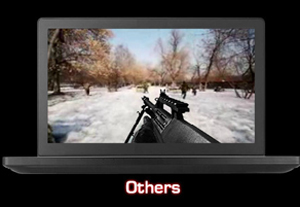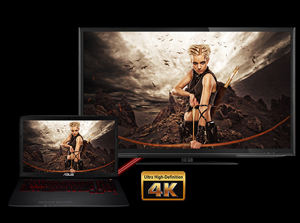 4K/UHD Output Support
The HDMI 1.4 port provides support for extremely high video resolutions that go far beyond today's 1080p systems. Staying true to its commitment to future-readiness, ROG G751JY can now support 4K/UHD LCD displays to give you brilliant, breathtaking gaming visuals.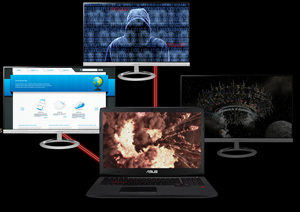 Multi-task with Trinity Display
Trinity Display technology allows ROG G751JY to output to three displays simultaneously through its HDMI 1.4 and mini DisplayPort 1.2 ports. Gaming aside, Trinity Display is ideal for movies as well as multi-tasking.
Stunning Audio Performance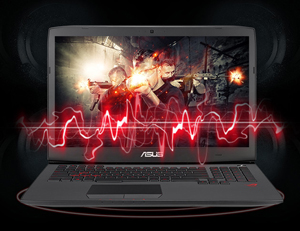 Realistic, Immersive In-game Audio
SonicMaster completely immerses you in high quality in-game audio, with MaxxAudio, a professional-grade processing tool, and ROG Audio Wizard giving you several preset audio modes suited for different gaming genres for total mastery over in-game sounds. ROG G751JY also includes Bass Eye – an internal subwoofer that's perfectly balanced with the rest of the notebook for added low-frequency impact.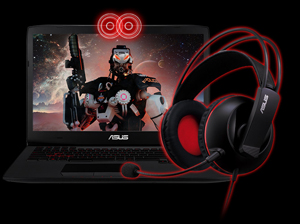 Superb Headset and Microphone Communication
The G Series delivers superb online voice communications in intense gaming situations and has been fine-tuned by the ASUS Golden Ear Team. The microphones filter out ambient noise, so even if you're at a LAN party, your voice still carries true. A specially-tuned audio jack guarantees incredibly realistic in-game sounds through your headphones.
Cloud Storage Service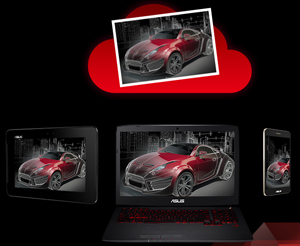 ASUS WebStorage
With ASUS WebStorage, your personal stuff is always with you on any internet-connected device. Your files are synchronized between all your devices, so you always have instant access to the latest versions. WebStorage offers you easy storage, sharing, and syncing of everything from business presentations to personal photo albums and your favorite music or movie files.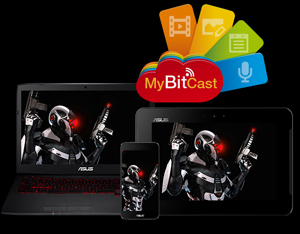 MyBitCast App
With MyBitCast you can upload all your great ideas and notes to the cloud — instantly! Whether it's a memo, voice recording or photo, the simple and intuitive design lets you access them easily from anywhere, on any device.
Note: Since the image display or configuration may be different on each model, please refer to the specifications.