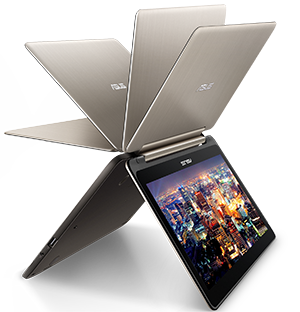 ASUS Transformer Book Flip TP200SA
Smaller. Lighter. And Easier to Flip.
With full 360-degree flexibility, reliable performance and a bunch of powerful features, the sleek, lightweight ASUS Transformer Book Flip TP200 is always prepared for wherever the day takes you. There is no limit to what the Flip TP200 PC can do.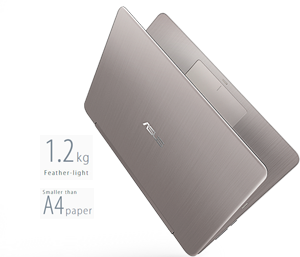 Lightweight Portability
By carefully trimming every last gram of excess weight, ASUS has created one of the lightest Flips ever. At a feather-light 1.2 kg., Transformer Book Flip TP200 is the perfect take-anywhere device that's ready to go wherever your day takes you so it's always at hand for work or play.
Expressive Elegance
Flip TP200's gorgeous metal finish makes it lovely to touch, and its stylish looks make it stand out from the crowd. But Flip TP200 doesn't just look and feel good: the scratch-resistant texture is amazingly tough and durable too, helping to keep its elegant beauty unblemished.
Solid Engineering, from any Angle
Flip TP200's robust and remarkable 360-degree, multi-gear metal hinge gives you the freedom to organize your life the way you want. Do serious work in laptop mode. Flip into tent mode to share or discuss stuff with your colleagues. Create your own personal movie theater in an instant with stand mode. And wherever you are, Flip's handy tablet mode is enhanced by the lightweight design and superb battery life.
Reversible USB Type-C Port, Connect Faster & Easier
The new, reversible USB Type-C port makes connecting devices so much easier, and its compact design allows Flip TP200 to be thinner than ever. Fast USB 3.1 Gen 1 (up to 5Gbit/s) lets you transfer a 2GB movie to a USB drive in a snap. For maximum convenience and compatibility, Flip TP200 also has standard USB 3.0 and USB 2.0 ports, plus a HDMI port for connecting an external display.
A Clear View from Any Angle.
178-degree Wide View High-Quality Display
Wide viewing angles ensure that images never look washed out or lacking in contrast, even when viewing them from off-center positions. Whatever mode Flip TP200 is in, it's perfect for sharing with friends and family.
Instant Response to the Lightest Touch
Flip TP200 is designed to respond instantly to your every touch. ASUS has doubled the touch sensitivity, so even the slightest movement of your fingertips is detected, and it only needs the lightest of touches to work perfectly. In fact, it's so good that it reacts accurately even to a child's small fingertips.
Typing Comfort is All in the Details
Flip TP200 is engineered a superb keyboard with full-size keys, and with just the right amount of key travel to make it supremely comfortable to use, even for marathon typing stints. The cleverly-designed key mechanism gives the keys a reassuringly-solid feel - its details like this that set Flip TP200 apart from the crowd.
A Responsive Touchpad That's Smart
The large touchpad on Flip TP200 makes it effortless to navigate your way around Windows. Flip TP200 has made it extra-sensitive for instant response, and to avoid those annoying jumps when your palm hits the touchpad. Flip TP200uses an exclusive smart algorithm that recognizes the difference between fingers and a palm. It's a perfect balance between sensitivity and usability.
Unlock the Best Windows 10 Experience
A stereo array microphone optimized for Cortana means that Flip TP200 always responds instantly and accurately to the "Hey Cortana!" activation command. Windows 10 also lets you work smarter and smoother, with Continuum mode that automatically changes the Windows display layout depending on how you're using Flip TP200 - so you always get the best Windows experience, for every Flip mode.