The Dell Latitude E6410 is a business-class laptop designed for easy mobile collaboration and superb productivity with advancements in manageability, durability and security in an elegant yet rugged package. It's fitted with powerful yet power-efficient Intel Core processor and abundant amount of memory to keep you productive. The sturdy Dell Tri-Metal casing, reinforced hinges, and rugged system latches protect the interior components against bumps and rigors of everyday use. You'll also appreciate its robust security features that safeguard your business critical data and files.
Count on the Dell E6410 laptop when safety and productivity matter.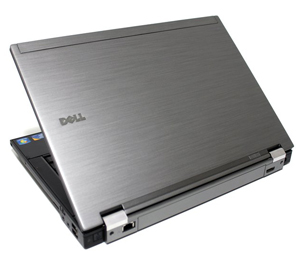 Dependable Design
Dell Latitude E-Family laptops unite dependable, long-lasting design with professional style.
Lasting Durability: All Latitude E-Family laptops - from everyday ultra-portables to the ruggedized ATG and XFR - undergo rigorous durability testing, as well as accelerated life testing that simulates real-world usage. The result: business laptops that are designed to go the distance.
Strength & Sophistication: sturdy Dell Tri-Metal casing, along with reinforced hinges and rugged system latches, offers durability against the rigors of everyday use.
Design That Works with You: Enjoy wireless mobility, or go wired when the situation demands it with a range of ports and inter-compatible E-Family docking options.
Slim, Reinforced Displays: Advanced LED technology enables Latitude E-Family laptops to have thin widescreen displays while remaining exceptionally durable under everyday use.
Critical Data Protection: A fast response free-fall-sensor on the motherboard, along with a Dell StrikeZone shock absorber, can protect your data against system drops - even if the laptop is turned off. Optional solid-state drives allow for fast, reliable data storage and loading.
Intelligent Productivity
Whether in the office or around the globe, Latitude E-Family laptops can simplify productivity for mobile collaboration.
Easy Global Collaboration: The wireless options let you connect with colleagues without the restriction or hassle of cable. A light sensitive webcam and noise-reducing microphone for speech enhancement can be paired with speakers for an optimal videoconferencing experience.
Smart Controls: An intuitive, gesture-enabled touchpad and vibrant backlit keyboard let you work smartly - and comfortably - in virtually any situation.
Power to Do More: With powerful yet power-efficient Intel Core processors and abundant amount of memory, you can get an extra boost of performance to stay on top of business.
Always ON Capability: Use Dell's Latitude ON technology to access your e-mail, calendar and contacts without needing to boot up.
Business-class Control
With their emphasis on stability, inter-compatibility, global support and business-class control, Latitude E-Family laptops can help save IT time and money within your organization.
Family-Level Compatibility: The Latitude E-Family is designed for compatibility - so, whether you're working from home or from headquarters, you can effortlessly dock, swap out batteries or share AC adapters with other E-Family users.
Globally Standard Platforms: IT can standardize E-Family laptops to a global configuration at the time of purchase, making it easy to resolve issues and order replacement parts later.
Advanced Security & Systems Management: All Latitude E-Family laptops include features like Dell ControlVault designed to simplify authentication, data protection, asset monitoring and remote management while allowing for immediate IT response to business threats.