Conquer the world with the Acer Predator 15 gaming laptop. Designed for extreme gaming on the move, the Acer Predator 15 laptop packs the cutting-edge 6th generation Intel Core i7 processor, high-end Nvidia GeForce GTX 980M graphics card and whopping 32GB DDR4 memory, and a HDD + a SSD hybrid storage, offering you the performance and capability to dominate the battlefield. A gorgeous 15.6" Full HD IPS display along with vibrant and TrueHarmony Premium high performance sound system maxes out your entertainment for both games and movies.
A rich array of gaming-orientated features gives you an overwhelming advantage over the most ferocious opponents, like professional backlit keyboard, PredatorSense software for keyboard macros creation, Killer network for lag-free traffic, and a custom thermal solution that keeps you cool even in the heat of battle. Plus, the entire casing is rugged and arresting with an aggressive look, also showing the world you're serious about gaming.
Designed to Thrill
The Acer Predator 15 Notebook was designed with bold highlights, confident angles and dynamic geometry. The colorful red accents create a dynamic visual effect and represent passion and speed. The supercharger inspired air exhaust vents look bold from every angle while the red LED light bar glows while the graphic card is working.
Inside the Predator ProZone backlit keyboard glows in red and aids gamers when gaming in dimly lit rooms. Its spacious keyboard features four customizable backlight zones and features programmable keys. A number pad and dedicated macro buttons give every gamer the control they deserve.
Acer pushes the limits of in-game audio with Predator SoundPound, a combination of stellar audio features including two speakers, one subwoofer and Dolby Audio surround sound delivering superior sound and an immersive surround experience that is rich and clear. In addition, Predator's True Harmony Premium fine-tunes and improves the frequency balance to deepen the impact of movies, games and music.
Full Throttle Acceleration
Dominate your gaming competition with an unleashed and uncompromised processor. With a killer combination of smart features, the 6th gen Intel Core i7 processor is flexible and devastatingly powerful. It's the ultimate weapon when you demand unrivaled PC performance for gaming at its best—because the only thing more amazing than Intel technology is what you'll do with it.
The latest NVIDIA GTX 980M graphics delivers blazing-fast performance and futuristic, visually-stunning graphics to your games and movies. Now you can take on your PC games with faster, smoother gameplay at ultra-settings.
We could all use a little less lag. With Killer DoubleShot Pro your Ethernet and Wi-Fi to work together for the ultimate high speed attack. You choose which applications get to use your precious bandwidth for the best possible networking experience.
The Predator notebook features the PredatorSense gaming control panel, providing customization and control of gaming features, including macro programmable keys for up to 15 in-game shortcuts and adjustable lighting controls.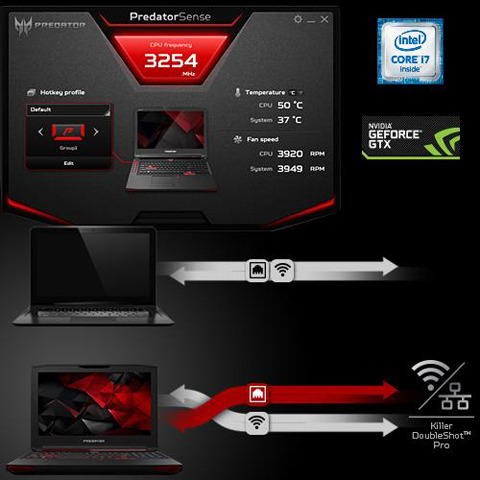 Breathtaking Details
Unleash your entertainment with the impressive 15.6-inch Full HD Widescreen IPS Display with a true 16:9 cinematic format. From game play to watching a movie, you'll see all the action in consistent, clear color, even from wide viewing angles. Enjoy support of up to three monitors, including one monitor with support for NVIDIA G-SYNC technology.
Keep your new rig nice and clean with Predator Dust Defender. Alternating airflow directions help stop dust from building up and maintain a cool temperature, which ensures your high-end components will keep running smoothly. For extreme gamers who need to keep their notebook operating at lower temperatures, inject some cold to keep heat down and performance up with Predator FrostCore. Prepare for intense gaming sessions by placing the Acer exclusive extra Cooler Master fan in the optical disk drive bay for additional air flow.
With the HD Webcam and Skype for Business Certification with Windows 10, you can call, video chat, message, and share files seamlessly with superior audio and visual quality. Connect with friends across the web and enjoy crystal clear and instant communications without echoes, gaps or lags.
Gaming just got even better with Windows 10. Not only do your existing games work great, but now you can play and connect with gamers across your Predator Notebook and Xbox One. From the best casual games to a new generation of PC gaming, Windows 10 is built for the games you love.