The Lenovo Thinkpad T440 is a workhorse laptop great for road warriors and frequent travelers. The 4th generation Intel Core processor and abundant amount of memory deliver robust performance to get your serious tasks done. Enjoy premium comfort and accuracy with precision keyboard. Hook up to a secondary display using VGA or DP output for enhanced productivity. Count on the built-in security features to guard against identity theft. Plus, toughly built with superior material and Military-specification testing, the T440 is lightweight yet durable, and is always ready to hit the trail wherever you go.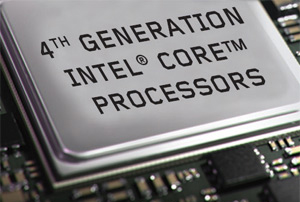 4th Generation Intel Core Processors
4th generation Intel Core processors deliver the performance to increase productivity for your business. Devices turn on in an instant and are always up-to-date. You can multitask quickly and move effortlessly between applications, collaborate wirelessly in a high quality videoconference — all with the convenience of longer battery life. Plus, you can guard against identity theft and ensure safe access to your network with built-in security features. In fact, the only thing more amazing than an Intel Core processor-based PC is what your users will do with it.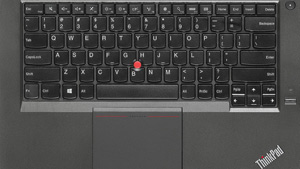 Precision Keyboard Enhanced for Windows 8
Full-sized and spill-resistant, the legendary ThinkPad ergonomic keyboard is renowned for its full array of keys, excellent feel, and TrackPoint pointing device. And now it's optimized for Windows 8 with convenient multimedia buttons, LED status indicators, Function-lock capability, and immediate access to view apps. Plus, a larger, smooth trackpad with 5-point click integration — indicated by subtle bumps and stripes — can be configured multiple ways through Settings.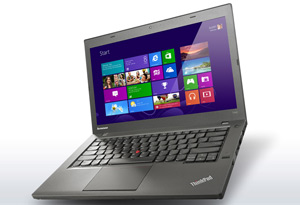 Dual Speakers with Dolby Advanced Audio v2
Dolby Advanced Audio is a suite of audio technologies that enable your ThinkPad to deliver a crisp, clear surround sound experience over its built-in stereo speakers. The technology increases audio clarity for VoIP applications, maximizes volume output without distortion, and improves dialogue clarity when watching videos.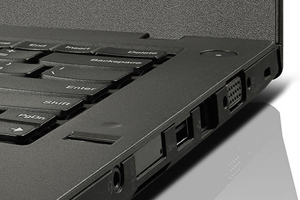 VGA Port
A VGA port for projector connections in conference rooms is still a business must-have, and a native VGA means no dongles to buy/lose/replace.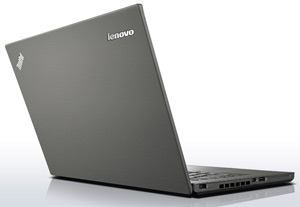 Ultra-Durable Construction & MIL-SPEC Tested
Innovative roll-cage technology adds extra strength and rigidity to the notebook shell and top cover (carbon fiber top with magnesium bottom for maximum strength without adding weight). Military-specification testing validates the ruggedness, durability, and quality of ThinkPad products by testing against eight parameters: high pressure, humidity, vibration, high temperature, temperature shock, low pressure (15,000 ft), low temperature, and dust.
Thin and Light
The ThinkPad T440 14" IPS laptop starts at just 4 lbs — and with a 0.8" profile at its thickest point, is mobile as well as powerful.