Kensington Black 15in. SaddleBag Notebook Carrying Case
Product Code: 64079
The SaddleBag notebook computer carrying case features a soft, modular outer shell design. Inside, the SaddleBag provides exceptional storage capacity with its padded computer compartment, separate file area, zip-down accessory organizer, and numerous pockets. All-day carrying comfort comes from three carrying options: the exclusive EasyGrip foam handle, padded shoulder strap, and hide-away backpack straps. The SaddleBag's high-density foam padding, and durable, water-resistant fabric provide superb protection for your notebook computer. Lifetime warranty.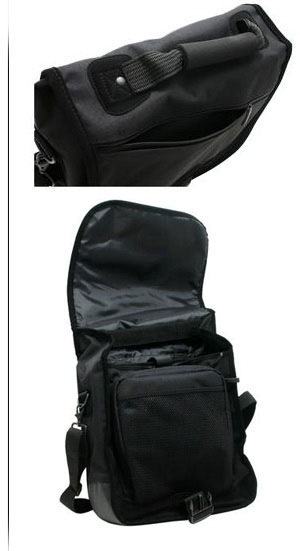 Features
All-day comfort with three carrying options
Backpack straps and adjustable shoulder strap for over-the-shoulder
Fits most notebooks up to 15in.
Foam-padded EasyGrip handle for hand carrying
Heavy-duty rivets and water-resistant fabric for durable good looks
High-density padding protects computer
Stylish backpack hides and protects computer
---
Specifications
Screen Size:
15in. (38.1cm)
Case Type:
Classic
Designed for:
Laptops
Period of Warranty
Unknown
---
Technical Specifications
Black fabric shell with black synthetic nubuck trim in a soft, modular design. Hide-away backpack straps, easy-grip foam handle, and padded shoulder strap provide user with three carrying options. Specialized storage pockets provide extraordinary organization. File storage area for letter size folders. High density foam padded computer compartment protects computer from shocks and jolts. Please note: Features and specifications of all Kensington carrying cases are subject to change without notice.