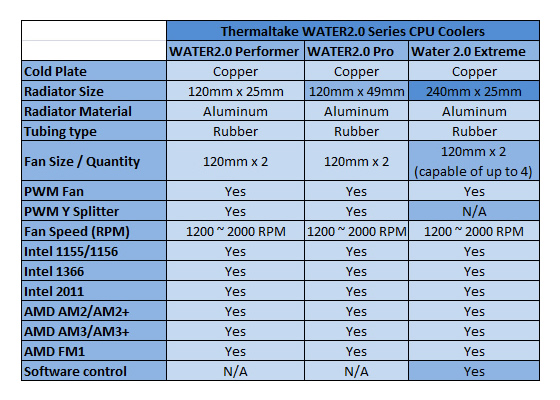 No-maintenance operation
Traditional water cooling solutions require constant upkeep to prevent clogs or performance degradation. Thermaltake WATER2.0 Series of water cooling solutions are self-contained and proven to last.
Super quiet
WATER2.0 water cooling solutions offer the best of both worlds: performance and silent operation thanks to the highly efficient radiator and pump design.
Universal Support
Upgrading or switching between CPU platforms? No problem, WATER2.0 water cooling solutions are designed with universal mounting to support all available AMD and Intel desktop processors.
Smarter cooling
Users should not have to adapt to the tool they are using. Instead, WATER2.0 water cooling solutions all come with PWM-enabled fans so the cooling performance adapts to you. WATER2.0 Extreme also comes with software-based control system that allows the user to fine-tune performance perameters.
A Flexible All-in-One Liquid Cooler that provides Easy and Safe Installation. No Refill Needed.
High performance Copper base plate accelerates the heat conductivity.
High reliability low profile pump provides quick liquid circulation lowering the temperature.
Pre-filled coolant reduces the liquid replenishment hassle.
Low evaporation tube decreases the loss of coolant effectively.
The high-tech sealed circulation system prevents leaking issue.
Dual Automatic Adjustable 120mm PWM Fans maximize the cooling performance and tranquility.
Powerful fan blows the heat of radiator out to the chassis to maximize cooling performance.
PWM control function fan (1200~2000rpm) automatic adjust the fan speed according to CPU temperature, minimize overheating possibility.
Universal Socket Compatibility
Universal socket support:
Intel: LGA2011, LGA1366, LGA1156, LGA1155
AMD: FM1, AM3+, AM3, AM2+, AM2
| | | |
| --- | --- | --- |
| | | |
| | | |
| High Performance Waterblock | High Reliability Pump | High Efficiency Radiator |
| | | |
| | | |
| | | |
| Two Powerful Cooling Fan | Universal Socket Compatible | Skived Fin technology is the process of combing special cutting tools and a controlled shaving technique to produce heat-sink from a single block of material. This technology ensures maximum heat transfer compared to fins soldered onto the cold plate. |
| | | |
WATER2.0 COMPARISON
WATER2.0 Performer

WATER2.0 Pro
WATER2.0 Extreme
Socket Compatibility

Intel: LGA2011, LGA1366, LGA1156, LGA1155
AMD: FM1, AM3+ AM3, AM2+, AM2

Radiator

Price Does Not Compromise
Performance Even with
the great value of the WATER2.0
Performer it uses a top
quality engineered
performance 25mm radiator.

A Step Above
The WATER2.0 Pro take
the Performer design even
further by applying a
thicker high performance
radiator which allows for
more surface area and
better cooling potential

When "Good Enough" is Not The WATER2.0 Extreme is for the user who wants the absolute best performance with room to push the limit. With a expanded 240mm radiator the WATER2.0 extreme can push the limits of an extreme platform.

Radiator Size
120mm
120mm
240mm
Radiator Thickness
25mm
49mm
25mm
Radiator Cooling Surface Area
1385 cm2
3730 cm2
4755 cm2
Maintenance
Trouble free for life The WATER2.0 line is designed to operate through its complete lifespan with no internal maintenance or top off of fluids required.
Smart Control
Silence is Golden with the dual PWM fans any 4 pin
motherboard header can keep the fans in silent operation
until the cooling power is needed such as heavy
workloads or extreme gaming sessions.
The Ultimate in Control the WATER2.0 extreme offers built in cabling and included software to allow full control of the cooler from within windows so that the fans are not just throttled by the motherboard but instead are exactly how you want them including custom fan curves for absolute precision control.
Fans
2x 120mm PWM Fans included and controllable via
available motherboard 4 pin fan headers for temperature
controlled fan throttling.
2x 120mm PWM fans included. (optional: up to 4x 120mm fans can be installed on both sides of the radiator for maximum cooling efficiency)
Fan Speed
1200 ~ 2000 RPM fan speed range. This allows for adjustment from the silent and tranquil low 1200 RPM speed up to the powerful and high performance 2000 RPM setting.
Performance

Good Great for anyone
looking to get a first step
into liquid cooling at the
lowest possible cost of
entry.

Better For the user who
likes to push performance
and wants a high
performance cooler to
support their lifestyle and
demands.

Best For the extreme user who has to tweak and tune every bit of performance from everything, this is the no compromise overclocker and tweaker friendly solution.
PERFORMANCE