Overview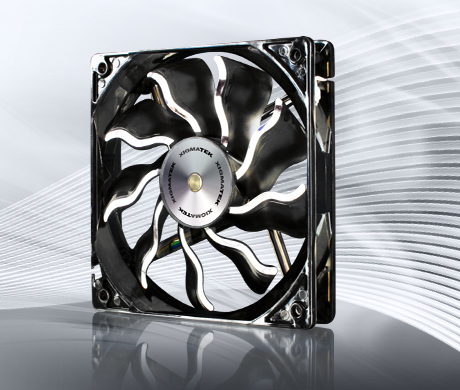 The new Xigmatek XAF Series of 120mm system fans continues the company's innovative design focus to provide advanced features and performance while maintaining excellent value to the end user. The innovative "waveform" shape of the fan blades on the XAF series aren't just for show and provide real performance benefits. The XAF series also features a very high quality copper bearing system which extends the service life of the fan 50% over that of fans using regular ball or sleeve bearings.
Xigmatek XAF-F1254
A New Wave in Fan Design
The unique "waveform" fan blade shape of the XAF series fans were specifically designed to maximize airflow per revolution. The "waveform" shape, along with the minimized central hub, increases the surface area of each fan blade over traditional designs and delivers up to 15%-20% more CFM at comparable RPMs over normal fan designs. Furthermore, unlike traditional fans which act like an air scoop, the irregularly shaped wave of air that forms in front of the "waveform" blade helps to reduce the collection of dust on the fan blade itself.
• Innovative "waveform" fan blade designed for performance – The unique shape of the XAF series fan blades and the minimally sized central hub dramatically increases blade surface area and generates 15%-20% more CFM at comparable RPMs to traditional fans. More airflow equals better cooling performance.

• Dramatically reduces dust collection – Traditional curved fan designs act like air scoops and over time they collect dust over the entire blade which increases air resistance and decreases performance. The unique "waveform" fan blade of the XAF series generates an irregularly shaped pressure wave in front of the fan blade which helps to reduce dust collection.

• High quality copper bearing for long life – The bearing is the heart of a fan system. Xigmatek's use of superior grade copper materials for the bearing system ensures up to 50% longer service life than regular ball or sleeve bearing designs. Greater reliability gives you peace of mind for your PC system.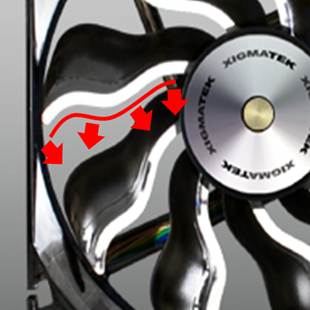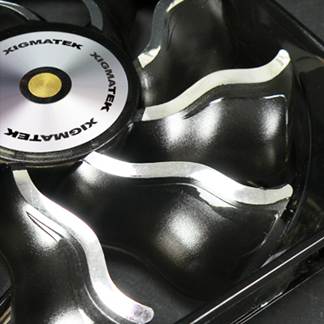 Features

• Innovative "waveform" fan blade design to dramatically increase airflow up to 20% over standard blade designs
• "Waveform" blade produces irregular air pressure wave at the front of the blade helping to reduce dust collection

• High quality, long life copper bearings designed to extend service life up to 50% over standard ball or sleeve bearing designs – MTBF rated at 150,000 hours

• Available in 3-pin (non-PWM) or 4-pin (PWM) versions

• Comes in a variety of colors and with or without white LED

• 120mm versions available for most standard PC system applications

Specifications:
| | |
| --- | --- |
| Product Name | XAF-F1254 |
| Product Number | CFP-DXGWL-KU4 |
| Material | P.B.T. |
| Dimension | 120(L)x120(W)x25(H) mm |
| Voltage Rating | 12 V |
| Start Voltage | 9V |
| Speed | 1500 R.P.M. |
| Bearing Type | Copper Axis with Long Life Sleeve Bearing |
| Air Flow | 75.3 CFM |
| Air Pressure | 1.6 mmH²O |
| Life Expectance | 150,000 hrs |
| Noise Level | 24 dBA |
| Weight | 125 g |
| Connector | 3 pin |
| LED Color | White |
Xigmatek Leading the Way
Xigmatek continues to lead the market in innovative ideas that are translated into truly unique products. Xigmatek's commitment to innovation, design, quality, performance and value means that the customer gets the best featured and price/performance value in the market.
Xigmatek: We Innovate