Arion ET-AR504LR-BK Three-Piece Sound Stage Speakers
The Arion ET-AR504LR-BK three-piece soundstage speakers with wireless remote control brings easy to use, high quality audio to your home. Everyone who appreciates music in a home environment cares about stereo soundstage. A good set of 2.1 speakers should seem to disappear, replaced instead by a spatial arrangement of music sources or soundstage - filling the space from left to right. It is the soundstage that makes the difference between just passively watching and the "being there" experience.
The secret to great soundstage? Glad you asked. What makes the Arion 504s great is in the way it's constructed: precisely placed bass reflex port for enhanced lower frequency response; rigid wooden cabinets for clean, punchy sound; stiff cone materials that withstand rapid vibrations for crystal highs; and heavy duty magnets and coils for long-term durability. All these components work together to bring you high quality sound few plastic multimedia speakers can. And because the Arion ET-AR504LR-BK is designed with large PC monitors and HDTVs in mind, we belive you will appreciate its convenient wireless remote control (for quick, simple, audio adjustments from the comfort of your chair or sofa), and industry standard RCA and 3.5mm audio inputs (makes extending audio cables to and from your audio sources very easy).
Powerful 35W RMS (Peak 70W)
Many people assume that the higher wattage system is going to sound better or give them significantly more volume. This is only correct up to certain point. Without going too far into the details, power (wattage) doesn't translate well to our ears, perceived loudness and quality. The peak power of 70W ensure this set of speakers have enough power reserve for brief explosive passages of sound or music. What you want to focus on is the real, continuous wattage measured in RMS (which in this case is 35W RMS, designed for constant use to produce sound without incurring damage over long periods of time) and the way the speakers are constructed (which determines its sound quality).
High Quality Sound
The secret to great sounding speaker lies in the way it's constructed. The Arion 504s use proven technology to bring you high quality sound: wooden cabinet, stiff cone materials, heavy duty magnets and coils, and precision cut bass reflex port. All these components work together to bring out as much detail as possible in your favorite music. The AR 504s produce deep bass and crystal clear highs, with a wide frequency response from 20Hz to 20kHz. More importantly, this set of speaker is tuned to reproduce accurate sound, meaning your music will sound not just loud, but detailed and natural.
Designed for Home Audio with Easy Connections
There are no proprietary cables. The Arion 504s use industry standard RCA inputs that easily connect to most HDTVs, DVD players and gaming consoles; its 3.5mm input is designed to plug in to most desktop computers, laptops, tablets and smartphones. In case you are not sure which type of connection to use, we got you covered with the included RCA to 3.5mm audio cable which works for both type of connections. And because these speakers use industry standard cables, you can easily extend them when needed.
Convenient Wireless Remote Control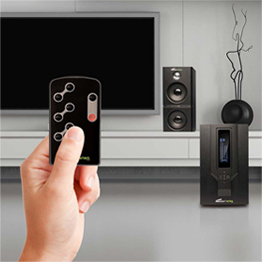 Don't you just hate it when you have to crawl down under the desk or reach over the desk to make an adjustment? Take control of your audio experience with the provided remote control. Easily customize your audio to the max with adjustable treble, bass, and master volume. Relax, sit back, and control your music from anywhere in the room.
Subwoofer-mounted Dancing Light Show (and Controls)
Take your music and sound to another dimension with the blue-colored LCD display mounted on the subwoofer. Its bars move up and down with the beat of your music, adding a nice touch to the ambiance. So crank it up, hear and see the music. Last but not least, the ET-AR504LR-BK also comes with subwoofer-mounted controls so you can adjust the audio settings the old fashion way.
Specifications
Total RMS Power: 35W
Satellites: 10W RMS x 2 (into 4 ohms, @<=1% THD)
Subwoofer: 15W RMS x 1 (into 4 ohms, @<=1% THD)
Total Peak Power: 70W
Frequency Response: 20Hz to 20kHz
Drivers:
Satellites: Dual 3in. midrange and 1in. tweeter with solid wood enclosure Subwoofer: 5.25in. driver with solid wood enclosure
Speaker Dimensions:
Satellites: 4.33in. x 9.65in. x 4.77in.; Subwoofer: 6.7in. x 11.03in. x 10.25in.
Works with HDTVs, gaming consoles, computers, music players, TVs, DVD players, tablets, smartphones and other audio sources with 3.5mm or RCA output
Package contents: ET-AR054LR-BK Speaker System, Wireless Remote with Battery, User Manual, 3.5mm to RCA Audio Cable
About Eagle Tech
Our journey began in 1993 as a supplier of power supplies, external hard drive enclosures and other computer DIY components under the brand Eagle Tech. Today, our products include audiophile speakers, Bluetooth music receivers, battery packs, foldable keyboards - just to name a few. With the expansion in product lines came the establishment of new brands: Arion and Neptor, each dedicated to fulfilling the needs of different users. Our mission is to convert customers into fans (not the other way around) by delivering well-designed, high quality products at competitive prices.