TI-Nspire™ CX Handheld
Advanced graphing functionality • Backlit, color display • Rechargeable
Our latest graphing handheld that enables a deeper understanding of abstract concepts in math and science subjects.
Math. Science. All on one handheld.
The TI-Nspire™ CX handheld is a robust, hands-on learning tool that satisfies math and science curriculum needs from middle school through college.
Calculator
Perform computations and enter expressions, equations and formulas in proper math notation.
Lists & Spreadsheet
Perform mathematical operations on data and visualize the connections between the data and their plots.
Graphs
Plot and explore functions, equations and inequalities, animate points on objects and graphs, use sliders to explain their behavior and more.
Notes
Enter notes, steps, instructions and other comments on the screen alongside the math.
Geometry
Construct and explore geometric figures and create animations.
Data & Statistics
Summarize and analyze data using different graphical methods such as histograms, box plots, bar and pie charts and more.
Vernier DataQuest™ Application
Create a hypothesis graphically and replay data collection experiments all in a single application.
Vernier DataQuest™ is a trademark of Vernier Software & Technology.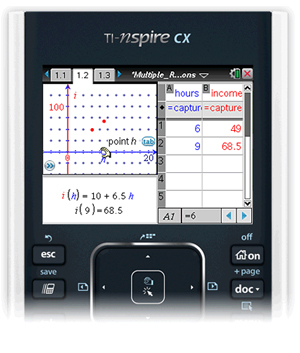 Accelerate the Understanding Process
The TI-Nspire™ CX handheld's innovative capabilities support teaching strategies that research has found accelerate understanding of complex mathematic and scientific concepts.
| | |
| --- | --- |
| | Multiple Representations of expressions in problems are presented simultaneously, enabling students to visualize how algebraic, graphical, geometric, numeric and written forms of those expressions relate to one another. |
| | Dynamic Linking across documents and multiple representations allows students to interact directly with the math by seeing how manipulating one form simultaneously changes all the others. |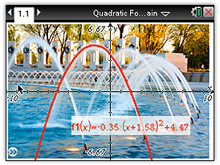 Make Real-World Connections
Import digital images – including your own photos – and overlay graphs and equations on them to see math and science at work in the physical world.*
*TI-Nspire™ Technology supports images in .jpg, .jpeg, .bmp and .png formats.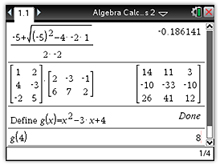 Enter Values In Proper Notation
Integrated mathematics templates permit students to enter expressions and see math symbols, formulas and stacked fractions just as they are printed in textbooks and on the board.
The unique Chem Box feature lets students easily input chemical formulas and equations.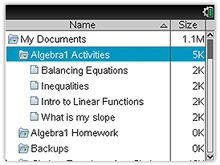 Click, Scroll, Create and Save Like a computer
Use intuitive drop-down menus to navigate through the TI-Nspire™ CX handheld.
Create documents and pages and save your work as simply as opening, editing and storing files on a computer.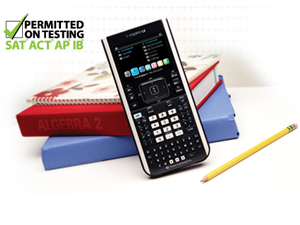 Take It to the Test
Standardized testing organizations have approved the TI-Nspire™ CX handheld for SAT*, PSAT/NMSQT*, ACT*, AP* and IB* high-stakes exams. It also is approved for some state exams.
*SAT & AP and PSAT/NMSQT are registered trademarks of the College Board, ACT is a registered trademark of ACT, Inc. 
IB is a registered trademark of the International Baccalaureate Organization.  None were involved in the production of nor endorse this product. Policies subject to change.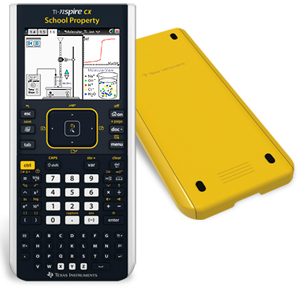 Keep Track of Handhelds
Easily distinguish classroom handhelds from student-owned calculators with EZ-Spot loss prevention features. The "school bus yellow" back cover, and faceplate inscribed "SCHOOL PROPERTY" provide effective theft deterrence.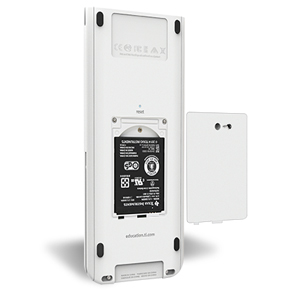 Recharge, Don't Replace For Years
The TI Rechargeable Battery conveniently recharges using a USB cable, wall charger or TI-Nspire Docking Station. The TI Rechargeable Battery reduces the risk of running out of power unexpectedly and eliminates the need for routine battery replacement. Under normal usage, the rechargeable lithium-ion battery should last for up to three years.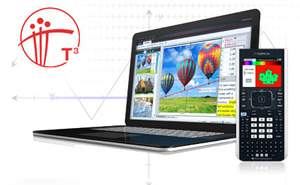 A Complete Learning Resource
Texas Instruments is committed to student success in mathematics and science by providing advanced learning tools that have been designed in collaboration with leading educators and researchers.
In addition to breakthrough classroom technology, TI also provides superior professional development for teachers as well as free activities and curriculum content.
Professional Developmentwebinars, workshops and conferences by Teachers Teaching with Technology™ – T³™ deliver practical, proven strategies, insights and methods for classroom success.
Building Concepts
TI Building Concepts is a different way of thinking about teaching and learning critical middle grades math ideas.
Math Nspired Teaching Resource Center comprises a comprehensive online library of TI-Nspire math classroom activities and curriculum content optimized for TI-Nspire Technology.
Science Nspired Teaching Resource Center includes a variety of free, downloadable simulations, student explorations, formative assessment and data collection suitable for middle grades and high schools subjects.