TD-LBK101VA
GemView 10 Tablet Display
The Topaz GemView™ 10 Tablet Display provides all the display advantages of a high-performance tablet with none of the IT drawbacks.
With its half-page, 10.1" diagonal, high-resolution display and electronic pen, the GemView 10 allows for signing documents, playing videos, running ads, and much more.
All GemView™ Tablet Displays are bundled with software for document signing, creation, and development, including pDoc Signer for PDF signing and fillable-form creation, pDoc Singer Duo for one-on-one end user document signing with GemView, and pDoc Pro eSign System, providing developers a means to push PDF documents to a Topaz GemView Tablet Display, PC client with Topaz signature pad, and more.
It also provides the benefits of secure biometric Topaz forensic signatures. The LCD display allows users to see their signature while signing.
Benefits
Sleek, thin tablet design for optimal space utilization
10.1" half-page TFT LCD display for ease-of-use
High-quality biometric and forensic capture
Topaz software suite bundled at no additional cost for complete signing and signature solutions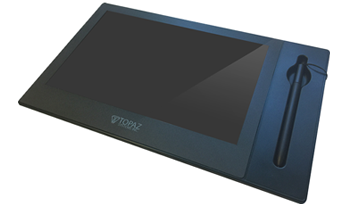 Specifications
Warranty
1-year
Display Information
10.1 inch TFT LCD, LED backlit
1280 x 800 resolution
Pen Type
Electromagnetic, battery-less
Pressure-sensing
Dimensions
11.81" x 7.28" x 0.87"
300mm x 185mm x 22mm
Weight
0.85 kg (1.87 lb)