One of the world's most rugged Bluetooth speakers, the Fugoo Tough will fit right into your active lifestyle and keep up with you. Its casing is crafted from fiber-reinforced resin and solid aluminum, tough enough to take on any challenge. Plus, with powerful 360-degree sound, 40 hours of battery life, 3.5mm stereo jack and Siri/Google Now integration, these speakers have no limits, just as you.
Core-X
It comes with a protective jacket which is 100% waterproof, mud-proof, snow-proof and shockproof. On the inner Core X, 6 drivers are symmetrically placed on four sides. The two tweeters deliver clean highs, two mid/sub drivers give midrange punch, and two passive radiators help bring out a full, deep bass. Together, these six drivers deliver a clean sound pressure level, filling large rooms and outdoor areas with rich, immersive sound.
Durable Jacket
With fiber-reinforced resin and solid aluminum casing, all sides and corners of the FUGOO 360-degree Bluetooth travel speakers are weathered against the storm. Ready for anything, built to last - you and FUGOO are a match made in Tough Heaven.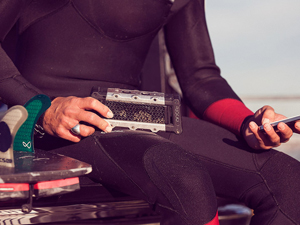 360° Sound
With speakers on all four sides, your Tough Wireless Speaker delivers pristine sound in all directions. The upward tilt of the speakers puts everyone in the sweet spot. So simply place your speaker in the center of a room and fill any space with sharp highs, bassy lows, and all-around premium audio.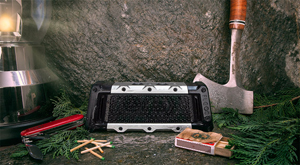 40-Hour Battery Life
A full day and a half is a long time. The FUGOO Tough Bluetooth speaker lasts even longer than that. With a 40 hour continuous battery life, FUGOO Tough speakers are sure to keep the action going as long as possible. And no, that's not a typo.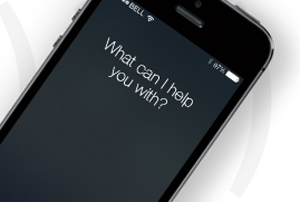 Siri/Google Now
Always wanted a personal assistant? Well, now's your chance. By integrating iOS' Siri and Android's Google Now, your rugged speaker becomes the personal assistant you've always wanted with the simple click of a button. Feel free to ask Siri for anything you might ask from your iPhone - sports scores, weather forecasts, dictate a text message, or do voice searches through your smartphone or tablet.