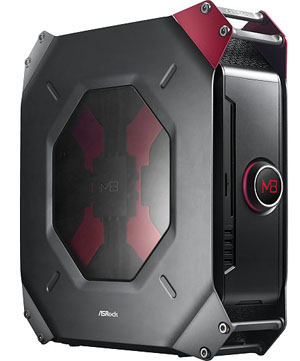 ASRock M8: A New Barebones Mini-ITX Gaming PC Designed in Collaboration with BMW

This is not your typical gaming rig. This barebones system has every essential component packed inside a designer mini-ITX case with advanced flexibility for your future upgrades. Customize your own gaming machine by simply adding a CPU, memory, PCIe x16 graphics card, a set of 3.5" hard drives or four sets of 2.5" solid state drives, powered by a compact 450W SFX power supply unit. Experience the best visual performance through a discrete graphics card (dual slots supported), and a sensational audio experience through built-in Creative Sound Core3D 7.1-channel technology.

Aluminum alloy body, sturdy handles, and Grade N48 magnetic side panels design exude simplicity and portability. For heat dissipation, four built-in chassis fans are included to simultaneously cool off the system while in maximum performance.

A multipurpose controller with an OLED display panel and integrated G-Sensor adds more convenience for users to tune or check the system's status.

Altogether, the M8 has redefined barebones PC systems with its innovative, elegant design for a perfect solution for every need at home, at the office, or at the LAN Party.

Exclusively at Newegg.