A new breakthrough in speed and design, the Apple iPad is so brilliant in every sense of the word, to revolutionize your life with more excellence and excitement.
Pick up the iPad with Retina display and suddenly, it's clear. You're actually touching your photos, reading a book, playing the piano. Nothing comes between you and what you love. That's because the fundamental elements of iPad — the display, the processor, the cameras, the wireless connection — all work together to create the best possible experience. And they make iPad capable of so much more than you ever imagined.
Performance is not the whole story. iPad is sleek, beautiful and engineered to handle life on the go - thanks in large part to the aluminum unibody. By consolidating many parts into one, everything becomes less complex and far more precise. The result is an iPad that's thin, light, and durable enough for the ins and outs of everyday life.
Breakthrough Retina Display
Everything you do with iPad, you do through its large, beautiful display. And when the display is better, the entire iPad experience is better. The Retina display on iPad features a 2048-by-1536 resolution, rich color saturation, and an astounding 3.1 million pixels. That's four times the number of pixels in iPad 2 and a million more than an HDTV. Those pixels are so close together, your eyes can't discern individual ones at a normal viewing distance. When you can't see the pixels, you see the whole picture. Or article. Or game. In ways you never could before.
Powerful A6X Chip
The new A6X chip inside iPad delivers up to twice the CPU and graphics performance of the A5X chip. And it makes iPad feel faster and even more responsive. Apps launch instantly and run smoothly. Graphics-intensive games are fluid and lifelike on the gorgeous Retina display. And with improved image signal processing built into the A6X chip, the photos and videos you take with the 5-megapixel iSight camera look sharper and even more Retina worthy.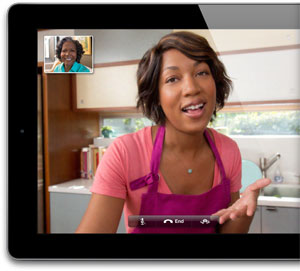 Wave Hello with the New FaceTime HD Camera
FaceTime on iPad puts you face-to-face — even when you're miles apart. You can make a video call over Wi-Fi or cellular, so if you're out and about, your friends and family are never out of the loop. And now with the new FaceTime HD camera, everyone can get an even better view of you and what's around you. You can also use it for taking self-portraits or recording 720p HD video.
Record HD Video in Full 1080p
Sometimes life takes you by surprise. You're reading on your iPad while waiting for the train when you spy a talented performer on the platform. Or you're browsing the web on the couch when your dog trots by wearing your daughter's tutu. The iSight camera on iPad lets you capture all these unpredictable, beautiful, and hilarious moments. In 1080p HD, no less. And with automatic video stabilization, your recording is free of bumps and shakes. Which is a big advantage when you're laughing uncontrollably.
Shoot 5-Megapixel Still Images
The 5-megapixel iSight camera features a backside illumination sensor that captures great-looking pictures whether by sunlight or candlelight. When you shoot photos, the big, beautiful Retina display becomes a big, beautiful viewfinder — giving you plenty of room to compose your shot. Autofocus, tap to focus, and tap to set exposure functions mean every photo you take instantly becomes frameworthy. And with built-in face detection that automatically balances focus and exposure across up to 10 faces, there's more room for more grins. So everyone look at iPad and say "Cheese."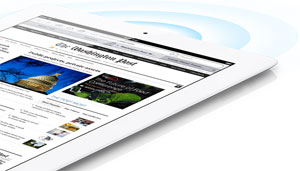 Ultrafast Wireless
The new Wi-Fi capabilities built into iPad keep you connected faster than ever — up to twice as fast as any previous-generation iPad. With dual-band (2.4GHz and 5GHz) 802.11n Wi-Fi and support for channel bonding, download speeds can reach up to 150 Mbps. Translation: Many of the things you do every day may start to feel a whole lot faster.
Lightning Connector
Part of every new iPad is the all-new Lightning connector. It's 80 percent smaller than the 30-pin connector. And it features an all-digital, eight-signal design that's significantly more durable. Another brilliant feature of Lightning: It's reversible. Which means there's no wrong way to plug in the cable.
If you have an iPad accessory that depends on the 30-pin connector, you can still connect it to your new iPad. Simply use a Lightning to 30-pin Adapter (sold separately).