Samsung Galaxy S4 Active I9295 Gray 3G Dual-Core 1.9GHz Unlocked Cell Phone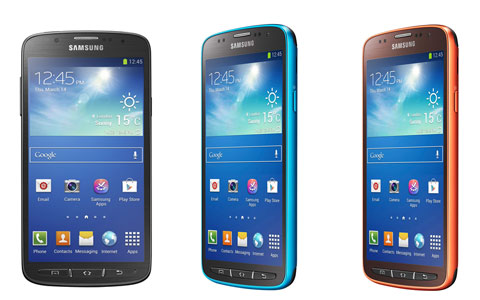 ---
Take Your Smartphone Anywhere
Enjoy the freedom of being able to take your smartphone almost anywhere. An IP67 rating means the Samsung Galaxy S® 4 Active is resistant to dust and moisture. The screen is made with Gorilla® Glass 2, so it's tougher and more scratch-resistant. Toss it in your gym or camping bag without worrying if it'll get wet or dirty.
---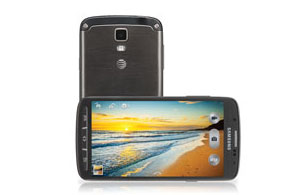 Capture it All
Enjoy advanced new camera features in a premium Galaxy camera user interface with zero shutter lag.
---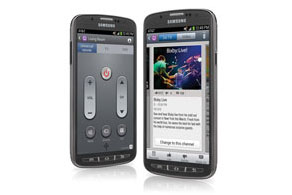 Take Your Entertainment Seriously
Entertain yourself with a phone that's equipped for a good time. WatchON™ helps you control your TV by turning your phone into a universal remote. Use it to channel surf in a new way that lets you browse by genre, search by title or receive recommendations based on your interests. When you're away from your TV, launch Samsung Hub for access to movies, shows, music and e-books - all in one place with one sign-in.
---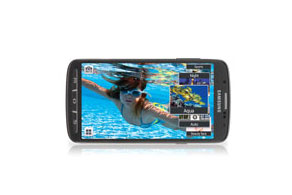 Remember Everything in HD
Equip yourself with a camera so sharp it blurs the line between smartphones and professional photography. Our 5-inch, 1080p display meets an 8-Megapixel camera for a dazzling way to take, view and share photos. Aqua Mode lets you take pictures under water while the Drama Shot mode tracks every part of that high dive with striking results. The Eraser lets you delete random people who wander into your frame, while the Live Filters accentuate the mood of your pictures with dozens of treatments. When you're done snapping, use Story Album™ to share your pictures or turn them into a printed photo book.
---
Total Control of Your Content
Enjoy a smartphone that intuitively knows the best way for you to experience content on the fly. Air View™ instantly previews photos, files, links and text when you hover your finger over the phone. Never lose your place while watching video with Smart Pause™. Look away and it stops what you're watching until you return, so you never miss a second of action. With Air Gesture™, you can skip songs, check notifications or answer a call with a wave of the hand. And Smart Rotation keeps your screen oriented the right way so you get the most out of movies and e-books. Magic? Sorta.
Save Time with More Features
Whether business or pleasure, harness the efficiency of a smartphone that's built to make room in your hectic schedule. The Multi Window feature lets you use two apps side by side - no need to stop watching a live game to tweet about it. SAFE™ keeps work data secure and personal stuff private no matter where you are or which network you're using. Polaris® Office lets you do more than open documents - check quarterly reports in Microsoft Excel, make comments in Word or update PowerPoint presentations right from your pocket. Plus, with Samsung Smart Switch™ and Easy Mode, there's no learning curve when you switch over. Load your software from other operating systems, and it'll automatically find your apps on Google Play™ or suggest similar ones. You can also simplify your homescreen and take your time discovering the amazing possibilities of your new Samsung Galaxy S4 Active.
© 2013 Samsung Telecommunications America, LLC. Samsung, Galaxy S Active, TouchWiz, Galaxy S, Super AMOLED, SAFE, WatchON, Air Gestures, Air View, Story Album, Smart Switch, Smart Scroll, and S Voice are all trademarks of Samsung Electronics Co., Ltd. Android, Google, Gmail, Google Play, YouTube and other marks are either trademarks or registered trademarks of Google Inc. Other company names, product names, and marks mentioned herein are the property of their respective owners and may be trademarks or registered trademarks. Smart Switch is neither affiliated with nor endorsed by Apple Inc., BlackBerry, Nokia, or LG. Use only in accordance with law. Certain content (such as DRM protected content) may not be compatible. Consult any applicable terms and conditions with your content providers to ensure that you have rights to transfer content off your previous device. TO THE FULL EXTENT PERMITTED BY LAW SAMSUNG ELECTRONICS CO., LTD., SAMSUNG TELECOMMUNICATIONS AMERICA, LLC, AND THEIR AFFILIATES (COLLECTIVELY REFERRED TO HEREIN AS THE "SAMSUNG ENTITIES") EXPRESSLY DISCLAIM ANY AND ALL WARRANTIES, EXPRESS OR IMPLIED, INCLUDING ANY WARRANTY OF MERCHANTABILITY, FITNESS FOR A PARTICULAR PURPOSE, INTEROPERABILITY OR NON-INFRINGEMENT, WITH RESPECT TO INFORMATION TECHNOLOGY SECURITY PROTECTION, SAFE™ DEVICES AND APPLICATIONS TESTED WITH SAFE™ DEVICES. IN NO EVENT SHALL THE SAMSUNG ENTITIES BE LIABLE FOR ANY DIRECT, INDIRECT, INCIDENTAL, PUNITIVE, OR CONSEQUENTIAL DAMAGES OF ANY KIND WHATSOEVER WITH RESPECT TO INFORMATION TECHNOLOGY SECURITY PROTECTION, SAFE™ DEVICES OR APPLICATIONS TESTED WITH SAFE™ DEVICES. In addition, information technology security protection will be affected by features or functionality associated with, among other things the e-mail platform, master data management, and virtual private network solutions selected by the software provider, solution provider or user. Choice of an e-mail, master data management, and virtual private network solution is at the sole discretion of the software provider, solution provider or user and any associated effect on information technology security protection is solely the responsibility of the software provider, solution provider or user. For complete statement of limited warranty, available on the web and where Samsung smartphone and Galaxy Tab™ devices are sold. Screen images simulated. Appearance of device may vary. People and usage fictionalized to demonstrate handset usage in a broad range of circumstances. All content valid as of 6/12/13. All information included herein is subject to change without notice. Samsung is not responsible for any direct or indirect damages, arising from or related to use or reliance of the content within this document.