Endorsed by rapper/songwriter Pitbull, the super high-powered RockDoc® BOOM is a standalone MP3 player that also serves as a super-portable, high-quality speaker for larger media devices. With 4GB (64GB expandable) memory, an impressive 6W output (3W +3W), a 1.77" 4 Ohms aluminum film vibration loud speaker, and both USB and audio connectivity, it's a must-have for anyone wanting music on-the-go or seeking to enhance the audio performance of their laptops, PCs, smartphones, or other devices. At just 2.95" x 1.97" x 2.08", the high-performing RockDoc® BOOM features two-way speakers, a 150-18000Hz frequency response, and comes with a rechargeable Li-ion battery/charger combo for hours and hours of on-the-go operation.
Rock out to your music library wherever you go, share movies, video, or audio books with friends, or play background music for parties, study groups, or exercise workouts.
A revolutionary alternative to larger, less portable docking station, this innovative, multi-use device is designed with convenience, quality, and compatibility in mind. Its internal memory can store up to 1,000 songs, its micro-SD memory slot takes up to 16,000 songs, and its lightweight, metallic frame comes in a variety of colors that go great as an accessory to any smartphone, tablet, laptop, or other device.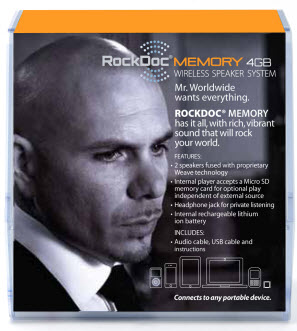 Features:
New mini aluminum vibration film loud speaker. The unique design makes tone performance perfect.
Metallic shell is fashionable, out of the ordinary and in an array of colors to compliment today's portable devices and accessories.
Mini audio box with proprietary technology provides portable, mobile music for your MP3, MP4, phone, GPS, notebook computer & Micro SD/TF.