Light Your Home the Way You Want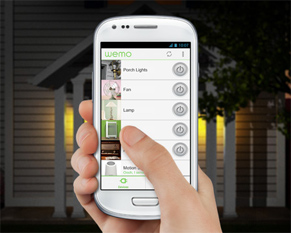 The Wi-Fi-enabled WeMo Light Switch allows you to turn lights on and off from anywhere - from across the house, from the backyard, or from the other side of the world. The WeMo Light Switch replaces a standard light switch in your home and can be controlled remotely with an Android smartphone or tablet, iPhone, iPad, or iPod touch. It works with your existing Wi-Fi network and anywhere your smartphone or tablet has an Internet connection (3G or 4G LTE). Easy for most Do-It-Yourselfers.
Key Features
Turn room lights on and off from anywhere with your smartphone
Works with your existing home Wi-Fi network and mobile Internet
Set up rules for lights going on and off at Sunset and Sunrise
Set a schedule for lights in different rooms
Replaces your existing wall switch
Subtle backlighting makes the switch easy to find at night
Works with the entire family of Belkin WeMo products
Works with IFTTT, connecting you to a whole world of Web apps
Installs quickly and easily for Do-It-Yourselfers
Free WeMo app for Android and iOS
Decorative face plate included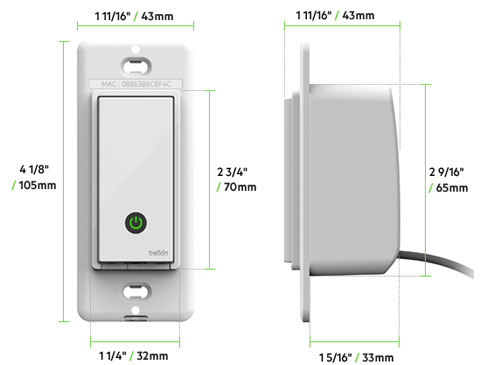 Free WeMo App is Easy to Use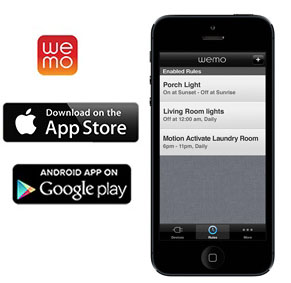 Download the free WeMo app to your compatible Android smartphone or tablet or your iPhone, iPad, or iPod touch to get started. The app has been designed so that simple tasks, such as scheduling a porch light to turn on after dark, can be accomplished with ease. Use the app to ensure that the lights are always on when your kids come home from after-school activities, or to turn specific lights off every day to reduce power consumption.
The app also allows you to set more complex customized schedules, such as turning lights on and off at different times on different days. Customized schedules can be easily adjusted using the WeMo app, even when you are away from home.
Keeps its programming and the correct time and date during power outages
Has no batteries to wear out
No minimum wattage - so it works with all incandescent, halogen, CFL, fluorescent and LED lighting
Can also control ceiling fans
Turn Lights On and Off at Sunset or Sunrise
Not only can you program your lights to turn on or off at specified times, you can also set them to respond to the sun. Simply enter your city name in the WeMo App and then program your porch lights to turn on at sunset and off at sunrise.
The sunset and sunrise times update every day, so whatever the season, your lights will come on when you want them to. You can also combine sun and time rules - for example, you can program your lights to turn on at sunset and off at 11pm every day. The WeMo App automatically adjusts for daylight savings.
Replace Your Existing Light Switch - Hassle-Free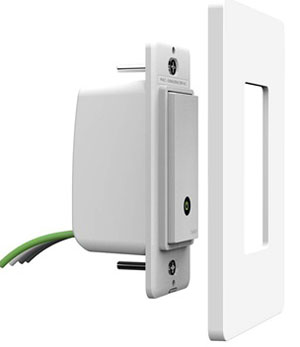 WeMo Light Switch was designed for DIY installation. The included faceplate seamlessly clicks onto the wall and hides the screws underneath.
Please note that the WeMo Light Switch is not compatible with lights controlled by more than one switch or with metal face plates. Metal face plates interfere with Wi-Fi signals and will not allow this product to work correctly in your home.
Backlighting Makes it Easy to Locate After Dark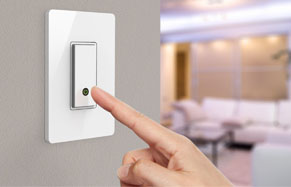 The switch features subtle backlighting, making it easy to find in the dark. You can manually turn the switch on or off by simply tapping it. It's so simple, a toddler can do it.
The Whole WeMo Family Works Together in Harmony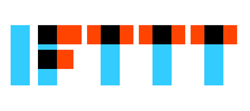 WeMo is a family of simple, ingenious products that make life easier, simpler, better. WeMo uses your Wi-Fi network and mobile internet to control your home electronics right from your smartphone. WeMo also works with IFTTT, connecting your home electronics to a whole world of online apps.
Indoor Use
Designed for indoor residential, dry location use only
Device Compatibility
Android smart devices running Android 4.0 or higher
iOS Smart devices running iOS 5 or higher
iPod Touch 3rd Generation and later
iPhone 3GS and later
iPad (all models)
iPad Mini
System Requirements
Wi-Fi Router with an internet connection
Either Android 4.0 or higher; iOS 5 or higher
Wi-Fi 2.4GHz 802.11n
WeMo App (downloadable from App Store or Play Store)
Electrical Requirements
Supports any bulb (CFL, Incandescent, LED)
Max 600W Incandescent or 1800W Resistive at 120VAC
Neutral wire required
Replaces single pole switch. Not compatible with three-way (multi location control) switches.
Works with your existing single/double/multi-switch rocker style plates
Not designed to work with metal faceplates
Package Includes:
WeMo Light Switchrouter
Face Plate
Four Wire Nuts
Quick Installation Guide