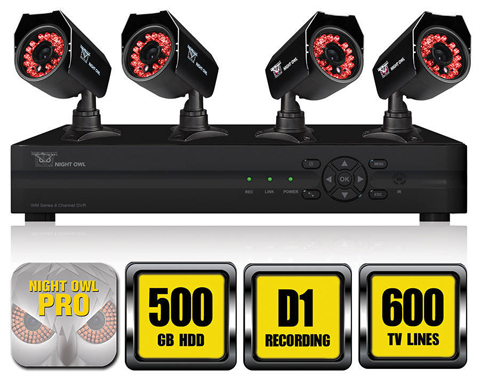 The Night Owl WM-845-624-R is a complete surveillance kit that includes a eight-channel DVR, a pre-installed 500GB HDD, and four indoor/outdoor cameras. The premium quality cameras feature 600TVL resolution and a night vision range of up to 50 feet which means you'll be able to see more of your property in finer detail – day or night. The rugged poly-aluminum camera housing with weather-resistant capability ensures reliable and consistent performance over time. And with remote viewing, you'll be able to play back recorded footage or check on your property in real-time on PC, smartphone or tablet with an Internet connection. You can receive motion activated push notifications to your smartphone when the sensors detect activity. You can also take full control of surveillance system via your tablet and/or Smartphone device.
Refurbished 8 Channel smart DVR with pre-installed 500GB hard drive
Free "Night Owl Pro" app for your Android or Apple Smartphone/Tablet
Free Control Management Software (CMS) for your PC or Mac
4 x Indoor/Outdoor 600 TVL cameras with 50FT of night vision
No monthly fees
Remote Connectivity
Smartphone and Tablet Connectivity via Night Owl PRO App
All Night Owl WM Series DVRs come with our free Smartphone and Tablet app called "Night Owl Pro." This free Apple (iOS) and Android accessible app allows you to access multiple DVRs and view multiple cameras at once. WM Series DVRs can also be viewed over select 3G/4G Smartphones.
View up to 16 channels simultaneously on one screen
Playback recorded files
Access multiple DVRs in one application (up to 100 DVRs)
Motion activated push alarm notifications
Playback, record, stream and configure the DVR settings
Touch screen multi-gesture functions
PC/MAC Connectivity via Control Management Software "Night Owl View"
Don't have a Smartphone or Tablet? All WM Series DVRs are accessible over the internet via PC and Mac computers using the included Control Management Software, "Night Owl View."
PC and Mac Compatible
Log onto 100 different DVRs
View multiple locations on one screen
Compatible with Night Owl ADV, PRO, ELITE, S, WM, and BJ Series DVRs
Free Night Owl DDNS Server
No need to pay for a static IP, all Night Owl DVR systems come with free use of the Night Owl secure DDNS server. The Night Owl DDNS server will allow any user with a Dynamic IP Address (IP always changing) to easily access their DVR. Log onto www.NightOwlSP.com for details.
Professional Digital Video Recorder (DVR)
Night Owl Setup Wizard
Configuring your DVR for the first time does not need to be complicated. Since every user requires a unique configuration for their security system Night Owl has launched an easy to use quick Setup Wizard. The Setup Wizard will automatically launch upon the initial startup of your DVR and walk you through the crucial steps of setting up the DVR properly. The only thing worse than not having a security system is having a system not configured properly.
Easy Connection to your TV or Monitor
The DVR easily connects to your TV or monitor for instant viewing. The DVR is equipped with 2 RCA and 1 VGA video outputs so you can connect multiple TVs or monitors.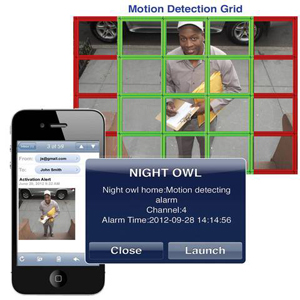 Real Time Motion Activated Recording with Email Alerts
The enhanced motion detection settings ensure that false alarms are not triggered. An easy motion detection mask allows you to block out areas with constant movement, such as roads or trees. This feature also will send you a real time email alert with an image attachment or push notification to your Smartphone or Tablet when the cameras detect movement.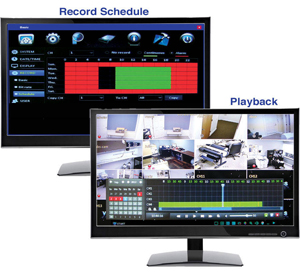 Recording Modes/Playback Options
The DVR can be set to record manually, event/motion, and/or continuously. Each individual camera can have a unique setting by record options, date and time. Easily find and playback your security footage by searching a specific channel by date or time, or all 8 channels simultaneously.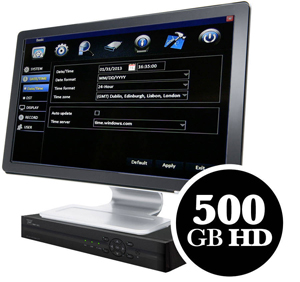 Easy to Use Interface with a Large 500GB Security Hard Drive
This DVR comes equipped with a state of the art, easy to use icon based interface. All you need to do is point and click to access any of the features of the DVR. The interface is very user friendly and comes equipped with both a USB mouse and remote control. Utilizing H.264 compression this system records up to 6 months of video with its pre-installed 500GB 3.5" security SATA hard drive (expandable up to 2TB).The hard drive was specifically designed for DVRs. It provides faster read/write times and reliable recording of your video security footage.
Hi-Resolution Cameras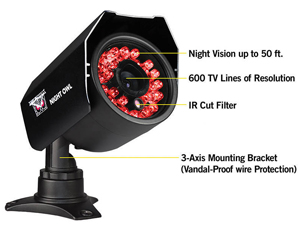 600 TV Line Cameras with Auto IR-Cut Filter
The included 4 hi-resolution cameras offer an impressive 600 TV lines of resolution. See clear crisp images both day and night with the included auto IR-cut filter. This will allow for true colors during the day and impressive night vision images. Each camera comes equipped with a 42 degree viewing angle lens and a poly-aluminum indoor/outdoor housing. The 3-axis vandal proof cabling system keeps the cameras wiring secure from vandals.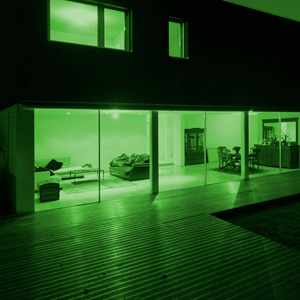 50FT of Night Vision
Each camera comes equipped with the ability to view images at night up to 50FT away. The included LEDs allow for an impressive image at night.