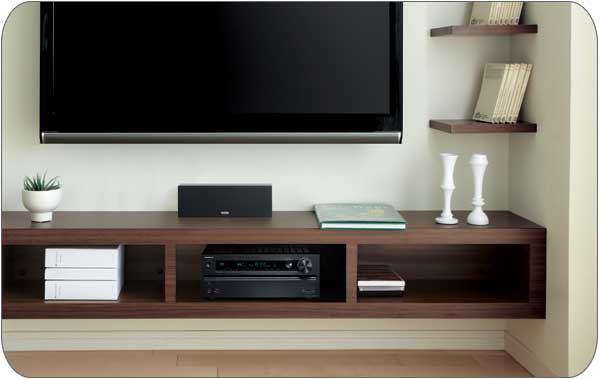 With the power to fill large rooms with THX®-certified sound, this cutting-edge receiver is ready to integrate and distribute entertainment throughout your home. More than a home theater processor, the TX-NR717 allows you to access music on PC, stream from Spotify, explore online radio, or connect your iPod®/iPhone® to one of two USB ports. You can distribute any of these various stereo sources to other rooms for house-wide entertainment. With a total of 10 HDMI® connections, this receiver converges HD content from all your components—even your smart phone media via a frontside MHL/HDMI—and provides easy input selection with InstaPrevue™ technology. HDMI also enables intuitive GUI with overlaid Quick Set-Up menu. Visually managing settings and playback—even across multiple zones—is easy with the Onkyo Remote App for iPhone and Android phones. Video upscaling to 4K, Audyssey DSX® seven-channel sound expansion, and Audyssey 2EQ® room correction are all included. Sound quality is quite simply the best in class, with powerful WRAT amplifier, three-stage inverted Darlington circuitry, and discrete output stage components delivering an otherworldly entertainment experience.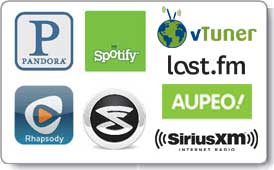 Onkyo network receivers, which are also wireless LAN ready, have access to the most internet music content services, including: Pandora®, Slacker™, SIRIUS XM®, Last.fm, vTuner, Rhapsody, Spotify, and AUPEO!. You can even connect to DLNA servers on your network. Internet connectivity also makes firmware updates simpler than ever.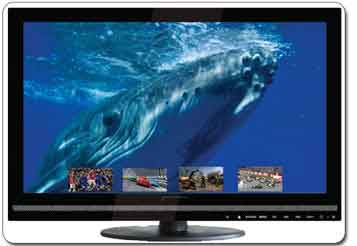 This receiver incorporates InstaPrevue visual port management technology, making input source selection much easier. InstaPrevue provides a live video thumbnail of the available content on your devices connected via HDMI. You no longer have to remember that your gaming console is connected to Port 3, or your BD player to Port 1, for example- you can see what's playing and choose accordingly.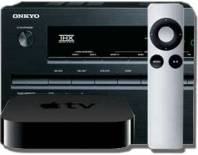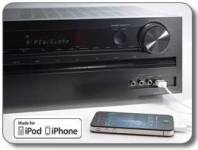 The front-panel USB port lets you play MP3 and AAC stored in an iPod/iPhone, and MP3, WMA, AAC, and FLAC audio files stored on a flash-memory device, and you can use the system's own remote for track selection and playback. Your music will sound much cleaner and clearer, as the audio signal is transported in digital rather than analog form through the direct digital connection.

Have an Apple TV? The Onkyo remote is preset to control Apple TV.
Use it with your Onkyo A/V Receiver. It's all integrated, and it all works together beautifully.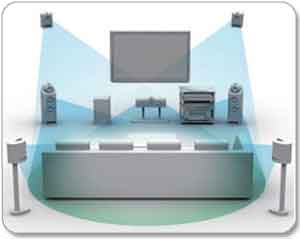 When additional High or Wide channels are added, their directional and ambient effects are fully enveloping. These three expansion systems offer you freedom to choose your preferred speaker setup. Audyssey DSX expands 5.1 sources to include Wide or Height channels. The Dolby system adds Height channels and stereo source expansion, while DTS Neo:X offers Wides or Heights.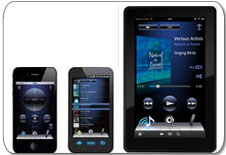 The Onkyo Remote App 2 for iPod touch/iPhone¹ and Onkyo Remote for Android² provide an intuitive way to operate Onkyo network A/V receivers. Control input sources, adjust settings, and play audio stored in a smartphone wirelessly (Android only) using the application's interactive graphical display. The Remote Apps are available separately as free downloads.
Audyssey's top-of-the-line room correction suite equalizes the sound to suit the unique acoustics of your listening space. High-resolution filters are applied to all channels- including subwoofers- based on information collected from more than 10,000 individual control points across eight measurement positions.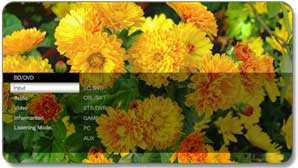 The overlaid On-Screen Display (OSD) feature makes changing the settings on your A/V receiver quick and easy. On-screen set-up menus appear over the video image you're watching so you can adjust the settings immediately, without having to stop the program and switch to a different screen to access menus.

Hybrid Standby provides 'HDMI through' functionality while the receiver sleeps, so you don't have to fully power up to watch a Blu-ray or play a game using just your TV's sound. The receiver also maintains a local network connection when on Hybrid Standby mode, so you can switch the unit on at any time using the Onkyo remote apps for iPod touch/iPhone and Android.
You can assign Front High or Front Wide channel outputs to power speakers in two other rooms of your home. You can play music in the main room and Zone 2- or, alternatively, Zone 3- at the same time, or play a different audio source in either room. Use your stereo amp to power one of the rooms and enjoy any audio source from the receiver in all three zones simultaneously, controllable with Onkyo Remote Apps for iPhone and Android phone, and Kindle Fire. Integrated house-wide entertainment is now a reality.
On a compatible 4K wide-screen display, this receiver will upscale standard video sources, making your Blu-rays and DVDs pop with more cinematic detail than ever before. The versatile Qdeo video processor uses algorithms to enlarge to 4k the video you're playing, while also erasing video jaggies and feathering. The results are dazzlingly detailed images.