The RCA CRF907 compact RF modulator allows you to connect a Composite AV enabled equipment to an outdated TV with only RF input. Hook up your DVD player, game console or camcorder to the Composite input of this device, then connect it to your TV using a coaxial RF cable. This gadget uses low-loss, high-performance circuit design that provides accurate picture reproduction. It easily converts audio video to RF channel 3 or 4, which you can receive by tuning the TV to corresponding channel. It also features an RF input that accepts antenna/cable/satellite signal, thus you don't have to swap cables when you move between TV signal and AV source. Flipping through the remote is neither needed as this modulator automatically switches when it detects an incoming video source. If you're looking for a quick and easy way to make better use of your older TV, the RCA RF modulator is an excellent choice.
Ideal for DVD, gaming, cameras and camcorders
Allows connection of an audio video component to a TV without Composite AV jacks
High performance circuit design provides accurate picture reproduction
Converts audio and video to RF using channel 3 or 4
Auto switching automatically detects the incoming video source
Wall mountable
Power adapter included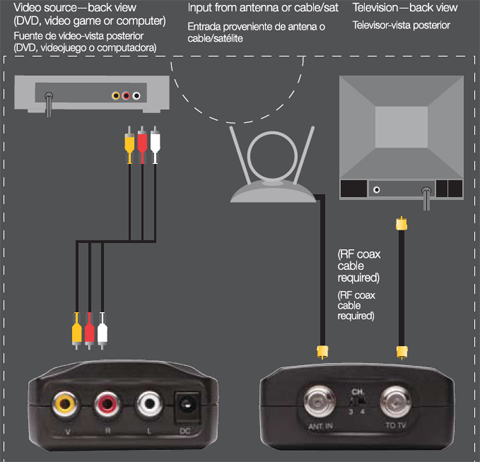 Connecting the RF Modulator to Your TV:
Use an audio/video cable to connect your video source (like a DVD player or VCR) to the RF modulator.
Match the colors of your audio/video cable to the colors of the jacks on your video source.
Plug the other end of your audio/video cable into the AUDIO and VIDEO jacks on the RF modulator.
Plug your antenna or cable feed into the RF modulator's ANT IN jack.
If the antenna or cable is already plugged into your TV, unplug it. Then plug it into the RF Modulator's ANT IN jack.
Use a coaxial cable to connect the RF modulator to your TV.
Plug the coaxial cable into the TO TV jack on the RF modulator. Plug the other end of the cable into your TV's antenna in jack.
Plug the RF modulator's power adapter into the power jack on the RF modulator. Plug the other end into a standard wall outlet or surge protector.
Using the RF Modulator:
Turn on your TV.
Tune to channel 3 or 4, whichever channel isn't used in your area.
Set the RF modulator's CHANNEL 3/4 switch to the channel you tuned your TV to.
Warranty, Returns, And Additional Information
Warranty
Limited Warranty period (parts): 1 year
Limited Warranty period (labor): 1 year