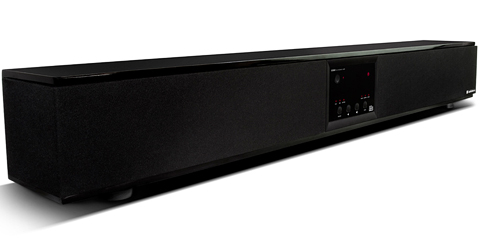 AudioSource S3D60 Two-Channel Soundbar with Sonic Emotion 3D Sound Each
Overview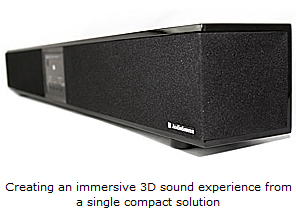 The AudioSource S3D60 Soundbar with sonic emotion 3D sound technology creates an immersive 3D sound experience from a single compact solution. The 3D sound experience is powered by sonic emotion digital technology, and features a simple plug-and-play setup with no complex calibration routines or expensive cabling needed.
The S3D60 cabinet includes six 3in. 20W high-efficiency magnetically-shielded, full-range drivers and a built-in dual 4in. 40W subwoofer.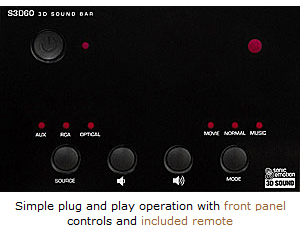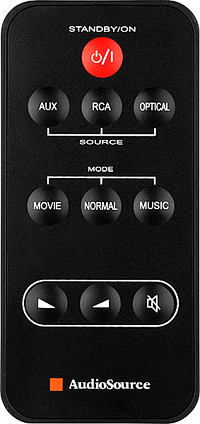 Simple Plug-n-Play Operation
The S3D60 offers a digital optical PCM two-channel input for pure digital sound quality. Analog RCA and 3.5mm auxiliary inputs provide compatibility with most audio/video sources, including HDTVs, MP3 players, laptops, and more. An RCA output is available for adding external powered subwoofers.
Advanced Sonic Emotion Technology
Immersive 3D sound is achieved through advanced sonic emotion technology which creates a sound field synthesis that eliminates dead zones in the room. This expands the audio "sweet spot," ensuring everyone can enjoy your movies and music. Enjoy movies, music, and games in incredible depth and dimension with three 3D sound presets.
As the world's first 3D sound solutions for home entertainment products, sonic emotion technologies synchronize performance and simplicity enabling enormous 3D sound from a single, elegant device in any listening room. With sonic emotion audio technologies, your movies, music, and games are brought to life in 3D.
Any input can be processed by sonic emotion technology to yield 3D output. It's the first soundfield reproduction technology that delivers true 3D sound from a single device, with no cabling and no complex speaker setups. It's just plug-n-play.
Features
Immersive 3D Sound experience from a single compact solution
3D Sound powered by sonic emotion
Simple Plug-n-Play setup – no complex calibration routines or expensive cabling needed
Compatible with your TV, DVD or MP3 player, game console or computer
Enjoy movies, music, and games in incredible depth and dimension with three presets for the 3D sound technology
Advanced sonic emotion™ sound field synthesis eliminates the dead zones found in traditional surround technology
All listeners are immersed in high-fidelity 3D sound!
Six high-efficiency drivers and dual built-in subwoofers deliver an amazing audio experience.
Digital (optical) PCM two-channel input for pure digital sound quality
Analog RCA and 3.5mm MP3 player inputs for compatibility with most audio/video sources, Includes RCA output for adding external powered subwoofers
Specifications
Audio Power: 6 x 20W RMS, 1 x 40W RMS for dual subwoofers
Speakers: 6 x 3in. High-Efficiency Magnetically Shielded Full Range Drivers, 2 x 4in. Subwoofers
S/N: >80dB • Distortion: < 1% • Soundfield Presets: Three (Normal, Movie, Music)
Inputs: Three (3.5mm Aux In, RCA In, Digital Optical In)
Outputs: One (RCA Line Out for external subwoofer use)
Mounting Options: Table Top, Wall (using built in keyhole slots on backpanel)
Power Supply: 100VAC ~ 240VAC / 50Hz - 60Hz • Product Dimensions: 38in. (W) x 5.5in. (H) x 5in. (D), 17lbs
Warranty: Two Years