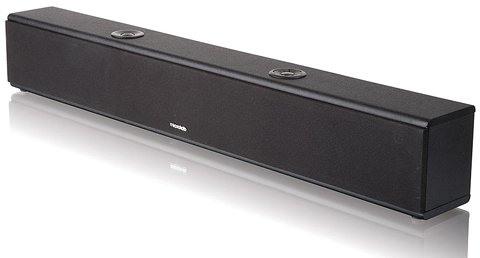 AudioSource S325 Soundbar 2.2 Speaker System
Overview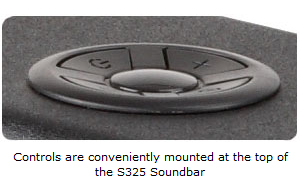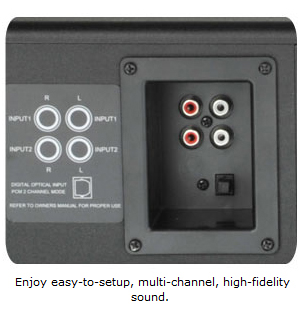 The S325 Soundbar from AudioSource is an 80W soundbar speaker system that delivers realistic and powerful sound throughout the entire audio range. The S325 Soundbar is a 34in. long self-powered soundbar that delivers multi-channel, high-fidelity sound for thrilling home cinema effects. It features AudioSource's eAirbass technology for firmer depth and resolution from your bass.
Using just two 3in. woofers, the S325 Soundbar reaches down to a solid 40Hz at very high SPLs for a home theater experience that's just like being at the movies. The extended frequency response, excellent signal-to-noise ratio, and wide sound dispersion of the S325 Soundbar means a subwoofer is completely optional.
Built-In Amplifier for Powerful Surround Sound
The S325 Soundbar is powered by an on-board amplifier that supplies 80W total RMS. With 20W pushing each 3in. woofer, and 20W pushing each 2.5in. tweeter, you'll experience exciting, cinematic surround sound. Hear music, movies, and your favorite TV programming come to life like never before, all from a compact, single package.
eAirbass Technology
The soundbar features Microlab's eAirbass technology, an advance proprietary feature that delivers more natural depth and range from the low-end of the audio spectrum. It not only adds a more lifelike, round feel to your audio, it means you don't need a subwoofer to enjoy great full-range audio. Of course, you can always optionally add a subwoofer for even more punch.
Remote Control Included
The S235 includes a simple remote control, but can also be used with most universal remotes.
Features
80W Soundbar speaker system
Powerful dual 3in. woofers and full range 2.5in.
High-definition drivers deliver powerful audio throughout the entire audio range
eAirbass technology for firmer depth and resolution
Excellent choice for full-range audio entertainment with remote control
Specifications
Output power: 80W
Distribution: 20W x 2 + 20W x 2
Harmonic distortion: 0.3% 1W 1kHz
Frequency range: 40Hz - 20kHz
Signal/Noise ratio: >80 dB
Input sensitivity: 500mV
High-frequency drive units: 2.5in. full-range x 2
Bass drive units: 3in. woofer x 2
Inputs: 2 x RCA, 1 x Digital Optical (PCM Two-Channel Audio)
AC power: 120V ~ 60Hz, 400mA
Product: 34in. (W) x 5in. (H) x 5.5in. (D)
Weight: 14.5lbs
What's in the Box?
AudioSource S325 Soundbar, RCA cable, digital optical cable, remote control, user manual.