This cable is used to make the electrical connection between loudspeakers and audio amplifiers, and also used for the internal wiring of the speakers themselves.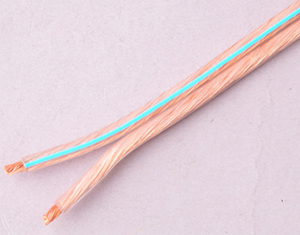 High Conductivity Copper
All Coboc speaker cables utilize high-conductivity 99.95% pure, oxygen-free copper.
Marked Polarity
One side of the wire insulation is marked with a blue stripe, making it quick and easy to identify the correct audio signal polarity.
Easy and Convenient Installation
Coboc 18-gauge speaker wire comes wrapped around a hard spool that makes installation easy and convenient.
Keep Your Home and Family Safe with In-Wall-Rated Speaker Wire
When you're running wire inside your walls, it's important that you use speaker cable that's approved for in-wall runs. This cable's CL2 certification means it passed safety tests administered by the Underwriters Laboratory (UL). The UL looks at heat generated from current flowing through wire, how quickly the cable will catch and spread fire when exposed to flame, and the wire's susceptibility to damage from external stresses. Also, be sure to check your local building and fire codes, and buy wire accordingly.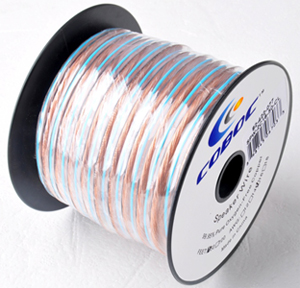 Gauge Selection
Different people will have their own opinions about what gauge is proper for what length. The quality of the equipment can also play a factor. The following is a general guide for picking gauges for certain lengths.
0 - 25ft: 18AWG
25 - 50ft: 16AWG
50 - 75ft: 14AWG
75 & up: 12AWG
Selecting the Correct Speaker Wire for the Application
Based on the following questions, use the table as reference to select the proper gauge size:
1. What is your speaker type (4Ω, 8Ω or 70-Volt)?
2. What is the acceptable power loss (11%, 21%, 37% or 50%)?
Move down the column to select the wire AWG size that meets your distance requirement in feet.
Wire AWG Size
4Ω Speaker
8Ω Speaker
70-Volt Speaker
Power Loss (%) / Attenuation (dB)
11%
21%
50%
11%
21%
50%
11%
21%
50%
0.5dB
1.0dB
3.0dB
0.5dB
1.0dB
3.0dB
0.5dB
1.0dB
3.0dB
12
140
300
1145
280
605
2280
6780
14590
54880
14
85
190
735
180
390
1475
4395
9455
33570
16
60
125
465
110
245
930
2780
5975
22490
18
40
90
340
85
190
680
2025
4360
16385
Note:
Attenuation = -10lg (Pout/Pin)
Attenuation 3dB is commensurate with a 50% power loss.
Example
The maximum distance for 12 AWG in a 4 Ohm speaker system with 11% or 0.5dB loss is 140ft.
Warranty
Coboc 1-Year Limited Warranty.