DB4e Extended Long Range Outdoor DTV Antenna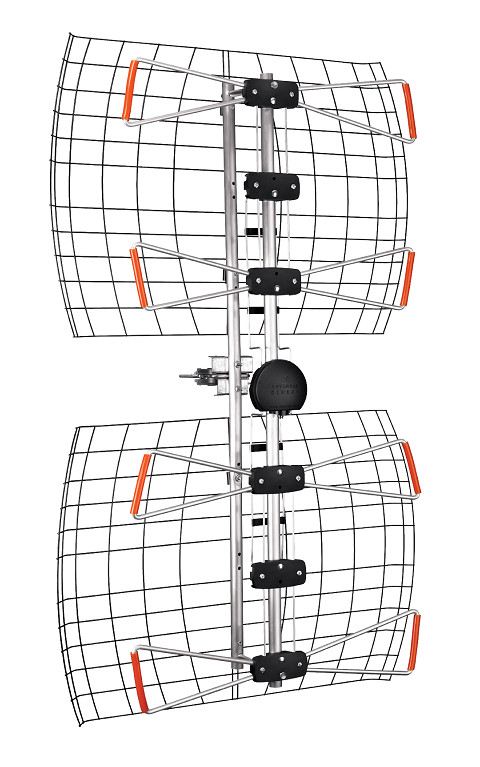 Antennas Direct® doubles the power of traditional bow tie designs, a breakthrough in performance and reliability. We have created an antenna the size of our traditional DB4, with the performance of the DB8. The DB4e is light years ahead of our competition. No other bow tie antenna can match the DB4e's combination of power, gain and value. The new extreme range bow ties - only from Antennas Direct®. The most powerful compact antennas on the planet!
Technical Details
Enjoy ABC, NBC, CBS, FOX, and other local networks with their newly expanded programming for kid's, news, sports and more
Receives UHF digital reception resulting in crystal clear HDTV
The perfect backup in case of emergencies or bad weather
Range up to 65+ miles from broadcast towers
Lifetime warranty
Locate the digital television broadcast towers serving your area by going to AntennaPoint.com and filling in your address or zip code
Included: heavy duty u-bolt and mounting clamp
Mount and coaxial cable not included
Easy to assemble
DB4e DTV Antenna Description
From the Manufacturer
The DB4e UHF antenna provides free over-the-air digital and HDTV reception with no subscription, cable or satellite fees.
Bowtie antennas have been popular for over 60 years. While they offered an acceptable combination of power and size, they were designed for a different era.
The DB4e utilizes the latest advancements from the Antennas Direct design lab. The breakthrough technology of the enhanced series of bowtie antennas is smaller and more powerful. While it delivers twice the power of the bowties it replaces, the DB4e also specifically targets the core UHF DTV frequencies. We have also enhanced this antenna's ability to reject interference.
At a compact 23in. x 37in. form, the DB4e is the first broad spectrum antenna without the performance compromises typically seen in outdated designs of legacy antennas. With a generous beam width of 60 degrees, the DB4e offers reliable reception from widely spaced broadcast towers without the need for rotation. It has a range of 65+ miles making it the ideal antenna choice for suburban installations challenged with receiving signals through heavy foliage or roofing materials. Using anodized aluminum, DB4e antennas are engineered for strength and durability. The Antennas Direct lifetime warranty assures you of its superior build quality.
Watch All Your Favorite Shows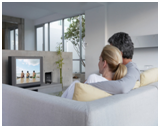 The new DB4e bowtie delivers FREE HD programming from TV networks such as ABC, NBC, CBS, and FOX, including all their top shows.*
The Best Picture and Sound Quality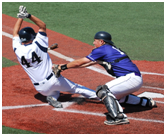 You can now experience HDTV in the highest-quality picture and sound available. Over-the-air broadcasts are transmitted in uncompressed, crystal clear 1080i; far surpassing what cable and satellite offer. Many local broadcasts are digitally aired in Dolby 5.1 Surround Sound giving you the ultimate soundstage for watching live television.
The Latest in Antenna Technology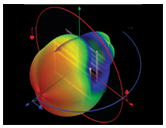 Advanced design software allows this 23in. x 37in. antenna to be smaller and more powerful than ever. No other antenna in the category can rival its compact, powerful, dual-band performance.
It's All Free and Over-the-Air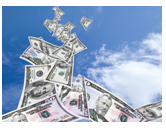 Simply connect the DB4e antenna to your TV** using a coaxial cable, perform a channel scan, and in minutes you'll be enjoying free local programming. And the best part…never pay to watch TV again!
For Use in USA & Canada Only
*ABC, CBS, FOX and NBC are registered trademarks of their respective owners. ABC, CBS, FOX and NBC are not affiliated with each other, or with Antennas Direct® and do not endorse this product. All channels are subject to local broadcast availability and not all channels may be available in all locations or in HD.
**Requires a TV with a built-in digital tuner or a simple set-top converter box
Technical Data
Physical Data:
Dimensions:
Width = 23in.
Height = 37.5in.
Depth = 7in.
Weight:
TBD
Turning Radius:
11.5 in.
Electrical Data:
Band:
UHF
470MHz to 698MHz
Channels 14 – 51
Impedance:
75 ohms
Connector:
F-Female
Performance Data:
Peak Gain:
14.3dBi @ 698MHz
VSWR:
Max 3.0 470MHz to 698MHz
Frequency (MHz)
Boresight Gain
(dBi)
Azimuth – Half
Power Beam Width
(deg)
Elevation – Half
Power Beam
Width (deg)
IEEE Rear
Hemisphere F/B
(dB)
470
11.68
60
30
15.18
546
12.59
55.7
24.5
16.79
622
13.78
47.5
24
17.78
698
14.36
42.1
21.5
17.05