Acer Aspire TC-865-NESelecti3 Desktop
Free your creativity and productivity! Powered by the latest generation Intel Core processor and generous amount of RAM, this Aspire TC-865 desktop empowers you to breeze through even the most demanding of tasks—like editing home videos and compiling photo albums. The elegant black housing offers front-panel media access with conveniently placed ports including two USB 3.1 Gen2 (one Type-A, one Type-C), each with up to 10Gbps bus bandwidth. 802.11ac offers fast Wi-Fi speed, and Bluetooth makes it easy to sync with your mobile devices or use Bluetooth peripherals. A DVD writer is pre-installed, which will come in handy when it comes to installing OS & programs or help for backing up your files.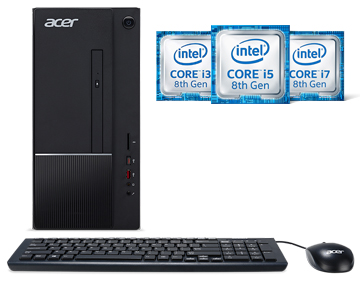 Impressive Performance
Don't let an old computer hold you back. These desktops come with the 8th Gen Intel Core processor—Intel's most powerful processor designed to keep pace with everything in your digital world. And with super-fast DDR4 memory, all processing happens quickly for super-smooth computing experiences.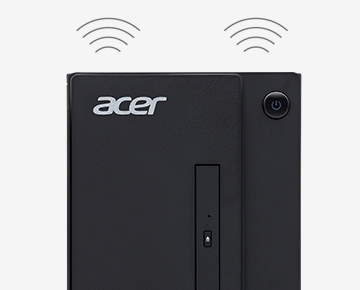 Look, No Wires
With 802.11ac WiFi, enjoy up to 3 times faster wireless performance than before. And with Bluetooth 5.0, users can enjoy increased range, speed and transference of more information.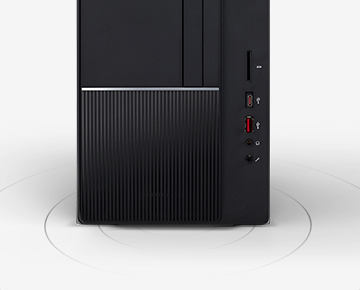 Immersive Sound
The HD audio with available 5.1-channel surround sound delivers crystal-clear acoustics for a theater-like entertainment experience at home.
Sleek and Functional
The Aspire TC was designed with a progressive style. The smooth hairline finish adds style while the embedded optical drive adds function while maintaining the integrated architectural appearance. Within easy reach are the most commonly-used connection points—USB 3.1 (Gen 2) ports, card reader plus headphone and microphone jacks.