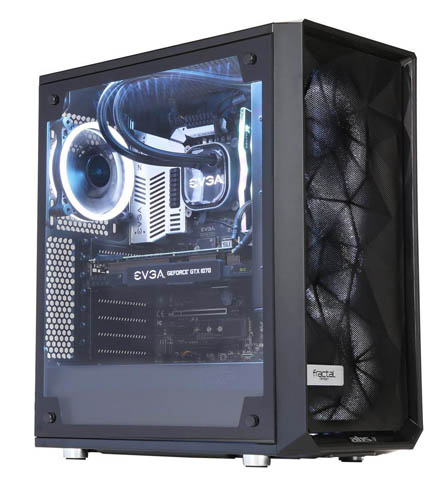 ABS Precision Pro ALI200 Gaming Desktop
Play hard. Play Cool. The massive cooling performance and extraordinary look match the overwhelming firepower. ABS Precision Pro ALI200 is the best of true PC gaming.
Aggressive Look
The Fractal Design Meshify C case will make any hardcore gamer to rejoice. The angler mesh front panel not only gives off a defiant look but also maximizes air intakes. Edge-to-edge interior visibility through the lightly tempered glass helps complement the clean exterior profile.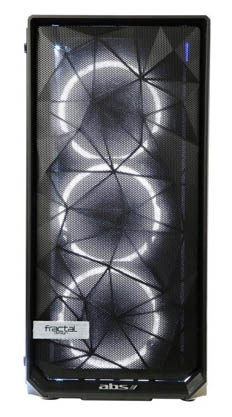 Hybrid Cooling - Airflow and Liquid
The preinstalled EVGA RGB 240mm CPU liquid cooler helps keep the devastatingly powerful Intel Core i7-8700K processor cool even at high levels of load. Liquid cooling is only a part of the story. Fan is preinstalled at all strategic spots. A torrent of airflow flows along an amazing path to expel heat from every component out of the case.
Light Up Your Space
Enjoy epic visual excitement. The RGB memory modules, RGB CPU liquid cooler and LED fans give you colorful gaming accent. Program the lighting to your liking and get ready for the battle.
Ready for Battle
Feel the astonishing power. Whether it is 4K video playback with HDR visual quality, VR/AAA title gaming, or live-streaming, the Intel 8th Generation i7-8700K Processor and the NVIDIA GeForce GTX 1070 graphics card work in concert to offer high-powered processing without breaking a sweat. Enjoy split-second response and realistic graphics effect.

Advanced Connection - Type-C USB 3.1
The Type-C USB 3.1 port supports both fast charging and high-speed data transfer. With a reversible design, you can correctly plug in your Type-C cable instantly without the hassle of trial and error.