(CG8270-CA002)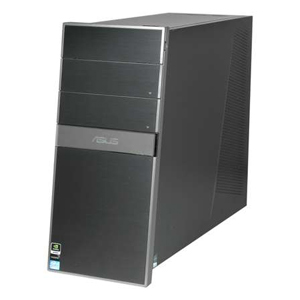 The Supercharged Powerhouse
With a minimalist design, CG8270's tilted form facilitates the entry of cool air to the chassis from below. Its select anodized aluminum bezel and steel chassis ensure it to fit in any interior décor. Possessing more speed and power generates high gaming performance. Utmost stability and efficiency enables CG8270 to handle intense multitasking and entertainment requirements and will fulfill all you imagine for a desktop.
The 3rd Generation Intel Core Processors
CG8270 features Intel Turbo Boost Technology 2.0, enabling processor cores to run faster than the base operating frequency. With Intel Quick Sync Video Technology, creating, editing, converting and uploading your videos become quick and easy. In addition, LucidLogix Virtu MVP accelerates graphics performance by up to 60% and triples video conversion speeds.
ASUS Desktops – Leader in Satisfaction & Reliability
ASUS computers reflect a tradition of the finest quality, innovation and longevity. Based on the PCWorld USA 2012 reader survey of tech satisfaction, reliability, and service, users ranked ASUS as a leading choice for desktop PCs, citing high satisfaction with their value, connectivity, ease of use, and reliability. The survey also found ASUS desktop PCs were one of the most likely to be recommended to others.