ASUS Desktop PC M32BF-US004S
The Perfect Home Computer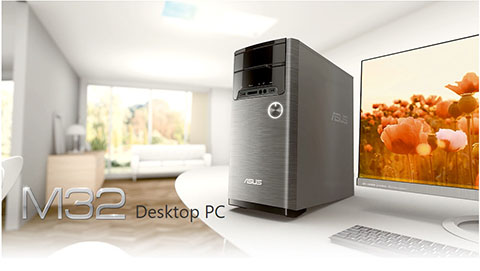 ASUS M32 desktop PC performs everything from your daily tasks to playing 4K Ultra HD video with enhanced energy efficiency. Multitask with several apps at once, thanks to the powerful AMD processor. Power visually demanding programs with discrete-level AMD Radeon HD graphics. Further enrich your entertainment experience with the professional-grade sound processing technology. Confidently play at your hearts content for hours on end with the comfort of knowing that your system is running cool. Complete with free ASUS WebStorage, and a rich set of connectivity options, it's sure to be a great choice for any home office.
Uncompromising Performance
Faster, smarter, and more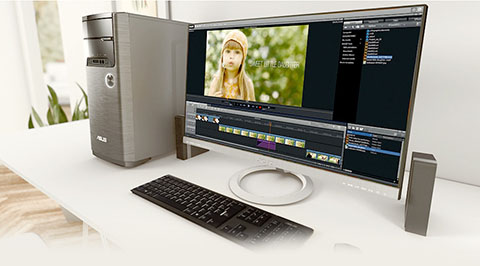 The power to amaze
With the speedy AMD processor compatible with FM2+ platform, experience new levels of multitasking performance to do more of what you love, whether it's online shopping, writing blogs or piecing together last summer's vacation videos.
Advanced graphics
M32 desktop PC features discrete NVIDIA graphics card that delivers twice the performance of the previous generation. Watch up to 4K Ultra HD video and enjoy smoother visuals and more responsiveness when playing the latest games.
Cool, quiet operation
Giving you reliability with convenience, M32 desktop PC monitors internal temperatures and intelligently adjusts fan speed to ensure efficient cooling while staying under 25dB of sound at idle—quieter than a library.
Sounds Very Pleasing to the Ear
Music to your ears
M32 desktop PC features ASUS SonicMaster audio technology, along with MaxxAudio from Waves combined to give you finely-tuned surround sound for games and movies through your speakers or headphones.
Sound for each occasion
ASUS AudioWizard is a pre-loaded app with five selectable point-and-click audio settings for music, movies, games, voice recording and speech. Each designed to cater to your media preferences.
Ports and Connections
Advanced super speed I/O together with latest technology to comprehend all your needs.
Access your data anywhere, anytime
With 32GB of free ASUS WebStorage for three years, keep your data safe in the cloud and access it anywhere you have an internet connect. What's more, easily share photos and videos with your family and friends through an ASUS WebStorage generated URL link.
All-around connectivity
M32 comes with all the connectivity options you need. Supersize entertainment via HDMI to an HDTV when watching movies or videos. Transfer data up to 10 times faster and charge compatible devices up to 50% faster with Ai Charger SuperSpeed USB 3.0 even with the PC off.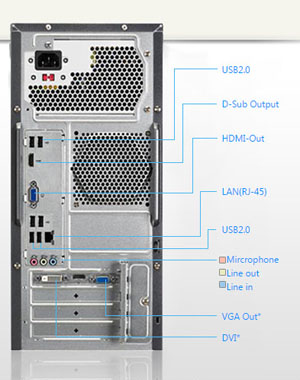 (*M32BF showing here. VGA Out and DVI ports may vary by graphics card.)
Industry-leading Reliability and Quality
Quality you can trust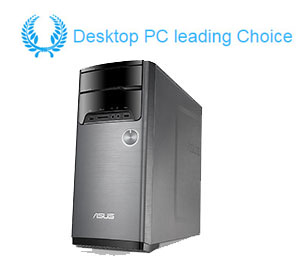 ASUS desktops – Most recommended Windows desktop brand
Innovation, design and reliability are at the heart of all ASUS computers. Winning Readers' Choice for overall satisfaction for the second year in a row, and for the third successive year in the home category, is proof that ASUS is better at delivering what customers want than rival Windows desktop PC companies. As PCMag.com says: "If you want a Windows desktop PC, ASUS is the best choice".
Stringently quality tests
M32 is subjected to a series of rigorous noise, vibration, drop and thermal shock tests to ensure it meets and exceeds industry standards to give you unbeatable reliability.
Featuring the best motherboards
With over 465 million motherboards shipped in the past 24 years, rest assure that your M32 features the finest and most innovative motherboard available for responsive performance and time-tested reliability.