Forged for gaming, the ASUS G11CB desktop computer is ready to unlock your next adventure with 6th-generation Intel Core processor, NVIDIA GeForce GTX 980 graphics card and generous amount of DDR4 memory in its futuristic outer space-inspired case. This gaming machine also features a PCIe Gen 3 x4 SSD, SonicMaster-optimized gaming and customizable 8-million LED light effect with pulse mode, making it a perfect platform to power through the latest blockbuster games.
Powered by Intel Core Processors
The latest 6th-generation Intel Core i7 processor gives you the power to take on the most demanding of tasks, allowing you to play games at the highest settings, watch videos in 4K/UHD, and even create awesome websites or 3D models for work. You get a 23% performance boost and 22% more efficiency over the previous generation of Intel processors.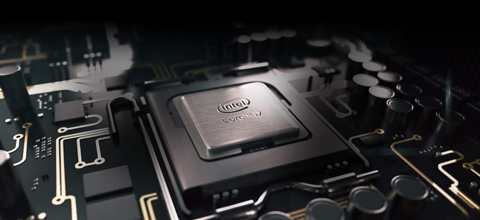 Stunning NVIDIA GeForce Visuals
The NVIDIA GeForce GTX 980 graphics card found in the ASUS G11 takes gaming visuals to a whole new level. Experience the latest games in 4K/UHD, or indulge in some panoramic action on up to three HD displays. You can even add a fourth display via a HDMI connection.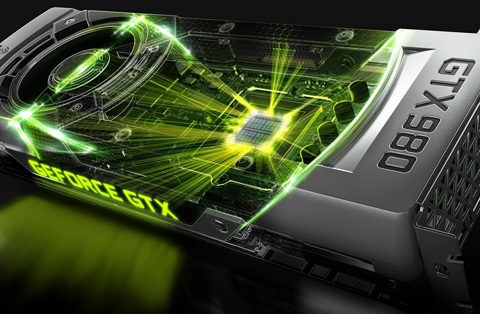 More Gaming, Less Waiting
The latest M.2 PCIe Gen 3 x4 SSD gives you instantaneous data access speeds of up to 32Gbit/s – four times faster than SATA SSDs. That means your system boots up faster, apps load quicker, and in-game wait times are much shorter. DDR4 SDRAM provides speeds of up to 2.1GT/s — twice that of DDR3 — to give you highly stable performance. DDR4 is also more efficient, requiring just 1.2V, so you get 20% in energy-savings over DDR3. There's even USB 3.1 for double the data transfer rates of USB 3.0.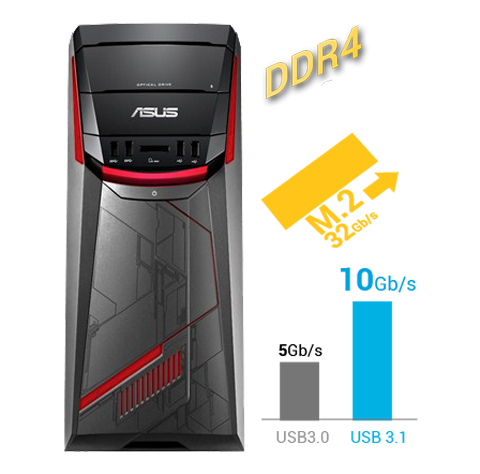 Three Monitor Surround & Accessory Display
ASUS G11 lets you play on up to three displays – seeing more of the battlefield gives you the tactical advantage right from the start, whether you're playing first-person shooters or real-time strategy games. There are currently over a hundred games that support multi-monitor configurations.
Use your accessory display (the fourth display) chat boxes or in-game maps. You can even use it to catch up on e-sport streams, TV shows or movies, and even surf the web. In time, developers may even add official support for the accessory display, allowing you to use it for real-time maps and other game-enhancing tools.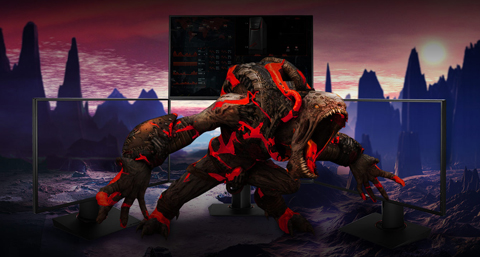 SonicMaster-Optimized Gaming Audio
Lifelike visuals aside, the best gaming desktops take your gaming experiences further with immersive audio. Through a unique mix of hardware and audio tuning software, SonicMaster brings you right into the fight. Whether you're using a headset or listening through speakers, you'll be right in the fight - gunshots ring out, explosions reverberate and even footsteps become auditory cues on the digital battlefield. ROG AudioWizard sound processing gives Gaming Desktops with an additional layer of audio enhancement; with up to five customizable modes you can easily switch on-the-fly.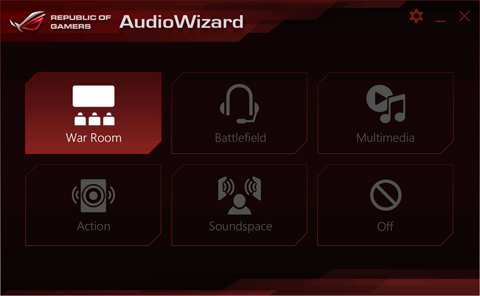 Efficient Heat Dissipation
The chassis design of the ASUS G11 incorporates up to eight air vents to facilitate air intake and heat dissipation. Large 5mm side vents are dedicated to cooling the CPU, while the front air intakes draws air into the chassis for effective thermal management so G11 stays cool even in the heat of battle.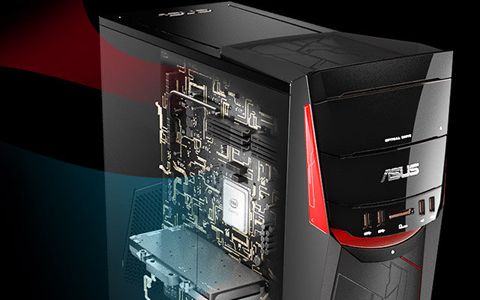 Advanced Design with Mayan-Inspired Detailing
ASUS G11 evokes an air of mystery, thanks to its futuristic outer space-inspired design. With its menacing red and black color scheme, and Mayan-inspired markings, it radiates the power and performance that lies within.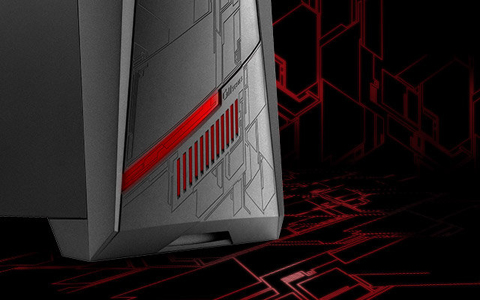 Led Effects
You're immediately drawn to the three red "flames" on the flanks of the ASUS G11, before your gaze moves on to the 8-million color customizable LED effects that dominates the center of the front chassis face. You can create ambient lighting to suit the game you're currently playing; or you can use Pulse mode – which emits a soft pulsing glow that makes it seem that ASUS G11 is slowly getting ready for its next battle.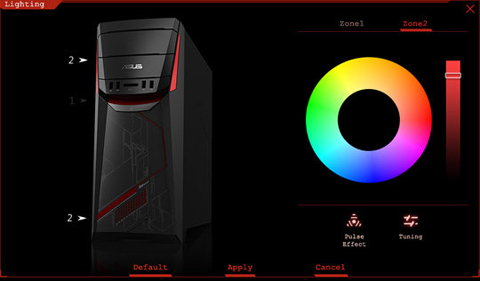 ASUS-Exclusive AEGIS II Utility
The exclusive Aegis II system performance monitoring app enhances your gaming experience; helping you track CPU/memory use, download and upload status, and automatically warns you if the system exceeds temperature and voltage thresholds. GameAlive lets you record and edit gameplay videos to share your frags on social media. Boost Launcher automatically frees up CPU and RAM resources to ensure smooth gameplay.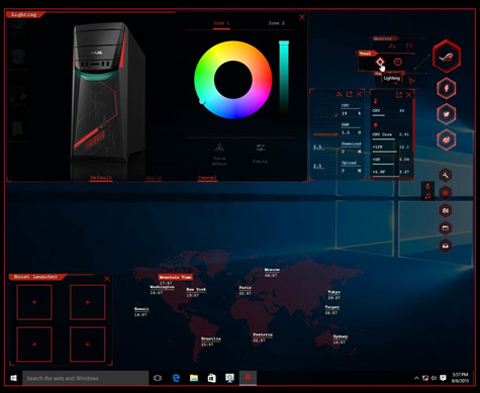 Superb Connectivity
ASUS G11 has extensive connectivity options, including an HDMI port so you can hook it up to your HDTV for gaming on an even larger scale. It has a total of six USB ports, including two USB 3.1 ports. It has the latest Bluetooth 4.0; as well as optional 802.11ac Wi-Fi for smooth, lag-free online gaming.
In addition, ASUS storage innovations keep your data easily within reach. ASUS G11 comes with 100GB of ASUS WebStorage space for 1 year free, so you can safely store and access your cloud-based data anywhere as long as you have an internet connection. You can also share photos and videos with your family and friends through a secure URL link.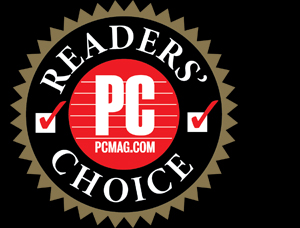 Asus Desktops - Most Recommended Windows Desktop Brand
Innovation, design and reliability are at the heart of all ASUS computers. ASUS has won a PCMag.com Readers' Choice Award for its desktops four years running, leading the competition in both overall satisfaction and likelihood to be recommended. This proves that ASUS is better at delivering what customers want than rival Windows desktop PC companies. ASUS also had the lowest percentage of units needing repairs within the last 12 months, further proof of its trusted quality and reliability.