iBUYPOWER Chimera NE002i Desktop Computer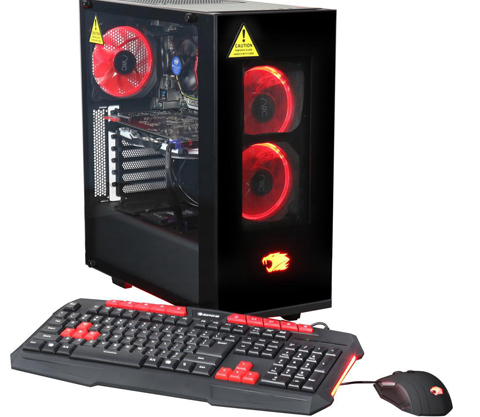 Unleash Your Gaming Souls
The iBUYPOWER Chimera NE002i is a performance-inspired gaming system that opens up next-generation VR-gaming capabilities. Grab this unstoppable machine today, and take your gaming experience to a whole new level.
NVIDIA GeForce GTX 1070 - Ready for Immersive VR Gaming Experience
NVIDIA GeForce GTX 1070 graphics card is powered by the latest NVIDIA Pascal architecture and the latest gaming technologies, delivering incredible new levels of gaming performance and next-generation VR experience.
Incredible Performance
The GeForce GTX 1070 boosts speed and power efficiency for brilliant performance in every application. Ultra-fast FinFET and next-generation memory technologies, plus support for DirectX 12 features, mean you can count on the fastest, smoothest, most power-efficient gaming experiences.
VR-ready
Discover next-generation VR performance, the lowest latency, and plug-and-play compatibility with leading headsets - driven by NVIDIA VRWorks technologies. VR audio, physics, and haptics let you hear and feel every moment.
Breathtaking Gaming Technologies
Get the performance to drive the latest displays, including VR, ultra-high-resolution, and multiple monitors. The card features the latest NVIDIA GameWorks technologies for smooth gameplay and cinematic experiences as well as revolutionary 360-degree image-capture- even in VR.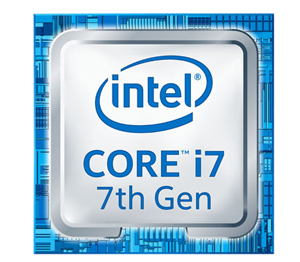 The Latest 7th Gen Intel Core i7 Processor – Unrivaled Power
Architected for performance, the latest 7th Gen Intel Core i7-7700 processor packs four high-performing cores with core base frequency of 3.6 GHz and 8MB of cache memory. Kick up the performance even higher with Intel Turbo Boost Technology 2.0 to bump the max turbo frequency to an amazing 4.2 GHz. Add Intel Hyper-Threading Technology for 8-way multitasking to deliver the performance knockout punch.
Great VR experiences involve the entire platform – not just any one component. A high-performance processor is key to achieving a balanced platform to make a VR experience great. Attach your premium HMD to the Intel Core i7-based computer and prepare to be amazed.

DDR4 – More Gaming, Less Waiting
The iBUYPOWER Chimera NE002i comes equipped with up to 8 GB DDR4 memory to further optimize your system's performance. The high-bandwidth memory provides faster speeds than DDR3, allowing for snappy system response and extremely smooth multitasking. DDR4 is also more efficient, helping save energy.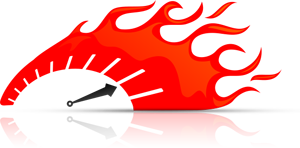 Hybrid Storage Solution – Optimized Performance and Massive Storage
The iBUYPOWER Chimera NE002i offers 120 GB SSD and 1TB HDD, providing rapid data transmission as well as whopping storage. Now speed and capacity go hand in hand with each other.
Full Steam Ahead with Windows 10
Windows 10 has native support for advanced APIs like DirectX 12, which allows the iBUYPOWER NE002i to take full advantage of cutting-edge technologies and the next-generation of games and graphics. Boost the performance of your games for a seamless PC experience with Microsoft Windows 10 Home 64-Bit installed.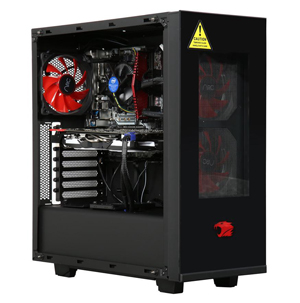 Spectacular Cooling Performance
Don't worry that a large amount of heat will build up in your system. Play confidently. All the strategic fan spots ensure maximum cooling efficiency, thus ensuring the high-octane machine stays cool even in the heat of battle. The iBUYPOWER NE002i is preinstalled with three red LED lights – two in the front and one in the back. And, the LED lights emit bright red glow, creating an amazing atmosphere through the transparent side window.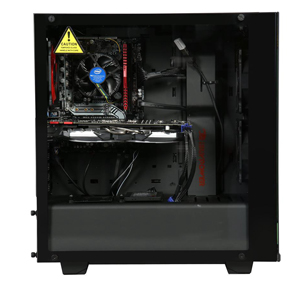 Stylish Chassis with a large Transparent Side Window
The contemporary design with a classic black finish seamlessly blends in with any surrounding. The large transparent side window allows you to see the guts of the PC.