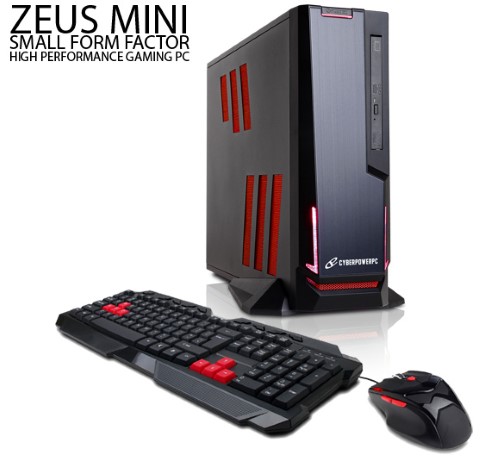 The Zeus Mini A300 Small Form Factor PC from CYBERPOWERPC is a compact powerhouse that is ready to tear through all of the latest games while feeling right at home in your living room. No larger than average A/V equipment, Zeus Mini is packed with high-end hardware like the AMD A10-7700K processor and AMD Radeon R7 260X graphics card, along with a wealth of connectivity options that make it the perfect choice for your next gaming and home theater PC. All CYBERPOWERPC desktops purchased from Newegg.com carry a 1 Year Limited Warranty & Lifetime Toll Free Technical Support.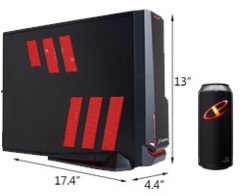 Measuring just 4.4" x 17.4" x 13", the Zeus Mini Small Form Factor PC fits in most living room entertainment centers while offering incredible gaming performance. Thanks to its innovative design, Zeus Mini can be equipped with full-length, high-performance graphics cards which absolutely rip through the latest DirectX 11 games.
The last thing you need in your living room or on your desk is a computer that sounds like a jet engine. Innovative design on the Zeus Mini allows us to keep all of the components cool without having to bundle the system with ear plugs. It is more difficult to dissipate the heat from high-end components inside a compact chassis like the Zeus Mini, so our engineering team has gone to great lengths to ensure that not only is heat dealt with efficiently, but quietly as well.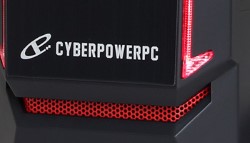 Part of the joy of owning a high-end gaming PC is getting to show it off to your friends. The striking design of the Zeus Mini, featuring clean lines and bright color accents, is sure to be a point of conversation while you're thoroughly dominating your enemies in-game.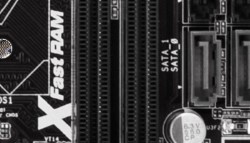 Should you feel the need to make upgrades to your Zeus Mini, you can do so easily thanks to the use of non-proprietary components. Want to beef up your graphics card? No problem. Feeling like increasing your storage capacity to turn your Zeus Mini into a fully-functional home server? There's space for extra hard drives as well.
The Zeus Mini from CYBERPOWERPC is now the official gaming PC of the world's best professional gamers from Evil Geniuses, Complexity Gaming, and Team Coast. Professional gamers who demand the most from their computers require the utmost in performance and reliability. The world-beating gamers at EG, Complexity, and Team Coast trust only computers from CYBERPOWERPC to take their skills to the next level.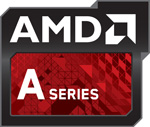 PCs with beauty and brawn. The best of both worlds. AMD A-Series APUs combine the power of multicore CPUs with the beauty of AMD Radeon graphics in an all in one, energy-efficient chip. Thanks to AMD's HSA architecture, the CPU and GPU of your A-Series processor work in perfect harmony to accelerate everything from routine tasks to hardcore gaming unlike every before. Combining the performance and value of AMD A-Series APUs with affordable CYBERPOWERPC computers creates a potent gaming mixture. The AMD A10-7700K is a 3.5GHz quad core processor with a maximum turbo frequency of 3.8GHz.
Unleash GCN Architecture with the AMD Radeon R7 260X graphics card, meticulously engineered for spectacular DirectX 11.2 and Mantle gaming and radical efficiency. Game beyond the confines of a single monitor and embrace the true potential of PC gaming with the ultra-high resolutions of AMD Eyefinity multidisplay technology. Redefine the nature of performance with AMD PowerTune technology that gives you the performance you need when you need it.