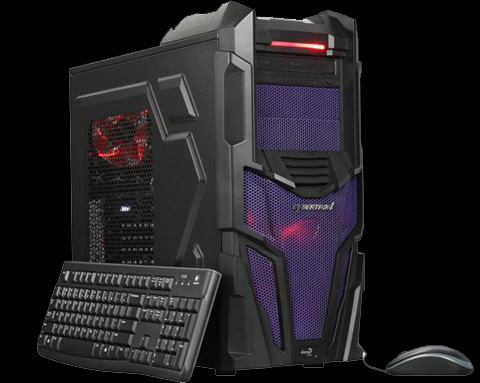 CybertronPC Desktop PC Shockwave-XM1070
Put the full potential of PC games and VR gaming into your hands with the CybertronPC Shockwave-XM1070 Desktop PC. Armed with the latest 6th generation Intel Core processor and NVIDIA GeForce GTX 1070 graphics card - an all-new VR-ready gaming graphics card with ultra-fast gaming performance and advanced cooling performance, this unstoppable war machine gives you the raw power you need to take on most challenging, graphics-intensive games without missing a beat. Completely focus on the game without worrying about heat buildup, because the built-in fans create heavy-duty airflow to cool down the whole system. Plus, the Shockwave case features one of a kind design that entertains and impresses you and your friends much.
Go fight your battle right out of box. The CybertronPC Shockwave-XM1070 comes with a keyboard and mouse.
NVIDIA GeForce GTX 1070 - Ready for Immersive VR Gaming Experience
NVIDIA GeForce GTX 1070 graphics card is powered by the new NVIDIA Pascal architecture and the latest gaming technologies to deliver incredible new levels of gaming performance and next-generation VR experience.
This Pascal-powered graphics card boosts speed and power efficiency for brilliant performance in every application. Ultra-fast FinFET and next-generation memory technologies, plus support for DirectX 12 features means you can count on the fastest, smoothest, most power-efficient gaming experiences.
Note: Up to 3X faster performance for GeForce GTX 10 Series when compared to the GTX 900 Series.
Discover next-generation VR performance, the lowest latency, and plug-and-play compatibility with leading headsets - driven by NVIDIA VRWorks technologies. VR audio, physics, and haptics let you hear and feel every moment.

The new GeForce GTX 1070 balances sleek angles and thermals for a cooler design - both inside and out.
Striking 6th Gen Intel Core i5 Processor - Astonishing Power
The CybertronPC Shockwave-XM1070 is armed with the enormously powerful Intel Core i5-6500 quad-core processor with boost speeds up to 3.6GHz, delivering massive power to tackle demanding game titles, intense applications and extreme multi-tasking with ease.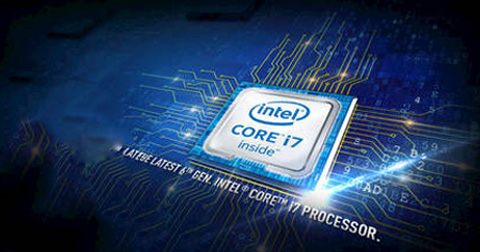 Memory, Storage - You Call the Shots
This incredible gaming tower has the capacity to keep you and your game on the edge. It gives you a staggering 16GB of DDR4 memory, ensuring snappy system response and smooth multitasking. It also offers up to 1TB HDD to store all your games, applications, media and more.

Windows 10
Only Windows 10 users are able to take advantage of DirectX 12. Boost the performance of your games for a seamless PC experience with Genuine Microsoft Windows 10 Home installed, free of bloatware and 3rd party software.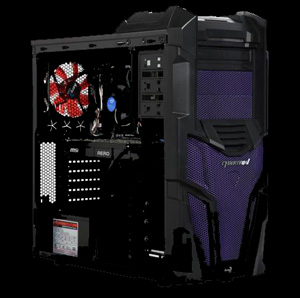 Cooling for Spectacular Performance
Don't worry that a large amount of heat will be built up in your system. The built-in fans are located at all strategic spots for maximum cooling efficiency. Coupled with hexagon air meshes to facilitate air intake and heat dissipation, the CybertronPC Shockwave-XM1070 stays cool even in the heat of battle.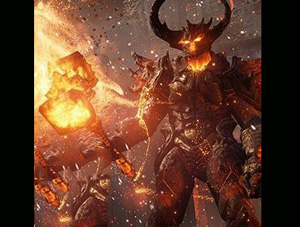 Hear the Power
With support for 7.1 Channel high-definition audio, the CybertronPC Shockwave-XM1070 provides a crisp, clear cinematic surround sound for your games, movies, and more. Hear every detail clearly and experience the full impact of your entertainment.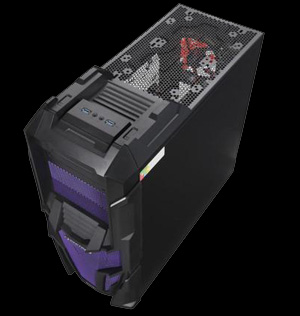 Stylish Shockwave Computer Case
The Shockwave case is a newly designed chassis breaking the previous low-key appearance. The unique, sophisticated design with black-purple accents provides an out of the ordinary look that will look great anywhere.
LED Effects
You're immediately drawn to the red "flames". The CybertronPC Shockwave-XM1070 features red front-lighting and its built-in red LED fan emits a bright red glow to illuminate the interior of the case.
All-around Connectivity
This PC screams usability with plenty of ports making this a real gaming machine. The HDMI port lets you enjoy a home theater experience on your giant big screen with superior audio and visuals for yet more avenues to exciting high-definition entertainment with a single cable connection. One DVI and three Display Port ports are included. SuperSpeed USB 3.0 ports let you transfer large amounts of data in seconds.