The Monster SoundStage S1 wireless home music system fills a smaller room, like kitchen, bath room or cubicle with dynamic, immersive sound. Featuring both Bluetooth and Wi-Fi technology, this wireless speaker streams tracks from your device's libraries or streaming apps at the touch of a finger. What you hear is impressive and enjoyable, with excellent clarity, great dynamics, high definition and punchy bass, while the curved design helps direct the sound to all corners of your room. You can control this little gadget with an array of touch controls on top of the unit, or with your app for iOS / Android phone or tablet. Plus, with an elegant design, small footprint, and stylish mesh front, the SoundStage S1 will complement any room fashion.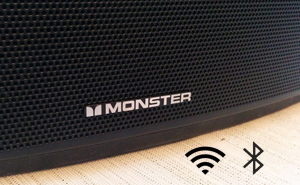 More Ways to Connect
Monster SoundStage stands apart from one-trick wireless home music systems by giving you more ways to connect to your tunes. The SoundStage S1 is both Bluetooth speakers and Wi-Fi speaker, letting you listen to the all the streaming music you love despite technology. It's the freedom and convenience you need with the unrivalled Pure Monster Sound you deserve.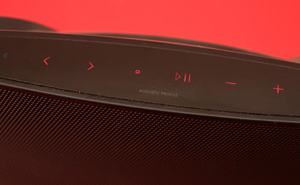 No Complicated Bridge Required
Add up to 10 speakers, from up to four streaming music sources, all with no gateway or bridge. Unlike other wireless HiFi systems, this one is totally untethered. No need to connect anything to anything. You can even send music to other Bluetooth speakers and headphones around the house.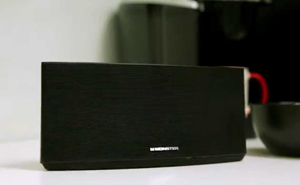 Room-Filling, Location-Free Pure Monster Sound
Get more clarity, greater dynamics, higher definition, and more punch from all your streaming music. You'll hear audio as it's supposed to sound, no matter where you put the speaker. This Wi-Fi / Bluetooth speaker sounds just as good as wired speakers, taking the system beyond wireless HiFi. This is high definition wireless.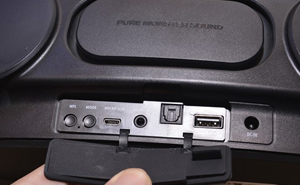 Monster App, Monster Cable, Monster Connectivity
Monster built an empire on the quality of their cables, and they're included in this speaker for audio that much better than the rest. Convenient USB charging, a handy 3.5mm mini jack for any source, fiber optic digital for TV, and micro USB for easy software updates are all included. Control it all from via the Monster SoundStage app for your iOS or Android device.
Decor-Friendly Design
No more boxy wireless home music systems and speakers. SoundStage is easy on the eyes, with a small footprint for easy stash-ability. Exquisite details include leather trim, the soft glow of LED, and a curved blade design that looks good with any décor.