Toshiba 58L9300U 58" Class 4K LED TV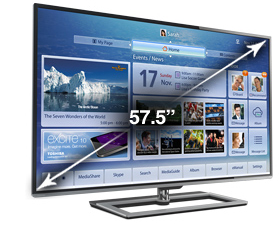 Ultimate HDTV- Redefined
Powered by Toshiba's newest proprietary CEVO™ 4K Quad+ Dual Core Processor, the all-new and award-winning L9300U Series Ultra HD 4K LED TVs deliver four times the resolution of Full HD (3840 x 2160p) for incredible detail with the highest quality Ultra HD image processing available today. CEVO™ 4K provides stunning restoration of resolution, color and brilliance, from virtually any video source, making it ideal for families, home theater and technology enthusiasts and serious PC gamers seeking the ultimate viewing experience for movies, TV shows, video games, photo viewing and PC applications.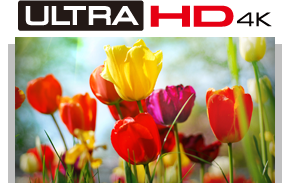 4K Ultra HD
4K Ultra HD (3840 x 2160p) provides four times the resolution of 1080p Full HD for breathtaking detail and image quality even up close.

CEVO 4K
Second Generation Quad + Dual Core Processor delivers the ultimate 4K Ultra HD image from 4K and standard 4K.
Cloud TV Portal
Get easy access to a menu of new services with a Multi-Page Cloud TV Portal. Stream movies, access your music and photos, or find something new with the MediaGuide; connect to family and friends with Skype®, Facebook® or Twitter®. Share photos, leave a message, or post to the calendar with the companion app; connect to your mobile devices while at home or on the go.

CQ Engine™
Let the new CQ Engine™ video processor absolutely amaze you with advanced technologies like Edge Enhancement, Dynamic Gamma, Expert Mode, and more for cinema-quality images.
Bye Bye, Blur
Enjoy clearer fast-action sports and video with ClearScan® 240Hz, which doubles the screen refresh rate.
*The above simulated images are intended to help illustrate how a specific function operates and are not indicative of actual relative differences.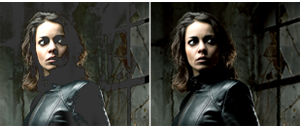 Local Dimming
Local dimming technology provides more dimming zones to dramatically improve black levels and contrast ratios, creating a better picture.
Beautiful, Ultra-Slim Design
Energy-efficient LED backlight for vibrant HD picture quality with sharp contrast for lifelike images with natural shadows and highlights. Brag about the all-new, slim, sophisticated design with curved corners and a sleek stand.

Listen Up
Enjoy clear, well-balanced sound with Audyssey EQ® and ABX audio technologies.
---
Plug In
Plug into a Full Jack Pack. Hook up external speakers or an A/V receiver. Share stuff from your laptop with a high-def PC port. Tap a ColorStream® HD component connection. And use a USB port for slideshows, video or music from a USB stick.

Dynamic Picture Mode
Get set for maximum contrast, clarity and color saturation with a Dynamic Picture Mode.
---

ColorMaster™
Easily adjust hue, saturation and brightness using ColorMaster™ for complete six-color management.

Universal System Blaster
Universal System Blaster lets you easily control your audio and video devices using the TV remote (IR blaster cable included)
---
Ultra-Clear Dynamic Noise Reduction
Experience less visual "noise" with UltraClear Dynamic Noise Reduction (DNR)

CineSpeed
High-definition display with fast panel response for clearer, more natural big-screen picture quality.

3D
Immerse yourself in 3D entertainment instantly with Trivector® technology that converts 2D to 3D automatically
Pull Out All the Stops
For diehard gamers, a special Game Mode reduces controller delay for edge-of-your seat action. For parents of gamers, a Gaming Timer lets you establish limits for playing, and locks the input when your preset time expires.