Samsung 1.8 cu. ft. Over-the-Range Microwave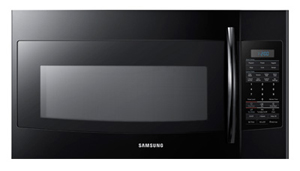 400CFM Ventilation System
Sensor Cooking
Electronic Touch Control
400CFM Ventilation System
Samsung's powerful ventilation system quickly and quietly eliminates any food odors
Adjusts the cooking time based on the vapors emitted from the food during cooking and reheating
Electronic Touch Control: Style and Function
Lets you easily program the desired cooking time and power level, at the gentle press of a button, for error-free results every time
Innovative cooking convenience is now right at your fingertips with the impressive performance of the Samsung SMH1816 Over-The-Range Microwave. With a powerful 400CFM Auto Vent to quickly eliminate food odors and 1000 W of cooking power, its spacious 1.8 cu. ft. Capacity handles most every quick-food-prep reheating task. Everything is cooked precisely to your taste with the sensor auto reheat and cook feature that monitors the amount of moisture in foods and adjusts re-heating time accordingly. With its sleek finish and advanced performance features such has the 1-line VFD display and low standby power usage, the SMH1816 gives you microwave cooking that's well beyond the ordinary.
Big Space for Big Results
With 1.8 cu. ft. of space, there is plenty of interior space to create full meals that you previously never thought would fit. And its built-in turntable ensures that every dish is heated evenly.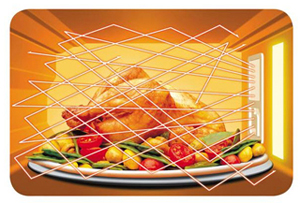 Triple Distribution System (T.D.S.)
Efficient Triple Distribution System (T.D.S.) of microwaves with three antennas will cook food 20% more widely and evenly compared to 1 antenna in conventional microwaves.
Powerful 400CFM Exhaust Ventilation
The SMH1816 features a powerful turbo ventilation exhaust that rapidly removes steam and odors with absolutely quiet operation.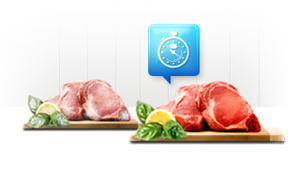 Convenient Sensor Cook / Reheat
This function detects food moisture and automatically calculates the optimal time for cooking/reheat. So it makes one simple press of a button to achieve amazing cooking results.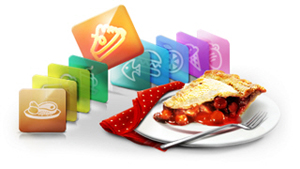 More / Less Time Adjust
Adjusts the cooking time for any of the instant cook pad selections. While the oven is cooking, more / less automatically adds or subtracts time from the instant cook selection.
Power Auto Defrost
For dishes less than 1lb, its Power Defrost function will rapidly thaw frozen foods quickly and evenly, returning foods to their optimum unfrozen state ready for reheating. For foods from 1 - 6lb, Auto Defrost will calculate its optimal time to defrost and adjust automatically. Plus, the convenient Auto Defrost function beeps to remind you to turn over the food during the cycle.
Eco Mode
Save up to 80% of standby energy by pressing the convenient Eco button located on the display.
Two-stage Programmable Cooking
Vital time-saving function, that allows you to easily program initial defrost plus a corresponding two step recipe for food simultaneously.
Specifications
Design: Black
Dimensions: 1.8 cu. ft. Oven Capacity
Vent Fan Control: High / Low / Off
Vent Fan: 400 CFM
Power Output: 1100W
Power Levels: 10, including Defrost and 12 Sensor Cook Options
Product Description
Spacious 1.8 cu. ft. interior accommodates a wide variety of meal and snack items.
1100 Watts of cooking power and 10 power levels provide the versatility to cook, defrost and reheat.
Sensor cook technology monitors the temperature of food during cooking for accurate results. Twelve sensor cooking options include sensor reheat.
One-touch settings offer simple and fast operation.
Glass turntable with on/off option provides even heating and can be turned off if needed.
Cooktop light illuminates the cooking surface below, so you can better see what you're cooking on the stove.
400CFM ventilation system with 4-speed fan helps remove cooking odors from your kitchen.
Removable filter takes grease and other impurities out of the air.
Eco mode helps conserve energy.
Time-of-day clock plus timer helps you coordinate an entire meal.