Bring the Power of Emulsification to Your Kitchen.
The Tristar Shred Emulsifier SE01WH is not just a blender; it's an all-new "emulsifier". With a powerful 1,500-watt motor and four surgically sharp blades, it can emulsify fresh ingredients quickly, easily and provides all the vitamins, minerals, nutrients along with fiber which will pack your intake with great variety and health in all that it processes. Wonderfully versatile, it does the job of 20 different kitchen appliances - with just the push of a button. The stylish modern design (available in two colors) perfectly complements any décor in your kitchen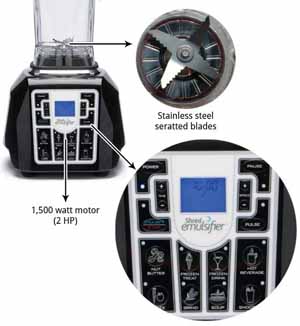 Powerful Motor
Powered by a heavy-duty 2 horsepower motor, the SE01WH blender delivers robust power to thoroughly process your stuff. Pulverize fruit, liquefy vegetables, grate cheese, and make whip cream with no need for peeling, chopping or other preparation.
Surgically Sharp Stainless Steel Blades
Four surgically sharp blades spin at a high speed, creating cyclonic force to draw the ingredients down through the carafe, so that the pulverized and liquefied vegetables and fruits can be easily absorbed in your body.
Eight Pre-programmed Settings
To make things even easier, you choose from eight pre-programmed settings ranging from pulverizing nuts into nut butter to making smoothies.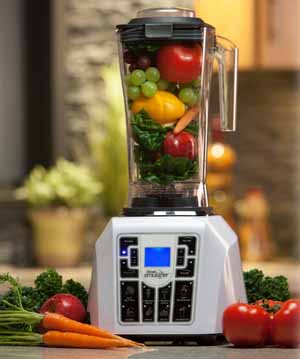 One-touch Button Simplicity
The SE01WH blender carries out tasks of 20 different appliances on its own - with just a push of the button, making it one of the most versatile blenders right now. This means you can quickly and easily make a number of recipes, such as cool smoothies, piping hot soups, nut butter, purees, frozen drinks and desserts, etc.
Warranty, Returns, And Additional Information