With a foldable dynamic layout, a top-rated drone quadcopter with a camera comes in a compact design for easy portability. Powered by four rotors, this versatile device is stable for safe flying. Its built-in camera records clear images and video with a high level of detail. With global positioning satellite (GPS) technology, a GPS drone with camera can maintain an accurate position for clear aerial photography. Some models include automated takeoff and landing functionality through a single button, allowing use by novice drone pilots. With a high-capacity battery, a video recording drone offers ample fly time to enable you to get the right shot. A first-person view (FPV) quadcopter drone offers a real-time view on mobile devices through integrated Wi-Fi® technology.
A Drone Quadcopter With a Camera Is Versatile
Equipped with a high-resolution sensor, a standard drone quadcopter with a camera enables you to record aerial video and still images in high definition. A complementary metal-oxide-semiconductor (CMOS) sensor and high dynamic range (HDR) imaging facilitate digital processing in varying lighting conditions for improved performance. Powered by multiple rotors and propellers, these versatile drones and accessories offer increased maneuverability, allowing you to capture crisp images. An integrated 3-axis gimbal acts as a pivoted support, letting users pan, tilt and zoom seamlessly. With innovative functionality, some advanced models capture and process photos on the device into a time-lapse video. With their omnidirectional obstacle-sensing technology, they can recognize objects along their flight paths, preventing accidental bumps that may result in damage. Most models come with a foldable design minimizing storage space requirements. Others come with tough carrying cases that prevent mechanical damage during transportation.
Drones With GPS Support Offer-Assisted Flying
Built with Global Navigation Satellite System (GLONASS) and GPS technology, a drone quadcopter offers accurate movements and convenient flying. It comes with multiple camera accessories and flight modes such as Follow Me and Waypoint Flight, enabling you to customize your aerial photography experience. A GPS drone with camera takes off and lands automatically for increased efficiency. An integrated Return to Home function prompts the GPS drone to return to its original starting point when out of range or low on power, which prevents accidents. Most GPS drones have an innovative barometer altitude hold function that lets you hover with ease. Others made from sturdy materials can withstand water splashes so you can use them in varying weather. Some models come with a protective ring around the propeller blades, keeping them shielded from damage.
Get Live Stream Real-Time Footage Using an FPV Drone 
A First-person video (FPV) drone equipped with wireless technology and camcorder accessories allows you to stream live video on your smart device. An FPV drone kit often includes an ergonomic remote controller that reduces fatigue during operation. Some app-controlled quadcopters come with companion user software for speedy access to crucial commands. With electronic image stabilization, most FPV drones can record blur-free images and video. Enjoy increased portability with a compact mini pocket FPV drone.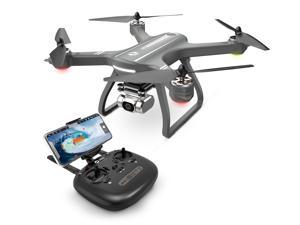 "HolyStone customer support was responsive, conscience, and accommodating. They made sure they did everything they could do to satisfy the customer. I would highly recommend this company."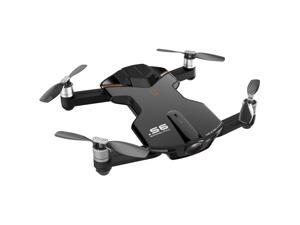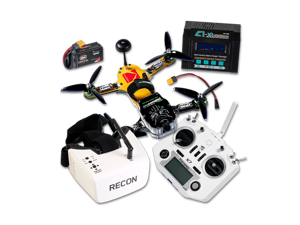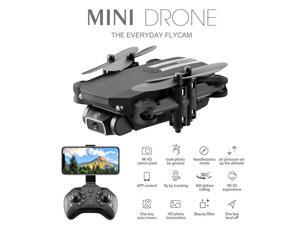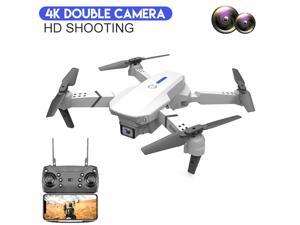 "Easy to set up and calibrate. Long battery life 2 batteries included Solid build quality"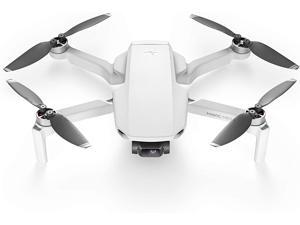 Refurbished: DJI Mavic Mini - Drone FlyCam Quadcopter UAV with 2.7K Camera 3-Axis Gimbal GPS 30min Flight Time, Less Than 0.55 lb., Gray
Visit the DJI Store
Speed: Max Ascent Speed: 4 m/s (S Mode) 2 m/s (P Mode) 1.5 m/s (C Mode) Max Descent Speed: 3 m/s (S Mode) 1.8 m/s (P Mode) 1 m/s (C Mode) Max Speed (near sea level, no wind): 13 m/s (S Mode) 8 m/s (P Mode) 4 m/s (C Mode) Max Wind Speed Resistance: 8 m/s (Scale 4)
Maximum Altitude: 3000 m
Flight Time: 30 minutes (measured while flying at 14 kph in windless conditions)
Hardware Stabilization: Gimbal Mechanical Range: Tilt: -110° to 35° Roll: -35° to 35° Pan: -20° to 20° Controllable Range: Tilt: -90° to 0° (default setting) -90° to +20° (extended) Stabilization: 3-axis (tilt, roll, pan) Max Control Speed (tilt): 120°/s Angular Vibration Range: +/-0.01°
Model #: CP.MA.00000120.01.E
Item #: 9SIAXZ3EM77427
Return Policy: View Return Policy
 
$259.00 

–

Special Shipping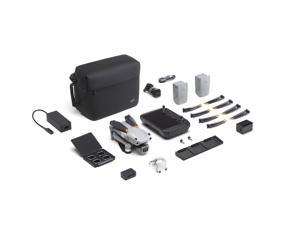 "Although I do recommend watching a few videos to learn all the features the Mini 2 has along with how to use them, this thing is incredibly intuitive and stable to the point that my mother - a senior citizen - was able to pick it up and fly it with ease. I am very impressed with the quality of images the camera produces and the latency between the..."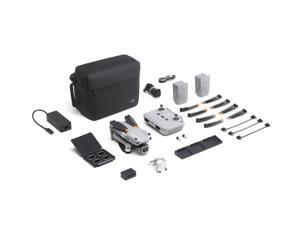 "Easy to use, fast, small, no registration"