Gaming chairs are a type of seating designed specifically for the comfort of gamers. Although their main function is to provide gamers with the ability to have a comfortable and safe playing experience, they are also used for more practical reasons such as relaxation and productivity.
Ergonomic Posture
The most important functions of the chair are the ability to tilt and swivel and allow players to adjust their body posture. The chairs are designed with adjustable lumbar support, backrests, arms, and head support in order to accommodate the gamer's unique body type and height. They are built for comfort with padded seats and padded arm rests which offer players an easy access to their controls during long games.
There are a wide variety of brands that provide the best quality gaming chairs, but you should always choose your brand carefully. A common mistake when shopping for these chairs is choosing a cheaper brand so that you can save money, but in the long run this may not give you the best quality gaming chair that you can buy.
Gaming chairs are available in various styles and designs, including upright, curved, lumbar, tilt-less, and recline models. Some chairs even come with optional accessories such as wireless headsets, remote control, or speakers. In most cases, all these accessories can be added at no extra cost to the gaming chairs.
Brand Designed Gaming Chairs
If you are planning on buying a chair, it is essential to do a little research so that you can understand the different styles and brands available. The most common brands are ergonomically designed chairs because these chairs are designed to give gamers comfort by allowing them to adjust their height. A more expensive chair is also designed with comfort in mind, because it features padded seats and cushioned armrests and headrests. The more expensive chairs are often made of leather or suede in order to add some style and appeal to the gaming chair.
Gaming chairs can be found from many different places, such as department stores, electronics shops, and online retailers. However, it is best if you try to shop around and compare the prices in order to find the best price on the most suitable chair for you.
Buying a new chair will not only help you find the best deal, but also make sure that you get a chair that fits your budget. While most chairs are priced in the same range, you may find that one model offers an adjustable height feature that allows you to adjust the chair's height according to your height. When purchasing a gaming chair, you should also consider the model and size of the monitor you intend to use it with.
Some of the most popular brands of gaming chairs include Logitech, SteelSeries, and Kinesis. Although not many people are familiar with these brands, these companies are some of the most popular manufacturers of gaming chairs. Other popular brands are Sealy, Turtle Beach, and Omen.
While there are many different brands of gaming chairs, it is important that you do not just settle for the cheapest. instead you should ensure that you are able to find a gaming chair that meets your needs.
"comfortable, easy to assemble, sturdy"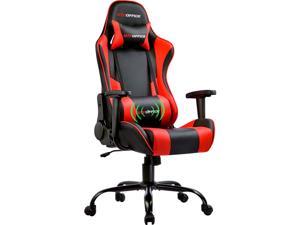 "- Easy to assemble - Awesome massaging lumbar support - Durable - Great looking"
"Fully reclines, adjustable to almost 170 degrees, adjustable lumbar height, can be set to rocker or locked position. Comfortable for longer gaming sessions, excellent warranty service."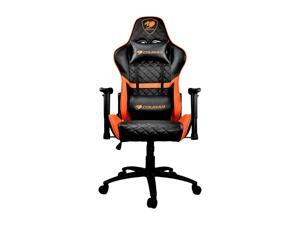 "-Price/Comfort value is top tier and is there -Looks aesthetically pleasing for the price (crosshatch stitching) -Comfortable -Arm rests are adjustable (pivot left/right and up/down) -Solid metal base -Comes with lumbar pillows + head pillow -Leans up to 180 degrees (can you do this???)"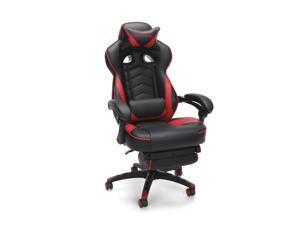 "Comfortable, easy to put together, and the adjustable cushions are wonderful. The footrest makes it 1000x better."
"This chair is so cute, there are two bunny ears on it. Sitting comfortably, with headrest, backrest, and a floor mat, a complete set. It looks good no matter where you put it."
"I really bought it for my daughter and she loves it, it is very comfortable and she can spend more time sitting either playing or studying because she has very good comfort"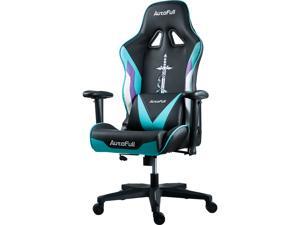 "Great and durable materials, pretty color and design."
"Super easy to install"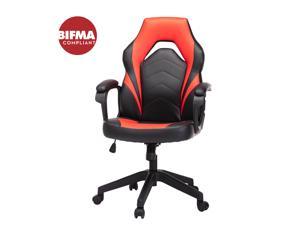 "I like the color, its bright and red, leather feels soft and smooth and when I sit in it, its not as cold as other leather, glides easily over my carpet, putting it together took me literally 15 minutes."
"- Width, neck and lumbar support, is fit, very comfortable for all day work 9 hours+ - Seat is firm, doesn't get uncomfortable - Chair base is much more stable, doesn't feel like it'll tip over. The wheels are normal chair wheels, but the bracket is very sturdy. - Looks high quality, like a much more expensive gaming chair."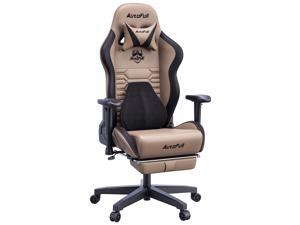 "Extremely comfortable looks very high-end awesome quality good support great ergonomics"