Look for top-rated gaming keyboards for improved performance. Most come with quality and sturdy key switches beneath the keycaps for durability. The robust size offers quick access to keys, improving your productivity. Models with tactile switches register keystrokes faster, reducing finger strain and letting you type speedily. A keyboard with mechanical switches has detectable actuation points and provides audible feedback. With a waterproof design, a water-resistant gaming keyboard is safe in case of accidental spills. For an aesthetic setup, a backlit gaming keyboard with addressable RGB lighting complements your gaming rig aesthetics. Made from lightweight materials, most membrane keyboards are easily portable.
A Top-Rated Gaming Keyboard Enhances Performance
With an adjustable actuation distance and efficient USB polling rate, a mechanical gaming keyboard transmits signals to your PC speedily for enhanced gaming productivity. A well-designed keystroke processing system ensures quick response times, enabling you to type at fast speeds without double key presses. An N-key rollover-enabled (NKRO) gaming keyboard scans each button separately, allowing efficient multi-key recording in complex gaming maneuvers. This unique design also minimizes ghosting to deliver competitive gaming performance. Some models come with customizable keycaps and switches for personalized gaming. These computer games accessories are made with sturdy materials and rugged finishes, making them durable. A generous ergonomic palm rest and contoured keycaps enhance comfort during long periods of use. With double-shot keycaps made from two molded layers of plastic, a gaming keyboard comes built to withstand vigorous gaming activities.
Silicone Dome/Membrane Gaming Keyboards Operate Silently
Integrated with rubber dome switches, a membrane gaming keyboard produces inaudible sound, allowing you to focus better on in-game acoustics. With a smooth sealed surface, a rubber dome switch minimizes dirt and grime accumulation, making it easy to maintain. A membrane keyboard is easy to repair, saving you maintenance time. Most gaming keyboards have dedicated media buttons for quick access to volume controls while you work or play. Like PC game controllers, some keyboards come with programmable multi-functional digital dials, increasing efficiency. Those with key stabilizer bars deliver consistent keycap motion. A wired model often comes with a long cable that has a woven exterior for increased flexibility. Made from tough materials, these water-resistant gaming keyboards are durable. The models are also resistant to ultraviolet (UV) rays that damage electronic devices.
Backlit and RGB Gaming Keyboards Increase Aesthetics
A Prodigy gaming keyboard with RGB backlighting lets you game seamlessly in poor lighting. Most RGB keyboards let you customize the lighting mode to match your gaming mouse and other peripherals. Equipped with ample memory, they store preset lighting playback profiles, saving you the hassle of setting them up frequently. The accompanying software offers dynamic backlighting for each key, delivering a sophisticated look. A keyboard with a built-in audio jack port enables the attachment of headphones, which extends your acoustic range. Integrated with wireless connectivity, a gaming keyboard enhances mobility while gaming. Other models come with dedicated macro keys and built-in software, both of which allow you to configure multiple commands through hotkey and macro shortcuts.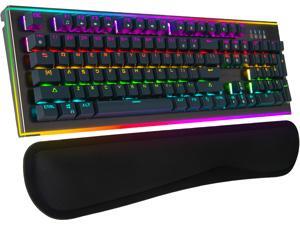 "feels great to use! the clicks are real. The pad is awesome. Being able to make it not look like and unicorn and pick the colors you want is a great plus!"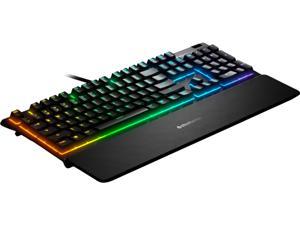 "Great Key Travel, removable wrist rest, color customization, solid feel"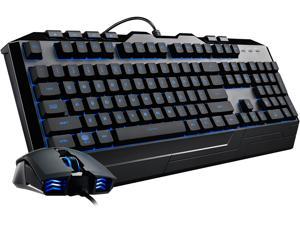 "I got my moneys worth. So far it works just fine, I use it mostly on my second backup pc. I like the 7 colors to chose from."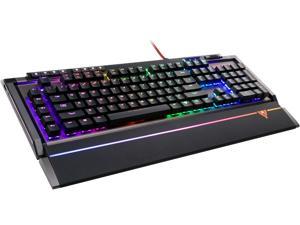 "The Patriot Viper V770 is a very sturdy and brightly lit keyboard with a ton of great features. The RGB lighting is flexible with plenty of options for you to choose from with some custom profiles available in the software for both lighting and macro support as well. The keys are considerably quieter than my Gskill RGB keyboard with the same switch..."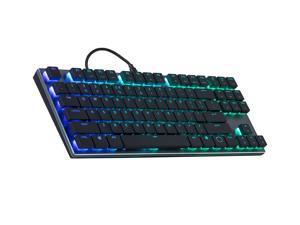 "I have strong fingers from rock climbing and the key triggers respond well. The lights change brightness and color will quick keys. The material and high quality. Is minimal and doesn't take up a lot of space on my desk."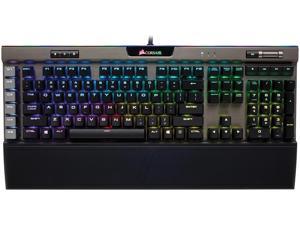 "My dreams of the mechanical clicks are why I go to sleep."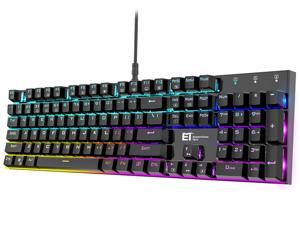 "I love the toughness, size, feel, and features of this ET mechanical gaming keyboard, its plug and play keyboard out of the box that simple and look incredible."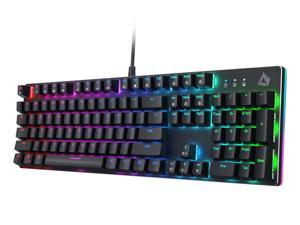 "I'm not a mechanical keyboard enthusiast, I just use whatever comes with the computer usually. With that in mind, this is the best keyboard I've ever used. I bought this on a good holiday promotion for my work computer. The only downside is that I immediately wanted one for my personal computer too so I bought a second one while it was still on sa..."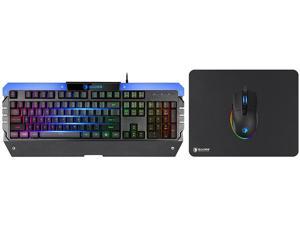 "Its beautiful and functional, and I'm loving it!"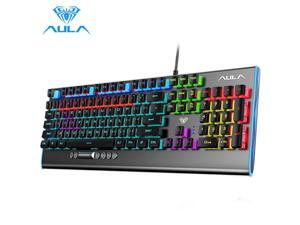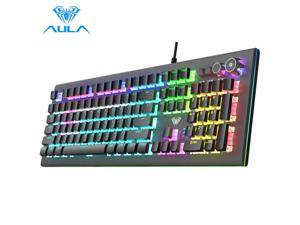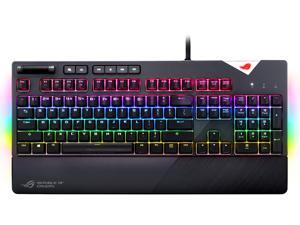 "Click is not overbearing, but feels good RGB with ROG Armory can do some cool things Has some nice accents that make it stand out"