Elevate your gaming experience with a computer gaming mouse. They come in different designs to suit your preferred mouse grip and gaming style. A laser sensor mouse works on various surfaces, making it a versatile computing accessories. In contrast, an optical mouse is less sensitive to dust and prevents skipping under high acceleration. An ergonomic gaming mouse offers a comfortable build, so your hand and wrist remain in a natural position. Most models are also lightweight to help reduce fatigue during long gaming sessions. A gaming mouse that comes with Bluetooth® or Radio Frequency (RF) technology provides seamless wireless connectivity, and helps reduce cable clutter.
A Wired Computer Gaming Mouse Is Highly Responsive
A wired gaming mouse provides a stable connection and quicker response, giving you an edge during your gaming sessions. They come in comfortable sizes and layouts, allowing for use without fatigue. Some have an anti-sweating coating for enhanced comfort. Models that offer a high Dots Per Inch (DPI) rating deliver increased sensitivity, and enable fast on-screen cursor movements in precision gaming activities. Most wired gaming mice have a DPI control button that lets you adjust the DPI according to the gameplay. Increasing the sensitivity rating reduces the distance you have to move the mouse physically for proportional cursor movement. They also boast tough and braided cables, minimizing the occurrence of tangled cords.
A Wireless Gaming Mouse Offers Increased Mobility
A wireless computer gaming mouse may come with multiple buttons for speedier access to controls. These wireless devices connect to your computer via Bluetooth or RF technology, so your gaming set up is neat and organized, with minimized cable clutter. With sleek glide feet, many cordless mice allow smooth, friction-free movement for accurate cursor response. Look for an optical wireless gaming mouse that offers low acceleration and lift-off distance to eliminate unwanted cursor movements. Like other PC game controller models, mice come with tunable weights, so you can balance and manipulate them to your preferred weight. An ambidextrous gaming mouse enables use with both hands, making it suitable for almost everyone. Most wireless models come with built-in USB ports and USB cables for versatile connectivity. Top polling rates ensure your mouse relays the current position swiftly to your PC for accurate cursor resolution on the monitor. Consider choosing a wireless gaming mouse that runs with a rechargeable, built-in battery for a green and cost-effective solution to frequent battery changes.  
An RGB-Lit Gaming Mouse Enhances Your Gaming-Rig Aesthetics
A computer gaming mouse that comes with addressable RGB LEDs provides your gaming setup with attractive color effects. Some models offer programmable buttons, so you can assign specific functions for a personalized experience with different computer games. Choosing a model with onboard memory will save you the hassle of setting up for different gaming sessions, since you can store your preset game profiles. Models with macros support allow you to record a set of actions from your gaming keyboard and execute the series of commands through a single click.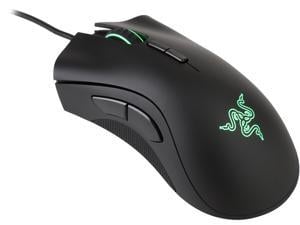 "- Comfortable and simple design - Very reliable (have had it for multiple years now and still works like new)"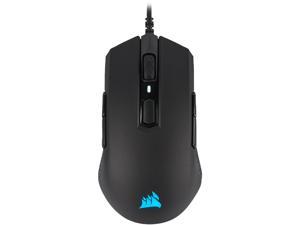 "- Lightweight - Clean trackpads - Perfectly shaped for hands of all sizes"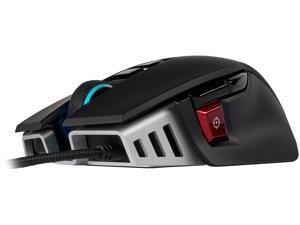 "- Great for anyone who uses any variation of a claw grip. - Weight is good. - Thumb buttons are in a perfect place and the size of the buttons are easy to use. - RGB lights are nice and very high quality. - Scroll wheel is awesome and has a nice texture. - Software is easy to use and setup"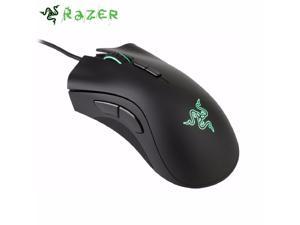 "Item seems to be offical mouse actually it's pretty nice"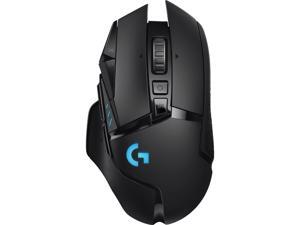 "-Long battery life -Good button placement -Comfortable gripping -No latency from wireless use"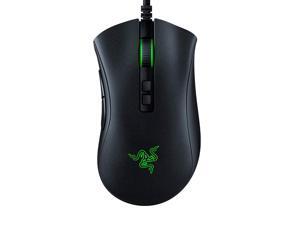 "I liked the response time and the buttons it has"
"Super light mouse, Flexible Cord, and great movement."
"- Weighted - Adjustable scroll wheel - BUTTONS"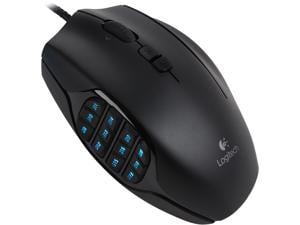 Logitech G600MMO Gaming Mouse - Black
Maximum dpi: 8200 dpi
Hand Orientation: Right Hand
Operating System Supported: Windows 7 or later macOS 10.11 or later Chrome OS
System Requirement: USB port Internet access for Logitech Gaming Software (optional)
Model #: 910-002864
Item #: N82E16826104674
Return Policy: Standard Return Policy
$59.99

 
$38.99 

–

Save:

35%

Free Shipping
"Lot's of programmable buttons in easy reach. The softweare is great. Very easy to program complex multiple commands on one key. For instance, in games you can program a move that would otherwise require using 2 or 3 buttons(keys) at once or multiple buttons(keys) in a row. For non game applications, I can open my browser, go to my email, compose pa..."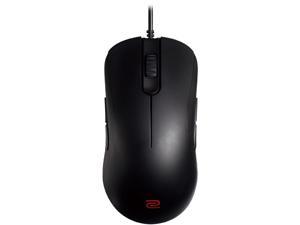 "You have small hands? Look no further, this mouse is for you! I just love it! I bought a razer deathadder chroma and while it is precise and good, it's nothing like this one. I like the razer for the amount of customization and dpi settings. But this one, which has no bells and whistles and a pretty simple design, is just amazing. The precision i..."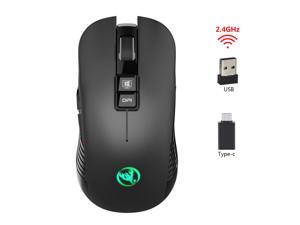 "DPI buttonWindows buttonDecent charge cable"