Improve your device's ability to cool and reduce the risk of overheating without the need for making internal hardware modifications with a top-rated laptop cooling pad. The models come in various shapes and sizes and with handy attributes such as elevated and adjustable platforms, multiple fans with adjustable speeds, USB hubs for added port access and non-slip surfaces to keep equipment secure. Before your purchase, consider how you will use it. This will allow you to make an educated decision.
Durable, Lightweight and Portable Laptop Cooling Pads
The right laptop cooling pads are made of high-quality, wear-resistant materials such as ABS, aluminum, iron and metal mesh for extended reliability and performance. Many have a slender profile and lightweight construction for easy lifting, transport and storage. Some also contain built-in cable management to eliminate the potential for tangled and dangling wires. Additionally, most fit into laptop case bags, backpacks or tote bags. 
Laptop Cooling Pads Improve Airflow to Prevent Overheating
Unlike desktop computers that can have their airspaces open, laptops often lack sufficient airflow and can overheat especially when playing games that push them to their limits. A gaming laptop pad is handles flat, hard surfaces and can even be placed on fabric such as bedding. It can include three, four or even five fans with a high-speed turbine fan with up to 1500 rotations per minute. Some models have movable fans that allow the user to modify the location where it benefits them the most. Other laptop cooler cooling pads have multiple fan speeds and a few have built-in sensors that increase the fan speed when it senses the laptop temperature rising. Additionally, those made of mesh wire further induce airflow by design.
Designed for Comfort and Control
The small and slender size of laptop cooling stands makes them easy to place on a counter, desk or your lap. Some are height adjustable, with two, three or four height settings. This allows you to raise them to reduce strain on your neck, wrists and back while making typing and viewing easy from any angle. Many of the elevated platforms also include rubber strips or rounded edges and non-slip surfaces to prevent movement of the device and enhance comfort. LED lights and built-in strip lights add lighting for improved visibility and style as well as an aerodynamic design for good stabilization, control and handling. 
The Extras for Improved Functionality and Ease of Use
Equipped with USB ports, the laptop cooling pad provides additional ports for charging smaller devices such as iPhones® or iPads®, as well as the attachment of a keyboard. The additional ports also act as replacements for the port required to power the cooling pad and do away with the need for laptop batteries and AC adapters as additional essential supplies. Some also come with a strap that lets you transform the laptop cooling pad into a neat and sturdy carrying case, eliminating the need for an extra bag.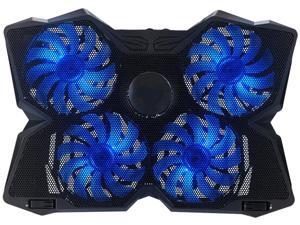 "CORN Laptop Cooler Cooling Pad is being used on a Dell Precision M6300. Before using the cooling pad the bottom of the laptop would be hot to the touch. Although after placing Corn Cooling pad under the laptop, the bottom was cool to the touch even after hours of usage."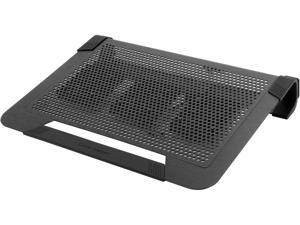 "-Light -Easy to setup -Easily moveable fans to place where you have the most heat from your comp -Great job of keeping your comp cool -Respectable brand that delivers high quality -Great for gaming on your laptop"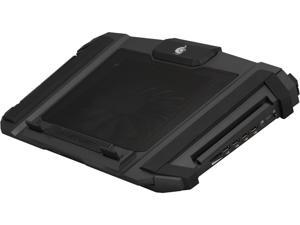 CM Storm SF-17 - Gaming Laptop Cooling Stand with 180 mm Fan and 4 Ergonomic Height Settings
Accessory Type: Cooler
Specifications: Compatibility: Supports up to 17" laptops Color: Black, Red LEDs Material: Mesh + Plastic + Rubber Dimension: 18.50" x 12.90" x 2.20" flat, 6.80" max height Weight: 4.23 lbs. Operation degree: 4 levels of height adjustments Fan Speed: 700~1200RPM+/-15% Fan Airflow: 35 - 70 CFM Fan Noise Level: 16 - 21 dBA Fan Bearing Type: Rifle Fan Life Expectancy: 40,000 Hours Fan Rated Amperage: 0.2 - 0.45 A Fan Power Consumption: 0.9 - 2.25 W
Model #: R9-NBC-SF7K-GP
Item #: 9SIA50MAMP0516
Return Policy: View Return Policy
"-Laptop sits secure -Multiple height adjustments -Adjustable fan speed -Versatility for accessories ports, it can charge my phone! -Amazing fan, surprisingly very quite! -Quality is incredible -Reasonable price -My back is thanking me for this product! I have a bad back and this immediately made a huge difference! I highly recommend anyone who si..."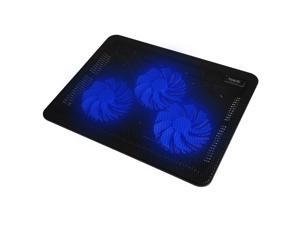 "- It works very well (see below) - Runs incredibly quiet. To me the sound is indistinguishable from background noise. - Good looking LED lighting. - Adjustable feet allow for raised position. - Very slim form-factor; will fit into a backpack with ease."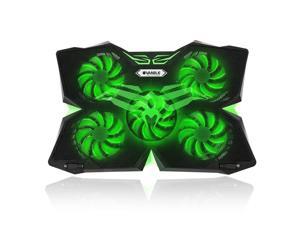 "these 5 fans work so well you get some to cool off the room too :)"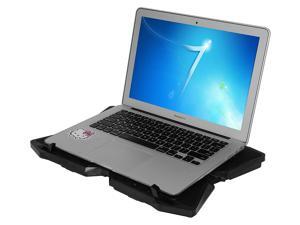 "Cools laptop very well with 4 fans. My laptop is old (2009) and it still runs like a charm."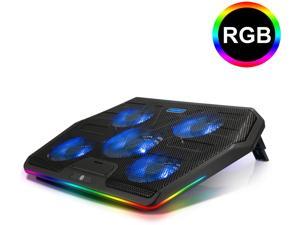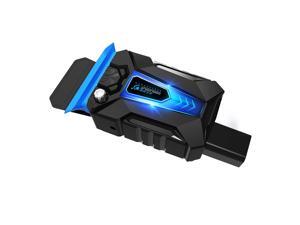 "Cools laptop Keeps operations fast Inexpensive"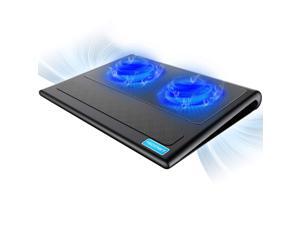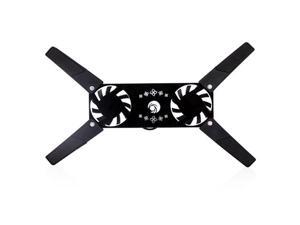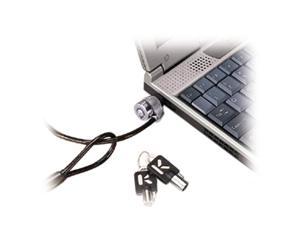 "Keeps my laptop from being snatched. Long cable"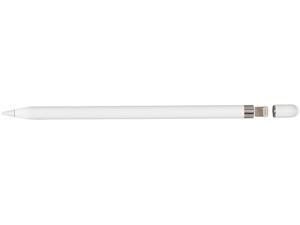 Refurbished: Apple Pencil for iPad Pro - 1 Pack - White - Tablet Device Supported
Part Number: MK0C2AM/A
Accessory Type: Pen
Color: White
Specifications: Apple iPad 10.2" (7th Generation 2019), Apple iPad 10.2" (8th Generation 2020), Apple iPad 9.7" (6th Generation 2018), Apple iPad Pro 10.5", Apple iPad Pro 12.9" (1st Generation 2015), Apple iPad Pro 12.9" (2nd Generation 2017), Apple iPad Pro 9.7", Apple iPad mini (5th Generation 2019)
Model #: MK0C2AM/A
Item #: 9SIACYN5S11333
Return Policy: View Return Policy
"The response is very fast and precise."