Consider a top-rated 4K Smart OLED TV with ultra-high definition. You'll get brilliant viewing with an aspect ratio of 16:9 ratio, due to upscaling technology that transposes 1080p to 4K by increasing pixel density. Factor in size, resolution, operating system, optical output and dimensions when choosing a model. For example, a TV intended for gaming requires a fast OS, high resolution, fast motion handling and HDMI® inputs. Consider various advanced options and unique designs that fit your desired picture quality, and that offer aesthetic appeal as well.
A Crisp and Clear Picture Makes for Great Viewing
LED, OLED and QLED technologies work to provide a sharp picture at different levels. High tech LED TVs utilize a light that shines through a panel of crystals to form a picture on the screen. With OLED technology, the pixels turn on and off and adjust themselves, giving a more lifelike appearance to the picture. All of these technologies offer 4K, which refers to the resolution, an essential factor in determining picture quality. When considering resolution, the higher the number of pixels that fit onto a larger screen, the better the image. An OLED TV and a 4K QLED TV come with screens ranging from 32 to 100 inches for the desired front-row viewing experience. They offer crisp and clear imagery to users in any part of the room, regardless of the seat's angle towards the screen. The top-rated TVs offer bright and vivid images, where black is black and shadow and contrast detail are lifelike, even in dimly lit rooms, which makes them ideal for users who utilize streaming services for entertainment.
Get Smart and Advanced Options
More advanced smart UHD LED TV models come with features to improve user experience. For example, some 4K smart OLED TVs come with Alexa™ and Google Assistant™. They feature a dashboard that easily allows the user to access and control all the smart home devices. Other designs include apps and free content that allow users to choose more personalized streaming options. A Full Array LED Smart TV allows users to add or remove apps easily to ensure a customized experience. Built-in Google Chromecast™ offers a wide range of services and apps, including AirPlay® 2, providing convenience to  iOS® users as well. You can also increase the TV's efficiency with additional accessories such as antennas.
Unique Designs Offer Aesthetic Appeal
TVs come in varying designs to fit the desired aesthetic appeal. Screens sizes range from 32 to 100 inches offer sleek and contemporary designs that are efficient space savers. The nearly bezel-free 4K HDR Oneplus Q1 Pro TV rests on a circular metal stand with a single vertical support. The soundbar retracts and deploys each time you switch it on and off, adding to its visual appeal. The LG C9 comes with an angular metal stand that elevates the TV enough to place a set box, soundbar or gaming console below it, effectively saving on space and maintaining a clean, sleek aesthetic.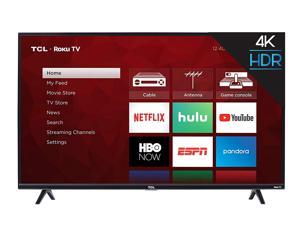 "4K HDR settings look 8/10 subjectively speaking via HDMI ARC to my pc (RTX 2070) decent for 60fps 4k gaming in say, World of Warships? Civ, Anno, etc. Lightweight easy install via a separate vesa mount I purchased. Picture and sound quality are phenomenal for the price point At a 2ft distance angled on the wall above my gaming monitor it's not har..."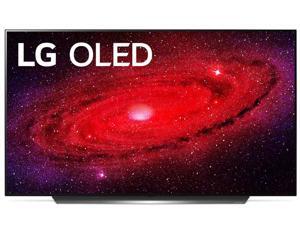 "beautiful picture, easy setup, great price, delivery personal unpacked and made sure tv was working. pleanty of included apps"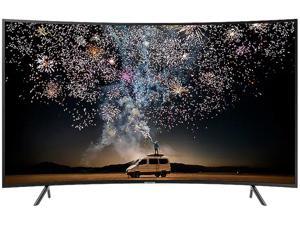 "-Beautiful picture -Decent sound, but I'd use a sound system -Easy setup"
"Samsung quality Great variety of options for preset streaming of various channels. Excellent audio quality and superb picture compared to our other TVs. You talk and it listens. Weird."
"Smart + On Board Roku + Price = Awesome!"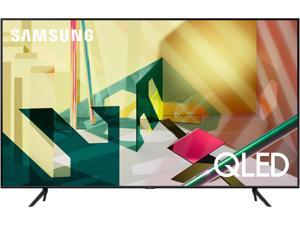 "Brilliant picture , outstanding sound for a led, same price as other top sellers, crypto currency payments OK!"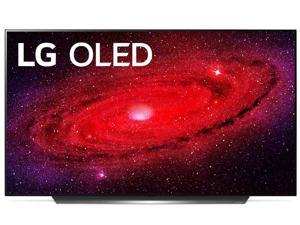 "Flawless image. Solid construction. Zero issues getting it to work with my PC. Nearly 100 DPI means no eye strain or screen door effect despite having a 48" TV three feet from my face."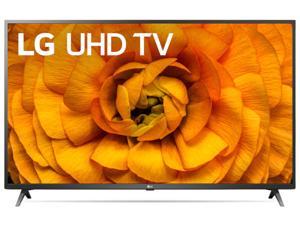 "Amazing picture good sound great price"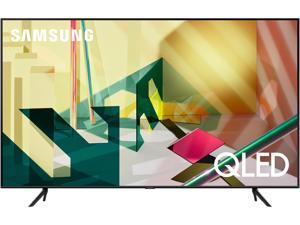 "Stunning UHD picture quality. Built in Samsung TV app with many channels to watch."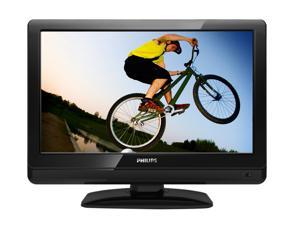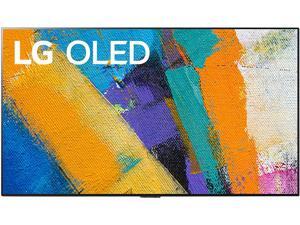 "Looks fantastic. replaces my 50 inch plasma. picture is soooo much better."